Rainbow 6 Solved for $324,179 Payoff Thursday
Jockey Jose Ortiz Reels Off Four Straight Victories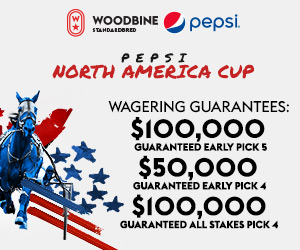 Gunnevera Paddock Schools Thursday for G2 Fountain of Youth
Grade 1 Winner Mind Your Biscuits Schools for Saturday's G3 GP Sprint
Saturday to Feature Guarantees in Late Pick 4, Late Pick 5
HALLANDALE BEACH, FL – For the first time in eight racing days, the 20-cent Rainbow 6 was solved with one lucky ticket for a jackpot payoff of $324,179.78 Thursday.
Three horses were live to take down the jackpot heading into the 11th race finale, won by Nick the Cardshark ($57.40), a 25-1 long shot making his first career start in the six-furlong claiming sprint for 3-year-old maidens. The winning sequence was 4-7-10-9-7-12.
The winning ticket of 2,4,7,8/4,7,8/10,12,13/3,7,9/6,7,10/2,6,12 cost $194.40 and was purchased at Gulfstream by a group of 12 friends on their annual group outing sponsored by bourbon maker Jim Beam Brands Co., based in Deerfield, Ill.
"We have a group outing that we do every February. They take all the guys that work together for a day at the races," said Art Friedman, who put together the winning ticket. "We get a suite and we started playing this. We pooled our money together two years ago and almost hit it then; we missed in the final race. Last year we played and we didn't do as well.
"We only play it when we're here," he added. "A couple of us play the horses here regularly by simulcast, but we never play the Pick 6. Everybody put in $20 and I picked the numbers this year. I'm originally from down here and we're from all over the place but mostly all Florida guys. We're going to probably have dinner tonight and head home tomorrow."
The Rainbow 6 carryover jackpot is paid out only when there is a single unique ticket sold with all six winners. On days when there is no unique ticket, 70 percent of that day's pool goes back to those bettors holding tickets with the most winners while 30 percent is carried over to the jackpot pool. However, on days when a mandatory payout is scheduled, the entire pool is shared by those holding tickets with the most winners.
The Rainbow 6 starts anew on Friday, spanning Races 6-11. The sequence includes a trio of optional claiming allowances for fillies and mares 4 and older, two of them turf sprints (Race 8, 9) and the third at one mile on the main track (Race 10).
There will be a carryover of $2,404.73 in the $1 Super Hi-5 for Friday's opener.
Jockey Jose Ortiz Reels Off Four Straight Victories
Jockey Jose Ortiz, an Eclipse Award finalist in 2016 after leading the nation in victories, rode four consecutive winners on Thursday's program at Gulfstream Park.
Ortiz, 23, ended with four wins from six mounts on the day, finishing second with favored Bow Town Cat in the 10th race in his bid for five straight victories.
"They still have to run, but I knew all the horses had a pretty good shot," Ortiz said. "You hope they all show up, and they did."
Ortiz began his run with Kabang ($17.80) in the sixth race, the first win of the Championship Meet for trainer Mike Trombetta. He followed with Legendofthekitten ($7.20) in the seventh, first-time starter Reason to Soar ($17.40) in the eighth and Kitten's Dilemma ($6.20) in the ninth.
Legendofthekitten and Kitten's Dilemma are each owned by Ken and Sarah Ramsey and trained by Mike Maker.
"The first-time starter for [trainer George] Weaver, I breezed him last week and he breezed amazing," Ortiz said. "You win a couple and you get in the zone and just ride. You let the horse be wherever he wants to be comfortable and let the horse be happy. When the horses are happy, they are going to run good."
New York-based Ortiz has 16 wins, 16 seconds, seven thirds and earnings of nearly $2.5 million from 59 mounts at the Championship Meet, where he will ride full-time beginning March 2. He won 351 races and banked more than $22.9 million in 2016, ranking third overall in earnings.
Ortiz has won five races on a single card four times in his career, all last year: March 6, April 2 and Dec. 2 at Aqueduct Racetrack and Sept. 3 at Saratoga Race Course.
Gunnevera Paddock Schools Thursday for G2 Fountain of Youth
Peacock Racing Stables' multiple graded stakes winner Gunnevera schooled during Thursday's first race for his next scheduled start in the $400,000 Fountain of Youth (G2) for 3-year-olds March 4.
Trainer Antonio Sano watched as Gunnevera walked under tack in the saddling enclosure and stood quietly in a stall both before and after being led out for a few turns around Gulfstream's walking ring.
Winner of the Saratoga Special (G2) in his graded stakes debut last summer at Saratoga prior to his victory in the $1 million Delta Jackpot (G3) to close his juvenile campaign, Gunnevera opened his sophomore season in the Lambholm South Holy Bull (G2) Feb. 4 at Gulfstream.
Sano said the son of 2011 Florida Derby (G1) winner Dialed In was keyed up and hard to saddle prior to the Holy Bull, where he closed to be second to front-running winner Irish War Cry despite encountering traffic trouble on the far turn.
"He looks very good," Sano said. "I school him today because last time when they ran the Holy Bull it was very hard by the horses. Today he is very relaxed and it's a big difference. He's much better than when he ran in the Holy Bull. I hope he is better next time for the Fountain of Youth."
Gunnevera is scheduled to have his final work for the Fountain of Youth at 7:30 Saturday morning at Gulfstream Park West.
Also schooling in the paddock Thursday was Malibu (G1) winner Mind Your Biscuits, entered to make his 4-year-old debut in Saturday's $100,000 Gulfstream Park Sprint (G3). The chestnut Posse colt is the 6-5 program favorite from outside Post 6 in the 6 ½-furlong event that also drew graded stakes winners Unified and Delta Bluesman and Sunshine Millions Sprint winner Early Entry.
Saturday to Feature Guarantees in Late Pick 4, Late Pick 5
Gulfstream Park is offering guarantees in two of its late multi-race wagers on Saturday's 13-race program.
The 50-cent Late Pick 4 (Races 10-13) will carry a $350,000 guarantee and the 50-cent Late Pick 5 (Races 9-13) will be guaranteed at $250,000.
Both sequences include two of Saturday's three stakes, the $75,000 Melody of Colors in Race 11 and $100,000 Gulfstream Park Sprint (G3) in Race 12. Also on Saturday's card is the $75,000 Texas Glitter in Race 6.
Super Hi-5 Carryover: $2,404.73