Rainbow 6 Carryover Jackpot at $4.5 Million for Saturday's Mandatory Payout Saturday's Total Pool Expected to Swell to $15 Million-Plus

HALLANDALE BEACH, FL – A mandatory payout of the entire 20-cent Rainbow 6 pool is set for Saturday's program at Gulfstream Park, where the carryover jackpot for the popular multi-race wager swelled to $4,503,332.31Friday.

With such a large sum of money to be disbursed on Saturday, it is expected that strong wagering could push the Rainbow 6 pool to an estimated $15 million-plus.

A total of $673,828 was wagered into the Rainbow 6 Friday, when multiple tickets with all six winners were each worth $5,313.56.

The carryover jackpot is only paid out when there is a single unique ticket sold with all six winners. On days when there is no unique ticket, 70 percent of that day's pool goes back to those bettors holding tickets with the most winners, while 30 percent is carried over to the jackpot pool.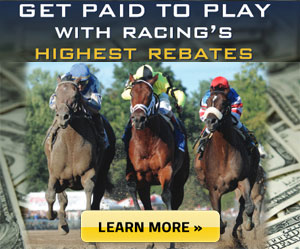 However, on 'mandatory payout' days, the entire pool is paid out to those holding tickets with the most winners.
Saturday's Rainbow 6 sequence covers Races 7-12, which will include the $75,000 Sanibel Island Stakes in the 11th race. The $75,000 Cutler Bay will be contested in the fifth race of the 12-race card.
To accommodate Rainbow 6 bettors, the wagering period prior to Race 7 will be extended by 20 minutes Saturday to provide ample time to formulate and purchase tickets.
Since last being hit for $76,799.38 by one lucky bettor on Jan. 13, the popular multi-race wager has gone unsolved for 52 consecutive programs. The largest payout of the current Championship Meet, which opened Dec. 5, was $262,634.84 on Jan. 7.
The Rainbow 6 produced a record payoff of $6,678,939 for a Palm Beach bettor on May 25, 2014, breaking the previous mark of $3,591,245.44 set by a New Jersey bettor on Feb. 22, 2013.