Mandatory Payouts of Carryover Pools Yield Huge Payoffs Super Hi-5 Produces $205,788.70 Bonanza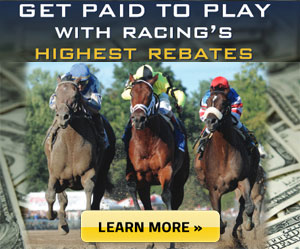 Multiple Rainbow 6 Ticketholders Cash for $48,407.92 Each Friday's Rainbow 6 Carryover Pool Guaranteed at $50,000 Valid Lives Up to Favoritism with Victory in Featured Fourth Race
HALLANDALE BEACH, FL – Gameday Spanking pulled off a startling 44-1 upset in Thursday's 10th race at Gulfstream Park, producing huge payoffs in both the $1 Super Hi-5 and 20-cent Rainbow 6 on a day when mandatory payouts were scheduled.
The Super Hi-5, which requires bettors to correctly select the first five finishers in order in the last race, yielded a $205,788.70 payoff, while the Rainbow 6, paid out $48,407.92 each to multiple bettors holding tickets with the winners of the last six races on Thursday's card.
Gameday Spanking topped the winning Super Hi-5 combination of 4-2-3-1-ALL in the 10th race. The $1 Super Hi 5 had a carryover of $43,478.55 heading into Thursday's card. With the lure of a hefty mandatory payout, a total of $191,045 was bet into the pool Thursday.
The 10th-race longshot completed the winning Rainbow 6 combination of 5-9-8-1-5-4. Quick Hall ($7.80) kicked off the six-race sequence that spanned races 5-10, followed by R Lovely Lindsey ($3.20), Saturday Special ($8.40), Capriccio Blue ($9.20), U.S.S. O'Brien ($11.60) and Gameday Spanking ($91.20).
Attracted by the mandatory payout of the carryover pool of $123,063 heading into Thursday's program, bettors poured $572,514 into the Rainbow 6 pool.
Thursday marked the final day of Gulfstream Park's not-for-profit meeting, necessitating the mandatory payout of all carryover pools. Live racing will continue uninterrupted on Friday, when Rainbow 6 wagering will start anew with a $50,000 carryover pool guarantee.
The Pick 6 hadn't been solved since Aug. 7, when a lucky bettor was rewarded with $40,807.18 for holding the lone ticket with all six winners.
On days when there is not a mandatory payout, a bettor must hold the only ticket with the winners of all six races of the Rainbow 6. If there are multiple ticket holders with all six or no one picks all six, 70 percent of that day's pool is paid out to those holding tickets with the most winners, while 30 percent of the pool is added to the carryover.
There was no carryover for the 50-cent Pick 5 going into Thursday's card, but there was still a mandatory payout. No one picked all five winners of the last five races, resulting in a $252.90 payoff for those tickets with four winners.
Valid Lives Up to Favoritism with Victory in Stakes-Quality Feature
Heavily favored Valid ($2.80) romped over a sloppy track to post a1 ¾-length victory in Thursday's featured fourth race, a $50,000 open allowance race run at one mile.
A victor in the Monmouth Cup (G2) two starts back, the Marcus Vitali-trained 4-year-old gelding received a ground-saving trip under jockey Orlando Bocachica. Valid followed multiple-graded stakes winner Csaba through an opening along the rail on the turn for home and spurted clear through the stretch run. Black Diamond Cat closed under Santiago Gonzalez, to finish second, 1 ¾ lengths ahead of Csaba, the 7-2 second choice ridden by Manoel Cruz.
Valid, owned by Crossed Sabres Farm, ran the one-turn mile in 1:37.54.
"I've got a couple things in mind, but I'll have to talk to the owner and come up with a game plan," Vitali said. "You'll be seeing more of Valid."
Who's Hot: Leading jockey Edgard Zayas started off the 20-cent Rainbow 6 sequence with back-to-back winners: Quick Hall) in the fifth and R Lovely Lindsey in the sixth.
Rainbow 6 Carryover: $50,000