Friday's Rainbow 6 Carryover Pool Guaranteed at $50,000 Zimmerman Enjoys Working Holiday in Trinidad and Tobago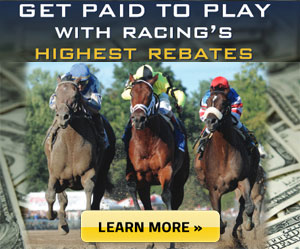 Apprentice Fontanez Makes Three Visits to Winner's Circle
HALLANDALE BEACH, FL – The 20-cent Rainbow 6 went unsolved for the sixth straight program at Gulfstream Park Thursday. The carryover pool for the popular multi-race wager for Friday's program will be guaranteed at $50,000.
Multiple bettors correctly selected the winners of the final six races on Thursday's 10-race card. The winning combination of 4-3-5-2-9-7 returned $7879.20.
The Rainbow 6 Carryover Jackpot is paid out only when there is a single ticket sold with all six winners.
The Rainbow 6 was last solved on Sept. 13 for a $40,000 payoff. Two days earlier, multiple bettors each cashed for $48,407 during a mandatory payout day.
A mandatory payout of all carryover pools is scheduled for Oct. 4, the closing day of the Summer Meet.
Zimmerman Takes Working Holiday in Trinidad and Tobago
Jockey Ramsey Zimmerman ventured to Trinidad and Tobago on his days off from riding at Gulfstream to participate in Wednesday's Trinidad Derby. His mount, Spitfire, showed some early foot before fading at Santa Rosa Park, where Momentum completed the sweep of the nation's Triple Crown.
"It was beautiful there. They have a nice set up. My horse didn't fare so well, but we still had a blast," said Zimmerman, who rode two winners on Thursday's Gulfstream card, Sofialeonor ($7.60) in the sixth and Valid Concept ($6.40) in the eighth. "I won one of the undercard races."
Zimmerman, the second leading rider during Gulfstream's Summer Meet, rode two races on the Derby Day undercard, finishing third aboard Holy Man in the co-featured Diamond Stakes and scoring aboard Bergeron Rodeo in a preliminary race.
Who's Hot: Apprentice jockey Arny Fontanez rode three winners Thursday, scoring back-to-back aboard Yes That's Me ($3.20) in the second and Belsize Park ($11) in the third before taking the ninth race aboard Elusive Harmony ($9.80) in the ninth.
Trainer Kirk Ziadie doubled with Yes That's Me in the second and Elusive Harmony in the ninth
Rainbow 6 Carryover: $50,000