California Chrome Ready to Take Flight after Wednesday Workout Eclipse Finalists Announcement 11 a.m. http://www.GulfstreamPark.com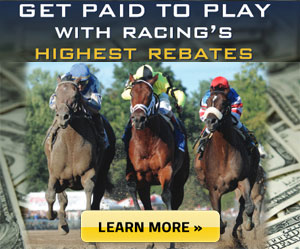 Pletcher Trainee Malagacy Debuts with 15-Length Score Thursday's Rainbow 6 Carryover Jackpot Stands at $23,992.48
HALLANDALE BEACH, FL – California Chrome is ready to take flight for South Florida for a scheduled start in the $12 million Pegasus World Cup Invitational (G1) at Gulfstream Park Jan. 28 after breezing five furlongs at Los Alamitos Race Course Wednesday.
"This horse is training better than he ever has. It's amazing how good he's doing," trainer Art Sherman's son and assistant Alan Sherman said. "He worked in 59-and-4 (seconds), just breezing."
The son of Lucky Pulpit, who was timed in 1:00.20 by the Los Alamitos clocker, is scheduled to depart Southern California Friday on a 6.a.m. flight to Palm Beach International Airport with a stop in Dallas, likely arriving at Gulfstream Park in the early evening.
California Chrome, North America's richest horse with more than $14.5 million in earnings, is scheduled for a rematch in the Pegasus World Cup with Arrogate, who defeated the 2014 Kentucky Derby and Preakness Stakes winner by a half-length in the $6 million Breeders' Cup Classic (G1) at Santa Anita Nov. 5.
California Chrome LLC's 6-year-old star, who had captured six consecutive races prior to the Classic, won the Winter Challenge Stakes at Los Alamitos Dec. 17 by 12 lengths in preparation for his final career start in the Pegasus World Cup
"He's obviously going to be missed. You can't replace a horse like him. He's a once-in-a-lifetime horse," Sherman said. "We're proud of everything he's done, but all good things come to an end, I guess. We're just going to enjoy it and have fun. I think he's going to put on a really good show at Gulfstream."
Sherman said California Chrome will likely walk the shedrow Saturday before taking to the Gulfstream Park racetrack for the first time Sunday morning.
California Chrome and Arrogate are expected to be among the three finalists for the 2016 Horse of the Year title that are scheduled to be announced Thursday morning. The announcement of all Eclipse Awards finalists will be streamed live at http://www.GulfstreamPark.com beginning at 11 a.m.
Pletcher Trainee Malagacy Debuts with 15-Length Score
Sumaya U.S. Stables' Malagacy ($13.80) produced an auspicious debut performance in Wednesday's seventh race that even caught trainer Todd Pletcher somewhat by surprise. The Todd Pletcher-trained 3-year-old colt scored by 15 lengths under Javier Castellano over a muddy track.
"He's trained well but you never necessarily expect one to blow the field away like that. He obviously took to the track. The break's key in these kinds of races and he was sharp away from there. He looked good," Pletcher said.
The son of Shackleford broke alertly in the 5 ½-furlong sprint, assuming the lead leaving the backstretch and extending his lead to the finish line, timed in 1:03.60.
"We didn't expect to be on the lead necessarily but we expected to leave there running," Pletcher said. "That's what we wanted to do. A 5 ½ (-furlong) race on a wet track, you don't want to take back and dirt school him."
Malagacy keyed the winning Super Hi-5 of 5-6-8-9-2 that yielded a $117,059 payoff.
Thursday's Rainbow 6 Carryover Stands at $23,992
The 20-cent Rainbow 6 carryover jackpot went unsolved Wednesday, producing a $23,992.48 carryover for Thursday's 10-race program.
Multiple tickets with six winners were each worth $779.82.
The Rainbow 6 carryover jackpot is paid out only when there is a single unique ticket sold with all six winners. On days when there is no unique ticket, 70 percent of that day's pool goes back to those bettors holding tickets with the most winners while 30 percent is carried over to the jackpot pool. However, on days when a mandatory payout is scheduled, the entire pool is shared by those holding tickets with the most winners.
There will also be a Super Hi-5 carryover of $11,675.41 for Thursday's first race.
Who's Hot: Hall of Fame trainer Nick Zito saddled career winner No. 1999 for Wednesday's third race, won by Majestic Kindness ($4.20). Nik Juarez rode the 4-year-old filly to a commanding nine-length victory and came back to win two more races with Pretty Perfection ($29) in the sixth and Little Awesome ($13.40) in the ninth.
Javier Castellano, the defending five-time Championship Meet riding champion visited the winner's circle with Crazy About Jazz ($2.80) after the first race and Malagacy after the seventh.
Luis Saez also doubled aboard Imperial Warrior ($11.40) in the fifth and Starship Jubilee ($13.20) in the eighth.