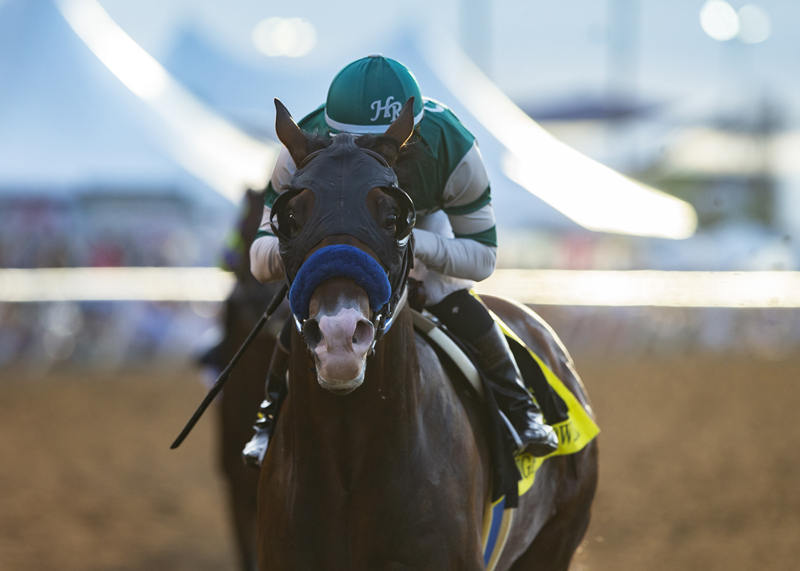 Higher Power © Benoit Photo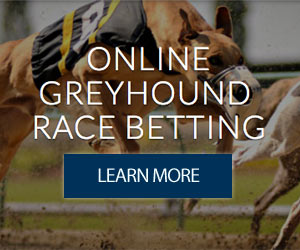 Higher Power, a late-developing four-year-old colt piloted by Del Mar's leading rider, Flavien Prat, swept into command turning into the stretch and continued on strongly to win the Grade I $1 million TVG Pacific Classic Saturday.
Providing owners Pete and Kosta Hronis and trainer John Sadler with their second consecutive success in Del Mar's signature race, Higher Power scored by five and one-quarter lengths, emulating Accelerate's triumph of a year ago. It was the first time in Pacific Classic history that an owner-trainer combination won the race two years in a row with different horses.
Draft Pick, a 13-1 outsider, outfinished 18-1 longshot Mongolian Groom by a neck for second money, with Tenfold fourth in the field of ten older Thoroughbreds. Seeking the Gold, the 2-1 favorite, was a disappointing seventh.
Higher Power, a son of Medaglia d'Oro, stepped the mile and one-quarter in 2:02.43 and returned $21.20, $9.40 and $7.40. He also qualified for the Breeders' Cup Classic in November at Santa Anita since the Pacific Classic is a "Win and You're In" event in the BC Challenge Series.
Higher Power earned the winner's prize of $600,000 to increase his earnings to $800,648 with his fifth win in 13 starts. He was second to Bombard in the Wickerr on the turf July 21, beaten a half-length.
Draft Pick returned $17.40 and $10, while Mongolian Groom paid $7.20 to show.
Trainer Richard Baltas enjoyed an outstanding day as he saddled four winners – Paid Informant at $5.80 in the second, Succeedandsurpass at $6.80 in the fifth, Ginobili at $41.40 in the sixth and Super Patriot at $20 in the eleventh and last race on the program.
---
FLAVIEN PRAT (Higher Power, winner) – "There were no special instructions, just to make him comfortable. We were in a good spot all the way around. At the three-eighths (pole) I asked, and he took up the bit and went from there. He was traveling well all the way around. I thought he would run a good race today. He had been training so well, I thought he'd have a good one in him today."
JOSEPH TALAMO (Draft Pick, second) – "He ran huge. I had lots of horse all the way around there. Hats off to the winner, but my horse ran great. Peter (trainer Peter Eurton) asked me 'What do we do now?' I told him – win the (Breeders' Cup) Classic!"
ABEL CEDILLO (Mongolian Groom, third) – "My horse ran well. It was a good race for him."
MIKE SMITH (Tenfold, fourth) – "He's a big horse. I mean a really big horse physically. At least he tried today. Sometimes he doesn't. But he tried today, give him that. I'd give him a 'B'."
JOHN VELAZQUEZ (Seeking the Soul, seventh) – "He didn't try at all. No effort. I don't get it. I just don't know why. Nothing. Very disappointing."
JOHN SADLER (Higher Power, winner) – "The second time is just as sweet. (The same connections won the TVG Pacific Classic last year with champion Accelerate.) It developed pretty much the way we thought. We thought there would be some speed on the inside and the plan was to stalk. It came out the way we thought it would."
PETER EURTON (Draft Pick, second) – "Very happy with the effort. There are some very good horses in there and we were about five wide the whole way. Couldn't be happier."
---
FRACTIONS: :23.68 :47.69 1:12.65 1:37.32 2:02.43
The stakes win was the sixth of the meet (most by any rider) and first in the TVG Pacific Classic by rider Prat. He now has 39 stakes wins at Del Mar.
The stakes win was the sixth of the meet (most by any trainer) and second (Accelerate, 2018) in the TVG Pacific Classic by trainer Sadler. He now has 73 stakes wins at Del Mar, fourth most among all trainers.
The winning owner, for the second year in a row (Accelerate, 2018) is Kosta Racing, the nom de course for Kosta and Pete Hronis of Delano, CA.
Hronis Racing and John Sadler are the first owner-trainer combination to win the TVG Pacific Classic back to back with different horses.
---
OWNER KOSTAS HRONIS – "We're so blessed to have great horses and a great trainer with a great staff. I can't say enough about that. We felt no pressure today because my wife had surgery on Friday and she did great and is still doing well. Higher Power was an appropriate name today. I was going to stay with her today and she said 'No, you're going to the race. If you don't I'm never going again.' I called her right after the race and she was thrilled. She got to watch it on TVG. Winning it back to back is a tribute to John Sadler.
"I have so much pressure Monday thru Friday that this kind of stuff -- I mean I love it, I breathe it, but it's not pressure to me. This is a thrill. I'm so fortunate to have a great trainer, a great staff, and so proud of the groom Alex."
---
ADDITIONAL JOCKEY QUOTES
JOCKEY FLAVIEN PRAT – "When we entered the backside he really grabbed the bit and I was travelling really well. Once the leader fell apart he really jumped into the bridle and did everything on his own, so I thought that was the right move. I didn't know if somebody would come from behind, but definitely I thought that was the right thing to do. It has been a great year so far and I'm really happy to win the Pacific Classic at (this) track. It means a lot to me."