THE MODERATOR: We are fortunate to have Joel Rosario in the film theater here. Joel, if you would, take us through the Belmont trip. JOEL ROSARIO: First of all, hello, everybody. I was on the outside the whole way and, you know, big horse and, you know, helping him go the mile-and-a-half.

THE MODERATOR: It was pretty much how I imagined you would have drawn it up, couldn't have been easy, the trip on the outside.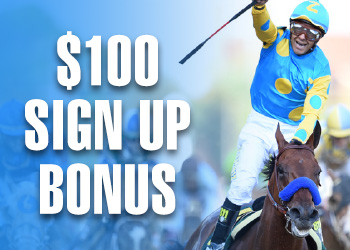 JOEL ROSARIO: He was going easy, I tried to turn around a little bit and tried to be in a good position, I don't want to be too far behind because, you know, mile-and-a-half, it's quickly, the pace.
THE MODERATOR: At what point did you feel like you were a winner? JOEL ROSARIO: When I passed the three-eighths pole, I know the horse, he's a big horse by himself. I was very confident. I kind of worried a little bit, you know, he's kind of, you know, he stayed there for a little bit and the horse come to him but he out after that.
THE MODERATOR: Obviously, part of the story is you do have to play the role of spoiler on California Chrome, your thoughts on ending the Triple Crown. JOEL ROSARIO: I was rooting for him to be good for racing and all that, you know, too bad that happened for him.
THE MODERATOR: Couple more for Joel. Q. Where did you feel you needed to be at the top of the stretch? Normally if you're behind third, you don't win? JOEL ROSARIO: The top of the stretch, I was outside the whole way and I knew I was going to be there, my horse was going easy and I just tried to stay there, you know, one horse, just keep on going. I don't want to be on the inside.
Q. I'm sure there was a point where you thought you might get to California Chrome where you were going down the stretch. Today when did you know that California Chrome maybe didn't have it? JOEL ROSARIO: In the beginning of the first turn, I could see him, he was in a little bit of trouble, you know, inside, to get in his position and I was on the outside, have a clean trip the whole way.
THE MODERATOR: Joel, you got 14 minutes to post. JOEL ROSARIO: I got to go. Thank you, guys.
THE MODERATOR: Now we're joined by the winning trainer of the Belmont Stakes, Christophe Clement. Christophe, congratulations. Let's just start with the race itself and if you could give us your impressions of Tonalist today. CHRISTOPHE CLEMENT: I thought he ran a great race. I enjoy watching the replay again. You know, I thought he trained very well going into the race. All the instruction was just keep him comfortable. I didn't really care if it was the pace, as long as the horse was comfortable because he works and the way he trains, he's got an amazing rhythm. The important thing is just keep him in that rhythm for a mile-and-a-half. You can see the horse is gradually getting closer to the pace, just at his own rhythm. You can see on the quarter post to the wire, he almost looks from the quarter pole and stays and stays and stays and comes back into the race and comes back.
THE MODERATOR: And tell us about the finish then and at what point did you feel like you were a winner watching it. CHRISTOPHE CLEMENT: Just to the wire, you can see in the back stretch it's very easy, but California Chrome is easy, three or four horses doing as well as us, we're not the only one. As the race progressed we moved there, a bit wide all the way but you had no choice and the further he runs the better. I always believe in pedigree, at some stage pedigree kicks in. His is a mare by Pleasant Colony. He has a tremendous amount of stamina and might be the reason why the further you run the better.
THE MODERATOR: Your first Triple Crown win and you spend a lot of time in New York except for the winters, you're here, tell us what it means to you. CHRISTOPHE CLEMENT: It means a lot. I came here in 1991, I've always been very lucky, I always trained for great owners. Why, maybe because my dad was a trainer or I'm not sure why but I started with a strong stable with great owners, a stable group with four owners and the success that we all have as trainers, really depends about who you train for because obviously, you know, between races, the faster horse and so on. This race means a lot because it's the Belmont and even if I'm French I consider myself a New Yorker and I enjoy this for a while.
THE MODERATOR: Obviously the story coming in was a potential Triple Crown, you had to play the spoiler. Your thoughts. CHRISTOPHE CLEMENT: I don't like that, everybody's trying to say something negative. Nothing negative. California Chrome did a great thing, he won the Kentucky Derby, won the Preakness great. He came here a week or so he breezed at 5:35 in the morning, five or six hundred people to see him. It's great. This is what racing is. There's nothing negative. I trained for this, of course I'm going to try to do everything I can to win the race and I'm very happy with Tonalist and I'm sure we will manage to find a way to sleep tonight, no disappointment.
THE MODERATOR: Can you talk about Tonalist's progression this year? He's a lightly-raced horse. CHRISTOPHE CLEMENT: A lot of people think it's a negative. I disagree. I thought it was a positive. He came from Florida. He missed the Wood. Whenever we speak to Mr. Evans it comes up first which is not always the case and by missing the Wood we didn't have enough points to make it to the Derby. Forget about the Derby and the plan B was the Peter Pan and it worked out, we came at about Belmont, trained at Belmont, trained very well in the morning. I was a little bit surprised, I'm not a gambler, I just hoped he would be better but that's okay.
THE MODERATOR: Can you talk about the home-field advantage at Belmont, we've seen this before, being a local horse. CHRISTOPHE CLEMENT: I think there's always a small home-field advantage. Doesn't matter if it's turf, I train that way. Every day I train on the main track. I don't train on the training track. We go every day it's really, it's perfectly normal surroundings. The other horse, California Chrome, went to the Kentucky Derby, went to Preakness, came to the Belmont, it's enormous amount of things very quickly plus it's three races in five weeks. There's something to be said about having a fresh horse on the home court.
Q. Christophe, you've made such a great reputation with your excellence with turf horses but I know even earlier you said you're not just a turf-horse trainer. Can you talk about, first of all, how exciting it was to have a talented three year old on the Triple Crown trail and address people who think you're very, very good with turf horses? CHRISTOPHE CLEMENT: It's always good. I used to complain about this, said the same story, one day Bill Mott told me you shouldn't be upset about being labeled something, I'm not complaining about anything. I did train a real nice horse, Dynever, a dirt horse, ran in the Derby -- ran in the Belmont. Finished fourth to Empire Maker and was not a bad horse. He placed in the Classic, and he placed in the World Cup. Two of the richest races on earth. Never been lucky enough to win a Triple Crown race before today. I can live with it. I, myself, am very comfortable training on dirt or turf. Finished second yesterday in a race going two miles. I'm running a horse tomorrow on dirt. It's not a big deal for me. I just think, you know, we just try to adapt our training and way of thinking is whatever we get.
Q. Do you speak to Rosario in Spanish, French, how does that go? CHRISTOPHE CLEMENT: I don't understand much of what he says. I did not give him much instruction, a lot of people came to me, when you use the type riders I used to give some instruction to some of the riders and I've changed a lot over the last three or four years, I think it's a mistake. The reason why they're the leading riders is because they've got better intuition than most people. I think rather than telling somebody that the horse may have a great turn of foot or finishes better on the other side or is slow from the gate, or just one thing, in this case, I talked to him three times about the race and every time, I said the same thing, just keep him comfortable, as long as the horse is comfortable and in his own rhythm, things will be good.
Q. Steve Coburn says it's unfair if you don't come into all the Triple Crown races you shouldn't come into any of them. How do you feel about his statement saying that? CHRISTOPHE CLEMENT: No comment.
Q. How did Tonalist's discounted purchase price affect your expectations for the horse? CHRISTOPHE CLEMENT: Not at all. The first time I saw Tonalist he was training with Bill Harrigan who trains all the younger horses for Mr. Evans, and I was not aware that of the price at the time, I just saw him train. He was not impressive at all when I saw him in January and February, he was just a horse and as the year went on, as a two-year-old he trained better and better. As a two-year-old he was not an impressive type of horse: too tall, too leggy, needs time to fill out. He was not a precocious speedy type.
THE MODERATOR: We talked a lot about the Pleasant Colony mare, talked about Tapit. CHRISTOPHE CLEMENT: Unfortunately they don't have enough of them but he's done great and every weekend you see Stakes winners. The few have been very good to us and I would like to have more, tell you the truth.
Q. You said there was nothing negative about -- I'm just wondering if you keep racing like Chrome did -- CHRISTOPHE CLEMENT: I don't know. Chrome was wonderful but don't think it's a negative, the horse might come back, might be the Travers, might be the Breeders' Cup. I don't think the story is finished. He may come back. I think it's wonderful to see the larger crowd and the excitement. I think it's wonderful to see it. The Triple Crown itself, you know, obviously it's tough. If it would be easier to do it, then it would mean nothing. You have a very good race.
Q. Do you think the format should be changed? CHRISTOPHE CLEMENT: I don't have the knowledge. I'm not smart enough to answer. My feeling is no because if you space it out more, then I'm not sure you actually make it easier because things change through the year.
Q. I think your boss said the opposite. CHRISTOPHE CLEMENT: That's okay. That's why we like each other. I'm not sure. I'm not sure. In the case about not running in all the Triple Crown races, I'm not sure it should be strict.
THE MODERATOR: Lot of the top three-year-olds will get a break now, you've got a pretty fresh horse. Are you going to keep on? What are you doing for the summer? CHRISTOPHE CLEMENT: I'm going to find a race for the summer. Let's see if he comes out of it. Obviously you have to think about all the major races for three-year-olds, Haskell, Travers, we know about all the races but we don't have to decide now, just enjoy it a little bit.
Q. Mr. Evans said his hope would be the Travers and you keep going racing your horse up at Saratoga. How nice would it be to have a serious contender in that one? CHRISTOPHE CLEMENT: That would be great. Mr. Evans wants to put pressure on me at day one. I want to go home, have a nice glass of wine, maybe watch the race. This is a great horse.
Q. You also have a great reputation for not having any drug infractions or anything like that. What do you think has been the key to your success in not ever having to turn to anything like that? CHRISTOPHE CLEMENT: It's the discipline, the people who work with you are disciplined. You can avoid most medication problems. I belong to a culture where we only treat horses who are sick and that's my culture and I like to keep it that way.
Q. What time are you at the barn tomorrow? CHRISTOPHE CLEMENT: I'll be at the barn tomorrow 5:35.
THE MODERATOR: Christophe, congratulations.