• KEENELAND FAVORITE WISE DAN APPEARS TODAY • TOM LEACH INTERVIEWS HORSEMEN IN UPCOMING STAKES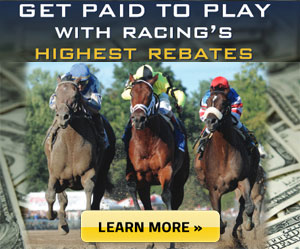 • HARMONIZE TOPS OVERFLOW FIELD FOR WEDNESDAY'S JPMORGAN CHASE JESSAMINE • GOMO EXITS DARLEY ALCIBIADES IN GOOD ORDER • RUNHAPPY STILL GOING AFTER STOLL KEENON OGDEN PHOENIX • EXAGGERATOR HAS DESORMEAUX HOPING FOR REPEAT • CHAMPION UNTAPABLE TRAINING WELL FOR SUNDAY'S JUDDMONTE SPINSTER • WELL-TRAVELED YAHILWA TAKING GRADE 1 SHOT IN SUNDAY'S JUDDMONTE SPINSTER • MURRILL SCORES FIRST KEENELAND WIN ON OPENING DAY • STAKES PROBABLES
KEENELAND FAVORITE WISE DAN APPEARS TODAY
Morton Fink's two-time Horse of the Year Wise Dan, based at Keeneland with trainer Charlie LoPresti during his career, will be paraded in the Paddock and Walking Ring during today's third race (post time 2:15 p.m. ET).
Following the Winner's Circle photo for the third race, Wise Dan will be led from the Walking Ring through the tunnel onto the main track. The gelding will be paraded in front of the Grandstand, exiting through the main gap to return to LoPresti's barn.
Meanwhile, LoPresti and his wife, Amy, will be in the Winner's Circle for a special presentation.  
TOM LEACH INTERVIEWS HORSEMEN IN UPCOMING STAKES
Keeneland racing analyst Tom Leach interviews these horsemen about their starters in Saturday and Sunday stakes:
Trainer Wesley Ward on champion Judy the Beauty in today's Thoroughbred Club of America (G2) and Sheikh of Sheikhs in the Claiborne Breeders' Futurity (G1).
Trainer Mark Casse on Sky Treasure and Tepin in today's First Lady (G1) and Gametown in the Claiborne Breeders' Futurity and Airoforce and Sliding Spring in Sunday's Dixiana Bourbon (G3).
Trainer Vicki Oliver on She's Not Here in the First Lady and Frivolous in Sunday's Juddmonte Spinster (G1).
HARMONIZE TOPS OVERFLOW FIELD FOR WEDNESDAY'S JPMORGAN CHASE JESSAMINE
Larkin Armstrong's Harmonize, the 4-length winner of the P.G. Johnson Stakes at Saratoga on Sept. 3, heads a field of 14 2-year-old fillies and two also-eligibles entered Saturday for Wednesday's 25th running of the $150,000 JPMorgan Chase Jessamine (G3) to be run at 1 1/16 miles on the grass.
The race is a "Win and You're In" race for the $1 million Breeders' Cup Juvenile Fillies Turf (G1) to be run at a mile here Oct. 30. It will go as the seventh race on Wednesday's eight-race program with a 4:24 p.m. ET post time. First post Wednesday is 1:05 p.m.
Trained by two-time race winner Bill Mott, Harmonize was beaten by a nose by Thrilled in her debut Aug. 9 but turned the tables in the P.G. Johnson. Junior Alvarado, who has been aboard both times, has the call Wednesday and will exit post position four.
Mott, who ranks third at Keeneland with 40 stakes victories, won this race in 2001 with Stylelistick and the second division in 1994 with Bail Out Becky.
Also in the field are four undefeated debut winners on the grass in Gary and Mary West's Family Tree, Delmar Pettigrew's Outsider Art, Klaravich Stables and William Lawrence's Theory of Change and Ken and Sarah Ramsey's Sapphire Kitten.
The field for the JPMorgan Chase Jessamine, with riders and weight from the inside, is as follows: Carleigh Belle (Malcolm Franklin, 118 pounds), Tia Flor (Carlos Villasana, 118), Precious Love (Chris Landeros, 118), Harmonize (Alvarado, 120), Clare View (Florent Geroux, 118), Sapphire Kitten (Julien Leparoux, 118), Lilly's Dream (Corey Lanerie, 118), Theory of Change (Joe Bravo, 118), Inconclusive (Shaun Bridgmohan, 118), Delicate Lady (John Velazquez, 118), Family Tree (Channing Hill, 118), Moms Choice (Jose Valdivia Jr., 118), Come to Mischief (Robby Albarado, 118) and Outsider Art (Drayden Van Dyke, 118). Also-eligibles: La Piba (Didiel Osorio, 118) and Felt in Pocket (Geroux, 118).
GOMO EXITS DARLEY ALCIBIADES IN GOOD ORDER
Owner Paul Reddam and trainer Doug O'Neill did not linger long at Keeneland Friday afternoon to savor the victory of Gomo in the Darley Alcibiades (G1).
"As soon as the pictures were taken, they were on the plane," said Jack Sisterson, O'Neill's assistant at Keeneland. "They had dinner in New York last night."
It should have been a good dinner as Gomo gave Reddam a second Breeders' Cup starter to go with undefeated two-time Grade 1 winner Nyquist, who is headed to the $2 million Sentient Jet Juvenile (G1) to be run here Oct. 31.
"She looks fine this morning," Sisterson said of Gomo, a 2¾-length winner over a sloppy track. "We thought she would run well, but when they win like that, you don't expect it. From Day One, we thought going two turns on dirt would be her game and she got a chance to prove it yesterday."
Gomo, who earned a spot in the starting gate for the $2 million Breeders' Cup Juvenile Fillies (G1) on Oct. 31, will remain at Keeneland until the race and will be joined Sunday by a trio of stablemates running at Belmont Park today.
Ralis is in the Foxwoods Champagne (G1) and Where's the D is in the Frizette (G1), both "Win and You're In" races for the Sentient Jet Breeders' Cup Juvenile and Breeders' Cup Juvenile Fillies, respectively. Royal Albert Hall (GB) is entered in the Hill Prince.
As for Nyquist, undefeated in four starts including victories in the Del Mar Futurity (G1) and FrontRunner (G1), his travel plans to Kentucky have not been finalized.
"I know Doug wants him to have at least one work here," Sisterson said.
Darley Alcibiades runner-up Dothraki Queen has returned to trainer Kenny McPeek's string at Churchill Downs. The filly already has a berth to the Breeders' Cup Juvenile Fillies, which she earned for winning the Pocahontas (G2) in September at Churchill.
She is still on target for the Breeders' Cup.
"We don't have much to do. She's a fit filly," McPeek said. "We probably need a couple of maintenance breezes. Pretty basic stuff. Either there (at Churchill) or here; we haven't decided yet."
RUNHAPPY STILL GOING AFTER STOLL KEENON OGDEN PHOENIX
James McIngvale's Runhappy, winner of Friday's Stoll Keenon Ogden Phoenix (G3) on opening day of the Fall Meet, is back at trainer Maria Borell's barn at The Thoroughbred Center on the north side of Lexington.
"He came out of the race well," said Borell, who had just three previous starts at Keeneland before winning the Stoll Keenon Ogden Phoenix. "He's dragging us around this morning walking in the shedrow."
The 7-5 favorite in the six-furlong Stoll Keenon Ogden Phoenix, Runhappy quickly recovered from a poor start to take the early lead under Edgar Prado and won by 1¾ lengths. The victory earned the 3-year-old Super Saver colt, who won the NYRA.com King's Bishop (G1) at Saratoga on Aug. 29, an automatic berth in the $1.5 million TwinSpires Breeders' Cup Sprint (G1) at Keeneland on Oct. 31.
Borell said she would like to keep Runhappy at The Thoroughbred Center as long as possible before he returns to Keeneland for the Breeders' Cup, although he could make a trip here for a work. Runhappy's training routine includes swimming at the pool and turn-out time in the paddocks at The Thoroughbred Center.
Borell is still processing the experience of handling such a talented runner, who has five wins in six starts and earnings of $481,300.
"It's a dream come true," she said. "I know everyone thinks that's silly, but it seems unreal some days."
Suzanne Stables' Barbados, second to Runhappy, returned to Churchill Downs Friday night and was reported to be fine Saturday morning, according to trainer Mike Tomlinson.
Winner of the Hutcheson (G3) in January and three times graded stakes-placed since, Barbados likely will make one more Keeneland appearance this month.
"I had the Perryville penciled in for his next race," Tomlinson said referring to the $100,000 race for 3-year-olds going six furlongs on the main track Oct. 31. "But if things change, we will go with that."
Barbados may have enough on his resume to sway the Breeders' Cup Selection Panel to include him among the pre-entries for the TwinSpires Breeders' Cup Sprint.
"He's a nice little horse, but he only has 10 points and I don't know if he would get invited," Tomlinson said. "If he does get in (the Breeders' Cup), he'd probably stay at Churchill until he had to come over three days before the race."
Defending winner and champion sprinter Work All Week exited his third-place effort in fine order, according to Richard Papiese of owner Midwest Thoroughbreds.
Work All Week broke sharply from the outside post 11 over the sloppy going and tracked eventual winner Runhappy throughout before being nipped at the wire by Barbados. The race was his first since Aug. 1, when he won the Senator Robert C. Byrd Memorial at Mountaineer.
Papiese confirmed that Work All Week will be aimed toward a defense of his title in the Breeders' Cup Sprint.
EXAGGERATOR HAS DESORMEAUX HOPING FOR REPEAT
Trainer Keith Desormeaux is hoping for deja vu all over again in this year's Sentient Jet Breeders' Cup Juvenile (G1) at Keeneland. Winner of the race at Santa Anita in 2014 with Texas Red, Desormeaux has brought Big Chief Racing's Saratoga Special (G2) winner, Exaggerator, to Keeneland with the Juvenile on Oct. 31 firmly in mind. First, though, the son of Curlin must prove he can handle today's $500,000 Claiborne Breeders' Futurity (G1).
"I bought him at the sale around this time last year and he's been very impressive ever since," Desormeaux said about the colt, which Big Chief purchased for $110,000 at Keeneland's 2014 September Yearling Sale. "He's very athletic and very correct. He has a classy look about him, great conformation and had an air of confidence at the sale, handling himself well among the crowds. That means a lot.
"If they handle themselves in the sale environment, they can do it in the racing environment. The one thing a lot of these Curlins all have is class."
After a troubled debut at Santa Anita on June 5 in which he did not break well, Exaggerator won at Del Mar on July 25. Twenty-two days later in New York, he took the 6½-furlong Saratoga Special by three-quarters of a length.
Desormeaux's brother Kent will ride Exaggerator in today's 1 1/16-mile Claiborne Breeders' Futurity.
"We expect him to relish the distance being that he has the pedigree he has, but coming out of sprints is a challenge for anyone to be able to settle," Desormeaux said about Exaggerator. "We want him to have a route-horse mindset and relax the first part of the race. I want a good, strong finish after that out of him. The way he finished in all his races, he shouldn't have too much trouble doing that."
CHAMPION UNTAPABLE TRAINING WELL FOR SUNDAY'S JUDDMONTE SPINSTER
As a champion and winner of both the Kentucky Oaks (G1) and Longines Breeders' Cup Distaff (G1), Ron Winchell's 4-year-old filly Untapable does not have much to prove. Still, the daughter of Tapit has given her connections reason to believe she could have an excellent finish to her season. Untapable enters Sunday's $500,000 Juddmonte Spinster (G1) as the 9-5 morning-line favorite.
"She is just Untapable. She's herself, and we are all feeling pretty good about it," said David Fiske, racing manager for Winchell. "She's training like she has always trained, looking and doing great. If the track is wet, that may be a wild card, but we've been pointing to the Spinster and the Distaff all year. Hopefully she'll punch her ticket Sunday."
After a sophomore season in which she won six of seven races and earned more than $2.8 million, Untapable has one win in five starts in 2015 with three runner-up efforts and a third-place finish. Trained by Steve Asmussen, she began her season at Oaklawn with a runner-up finish in the Azeri (G2) followed by a sharp victory in the Apple Blossom (G1). In three subsequent New York tries, she was second in both the Ogden Phipps (G1) and Shuvee (G3) before a third in the Personal Ensign (G1).
"She's still awfully good," Fiske said. "A lot of fillies would love to win a Grade 1 and the fact that she's only won one this year – especially one as big as the Apple Blossom – is not a knock on her. Most of what has happened this year has been situational and just hasn't fallen her way. "We are hoping it works out for her tomorrow. Like most Tapits, she's best when she settles comfortably. I wouldn't mind seeing her in her usual spot a couple lengths off the lead."
Fiske gave an update on another Winchell homebred daughter of Tapit, Grade 2 winner Just Wicked, who was sixth in Friday's Darley Alcibiades (G1) after breaking from the far outside post 10.
"She came out great with no ill effects," he said. "It's another one of those situational things. She was drawn way out and it was a sloppy track. It could be that she's a sprinter, but it's hard to make that assessment off yesterday's race. She has two mile and a sixteenth races in a row that aren't stellar by any means.
"We'll fall back and regroup," he continued. "I don't think we really would be confident enough to move on to the (Grade 1) Breeders' Cup (Juvenile Fillies) after that. Maybe we will look at a race like the Golden Rod (G2) at Churchill."
WELL-TRAVELED YAHILWA TAKING GRADE 1 SHOT IN SUNDAY'S JUDDMONTE SPINSTER
For D P Racing's Yahilwa, Southern California may be her home base with trainer Jim Cassidy, but that doesn't mean she's a homebody.
"She likes to ship more than I do," Cassidy said of the 5-year-old mare who will be racing at her eighth track when she goes postward in the 60th running of the $500,000 Juddmonte Spinster (G1). The stakes is a "Win and You're In" race for the $2 million Longines Breeders' Cup Distaff (G1) to be run here Oct. 30.
"I didn't want to go to New York (for last week's Grade 1 Beldame) because I thought she would like this track better," Cassidy said. "The Win and You're In is not a concern. I just want her to run good."
In her most recent trip to Kentucky, Yahilwa finished fourth in the Fleur de Lis (G2) at Churchill Downs in June behind Juddmonte Spinster rivals Frivolous and Tiz Windy. She won the Sixty Sails (G3) at Hawthorne this spring and in her most recent start finished second to division leader Beholder in the Clement Hirsch (G1) at Del Mar.
"She tries hard every time," Cassidy said of the daughter of Medaglia d'Oro. "It doesn't matter the surface – grass, synthetic, dirt – she runs the same every time."
Should Yahilwa prevail Sunday against the likes of the past two Longines Kentucky Oaks (G1) winners in Untapable and Lovely Maria, Cassidy said the mare would remain here until the Breeders' Cup.
MURRILL SCORES FIRST KEENELAND WIN ON OPENING DAY
Fresh off a solid Arlington meet in which he was the second-winningest rider, 21-year-old Alabama native Mitchell Murrill scored his first victory at Keeneland when he won the 10th race on Friday's opening day of the Fall Meet. Murrill rode Savoy Stable's Fancy Man to a 3¼-length victory for trainer Dale Bennett.
"I was really excited and it was a great run," Murrill said. "I was really glad to ride this horse back for Dale. I was confident, though I admit I was a little nervous about him running in the slop. He seemed to take to it very well and I kept him outside where the footing was a little better.
"It's great to be here and learn from these great jockeys," he continued. "It's much more of an exciting thing than an intimidating one and I am just trying to get better and work hard."
Since beginning his career in 2013, Murrill has 152 victories from 1,198 starts with earnings of $2,630,092. In 2015 alone, he has scored 108 victories from 741 mounts, resulting in a 15 percent strike rate.
STAKES PROBABLES
Here is the list of probable starters for a stakes next week as compiled by Racing Secretary Ben Huffman and Stakes Coordinator Allison DeLuca: FRIDAY, Oct. 9 (Entries taken Tuesday) $100,000 BUFFALO TRACE FRANKLIN COUNTY: Probable: Ageless, Fleet Encounter, Free as a Bird, Iroquois Girl, Joya Real, Lady Shipman, Richies Sweetheart, Seeking Treasure, Shrinking Violet. Possible: Eden Prairie.