KENTUCKY DERBY UPDATE

CALIFORNIA CHROME (No. 1) – Quiet and "cold" at the Art Sherman barn Sunday at Los Alamitos Race Course in Southern California – and both were just what a trainer would want heading into a role as the Kentucky Derby favorite.

The affable Sherman has met his equine soulmate in "Chrome," the chestnut Cal-bred whose racetrack exploits have led him to the edge of racing immortality.

"He's doing great this morning," the conditioner said following a final half-mile race prep the day before accomplished in :48.20. "He just walked this morning after coming out of that work real well. Everything is ice cold, he's happy and we're good to go. He ships tomorrow morning."

California Chrome, a winner of six of 10 lifetime starts including his last four – all stakes – in a row, is already a racing millionaire ($1,134,850). He's a strikingly handsome chestnut with a malleable style and a Kentucky Derby-winning rider (Victor Espinoza) in his corner.

But while the son of the young Pulpit stallion Lucky Pulpit has many things going for him, one thing he doesn't is travel miles. California Chrome never has been out of California and now is being asked to step on an airplane for the first time and ship across the U.S.A.

How, many are wondering, is this California dude going to handle it?

Sherman thinks he knows.

"If you've been around this horse, if you've been around horses in general, you know they all have their own personalities," he said. "This horse just has a wonderful personality; an excellent demeanor. He's so easy going, so laid back. Nothing seems to bother him.

"I think he'll walk on that airplane tomorrow morning and think nothing of it. He'll just get on and go. And when he gets to Churchill Downs, he'll look around and know he's at a racetrack and feel right at home. That's the way he is.

"I guess there are things I should be concerned about given our situation, but one thing I'm not is how this horse is going to handle his trip down there. 'Chrome' will deal with it just fine. I'm not worried about that at all."

VICAR'S IN TROUBLE (No. 2)/GENERAL A ROD (No. 14)/HARRY'S HOLIDAY (No. 19) – Ken and Sarah's Ramsey's Vicar's in Trouble and Skychai Racing, Terry Raymond and Jana Wagner's Harry's Holiday walked in the barn Sunday morning, a day after turning in five-furlong workouts. Vicar's in Trouble worked Saturday in 1:03.80, and Harry's Holiday in 1:02.60.

Trainer Mike Maker's other Derby contender, J. Armando Rodriguez's General a Rod, came on to the track Sunday when it opened and galloped under exercise rider Joel Barrientos.

General a Rod, has won two of five starts and never finished out of the money. In stakes, he won the Gulfstream Park Derby; finished second, a nose behind Wildcat Red, in the Fountain of Youth (GII); and was third, 1 1/2 lengths behind winner Constitution, in the Florida Derby (G1).

"Think we can get three more out of him like that?'' Maker said of General a Rod's consistency. Maker, 45, seeking his first Derby victory, has been training on his own since 2003 and has saddled five Derby starters. But as an assistant to trainer D. Wayne Lukas from 1993-2003, Maker shared in Derby wins by Thunder Gulch (1995), Grindstone (1996) and Charismatic (1999).

Charismatic was the one that stood out, Maker said. "Cat Thief was in there that year, too.''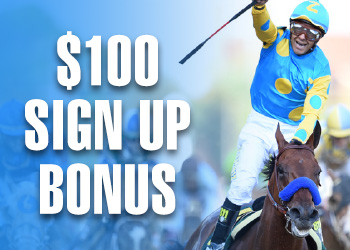 Concerning whether there's something about training a Derby horse that he took from his experience with Lukas, Maker responded with a one-liner. "Got the same blacksmith,'' Maker said with a laugh.
The blacksmith, Frankie Guarneri, was standing next to Maker as he was watching one of his horses train.
DANCE WITH FATE (No. 3) – Trainer Peter Eurton reported that Blue Grass (GI) winner Dance With Fate came out of his :47 half-mile work Saturday at Santa Anita in good order and is scheduled to ship to Louisville early Monday from Southern California.
Owned by Sharon Alesia, Bran Jam Stable and Ciaglia Racing, Dance With Fate will be returning to dirt in Kentucky Derby 140 for the first time since finishing eighth in the Breeders' Cup Juvenile (GI) last November.
Corey Nakatani, who was aboard for the first time in the Blue Grass Stakes victory, has the mount on Saturday.
WICKED STRONG (No. 4) – Centennial Farms' Wicked Strong arrived at Churchill Downs Sunday morning after a 13-hour van ride from Belmont Park in Elmont, N.Y.
Trainer Jimmy Jerkens, 55, said the trip was uneventful, that the Wood Memorial (GI) winner was given a bath and was standing comfortably in his stall in trainer Eddie Kenneally's barn.
"I've been here before. I know what its like," he said. "It's exciting but nerve wracking at the same time."
Wicked Strong will be Jerkens' first Derby starter and his third career starter at Churchill Downs. He won the 2002 Humana Distaff with Celtic Melody. In 1992, he was working for his father, Hall of Fame trainer H. Allen Jerkens, and part of the team that brought Devil His Due to the Derby. Devil His Due finished 12th in the race won by War Emblem.
Jerkens said that Wicked Strong will gallop Monday morning during the time reserved for Derby and Kentucky Oaks runners at 8:30 a.m. Later in the week, Jerkens intends to let the colt have a short blowout-type work.
"Yeah, we're planning on letting him stretch his legs down the lane on Thursday, Jerkens said.
SAMRAAT (No. 5) - My Meadowview Farm's Samraat galloped 1 3/8 miles under rider Rodney Taime Sunday morning at Aqueduct. He will be flown to Louisville on Monday afternoon.
"He's great," trainer Rick Violette said. "He galloped this morning, a sunny cool morning, and he was feeling great. He cooled out well and had his daily roll in the sand. All systems stay go."
Violette said the New York-bred son of Noble Causeway, will have a light morning on Monday and head to the airport at noon. The veteran trainer said he was pleased that there was precious little news in the Samraat camp.
"The quieter and the lack of anything interesting is good," he said.
DANZA (No. 6)/INTENSE HOLIDAY (No. 8)/WE MISS ARTIE (No. 10)/VINCEREMOS (No. 18) – Four stakes-winning colts were workers – going two-by-two – for trainer Todd Pletcher Sunday morning at Churchill Downs as he put the final major touches on his Kentucky Derby 140 candidates.
For three of his sophomores, the drills proved positive; for the fourth, not so much so.
Pletcher teamed up Intense Holiday and We Miss Artie, putting regular exercise rider Nick Bush on the latter and rider John Velazquez aboard the former. It was the first time Hall of Famer Velazquez had sat aboard his Derby mount. With "Intense" on the outside, the pair broke off evenly at the half-mile pole, then went through their assignments with Velazquez's colt drawing clear and finishing three lengths in front of his barnmate to earn a final time of :48.60 (seventh fastest of 58) for the move. "Artie" was clocked in :49.20 (27th best of 58).
Following right behind them, Danza (with exercise rider Ezequiel Perez aboard) on the outside spotted Vinceremos (Ovel Merida) about a half-length at the half-mile, then bested him by about a half-length at the wire. Their work times were registered as Danza at :48.80 (11th fastest of 58) and Vinceremos at :49 (19th fastest).
Going into the morning's exercise, the multiple-Eclipse Award winning conditioner noted that he had some concerns with Intense Holiday's ability to change leads properly.
"We've been working with him," Pletcher said, "and I think we've made some progress. It will be interesting to see how he does this morning."
Following the work, the trainer was encouraged.
"This was a good work for him," Pletcher told a media gathering at his Barn 34 headquarters. "There might have been just a little bit of an issue still there, but overall it was everything we were hoping to see from him. He worked very well."
Rider Velazquez, too, was encouraged by the drill.
"I didn't have to help him (change leads)," he said. "He handled it real well. He responded very well to what I asked him to do. I was very impressed and he worked really, really well. He gave me a lot of confidence."
On the other hand, We Miss Artie's work did not earn any seals of approval. "I wasn't that happy with (his) effort," Pletcher said. "It might have been a combination of how he handled the (dirt) track and how well Intense Holiday worked alongside him. I just expected more from (We Miss Artie). I'm not sure at all if he should be running in the Derby. I'll talk to Mr. Ramsey (owner Ken Ramsey) and we'll see."
Danza's move continued an on-the-rise pattern that has pleased the trainer since the chestnut colt returned from a layoff at the end of his 2-year-old season.
"He is coming right along and this work was another good effort on his part," he said. "His comeback race in Florida (a third-place finish in an allowance race) was better than looked and his Arkansas Derby (in which he tallied by nearly five lengths) speaks for itself. He's been working well and doing well and we have to be pleased with how he's coming up to this race."
Pletcher had indicated he wanted to see a good drill for Vinceremos Sunday if he was to be seriously considered for a Derby run. It appears he got it.
"Vinceremos' work was good," he said. "He did well enough for us to consider it (a start in Derby 140)."
Following training hours, WinStar Farm president Elliott Walden told Daily Racing Form that Joe Rocco Jr. would have the Derby mount on Vinceremos.
Javier Castellano has the mount on We Miss Artie and Joe Bravo the call on Danza.
HOPPERUNITY (No. 7)/CHITU (No. 12) – Tanma Corporation's Chitu lost the special shoe on his right front foot Sunday while breezing six furlongs from the gate in 1:13.20.
Hoppertunity, scheduled to have his final pre-Derby work on Monday, galloped a mile and a half.
Trainer Bob Baffert said his third Derby prospect, Bayern, is no longer a candidate for the race. Bayern finished first in the Derby Trial (GIII) Saturday night, but was disqualified and moved to second for bumping with Embellishing Bob. Bayern was 21st on the list for the 20 berths in the Derby, but Baffert said that even if a spot opened up the colt will not run.
Chitu, winner of the Sunland Derby (GIII) is being treated for seedy toe, a rare but potentially dangerous fungus condition. Baffert said the colt is recovering nicely and that the shoe protects the hoof.
Jockey Martin Garcia, who will ride the colt in the Derby, flew in from California and was aboard for the the work.
Working in company with the filly Party Time, Chitu turned in split times of 24.40, 36.20, 47.80 1:00.20. He galloped out the seven furlongs in 1:27.20.
"He worked very well from the gate," Baffert said. "Last week he was a little sluggish. But he's that way and Martin knows the horse really well. He worked a pretty solid three-quarters and I'm pretty happy about that."
Baffert said that he and his staff have dealt with Chitu's seedy toe issue for several months and it has not affected the colt's racing career. Chitu lost of piece of his hoof in the treatment of the condition and the special shoe gives additional support to the area.
"He runs in regular shoes," Baffert said. "It's a little fungus that gets in the toe and eats the front of the wall. It's not painful or anything. He's never been sore. It's growing out. The fungus is under control, but we just took a lot of the wall in the front of hoof off. It's not inside the foot. It's nothing painful. We always have it covered up, but right now we have it open so it can get air and dry out. He's fine."
Baffert said Bayern put in a good performance in the Derby Trial.
"Last night wasn't too bad," Baffert said. "We won, but got a little DQ action. I still haven't seen the replay of the head-on, but once they hang official there's not a whole lot you can say. You've just got to take it. I knew there was contact, whether it was incidental or they both ran into each other, whatever, but it was so close.
"I'm happy with my horse. At least he ran his race. He'll get a lot out of it. It was basically a prep for something else.
Baffert didn't say whether the Preakness might be the next race for Bayern.
"I'll just let my horse tell me what's next," he said. "We'll see how he comes out of it. He looks good today. We're still trying to figure out this horse. He's still a young horse and has a big future."
WILDCAT RED (No. 9) – Honors Stable Corp.'s Wildcat Red put in his final major preparation for Kentucky Derby 140 by working five furlongs in 1:04.40 under jockey Luis Saez on Sunday morning at Churchill Downs.
Working on his own after the morning renovation break over a fast track, Wildcat Red posted fractions of :13.20, :25.80, :38.80, :51.20 and galloped out six furlongs in 1:20.60.
"The track seemed a little bit heavy," trainer Jose Garoffalo said. "He has never been on a track like this."
Based at Gulfstream Park, Wildcat Red had worked a bullet before running a game second in the Florida Derby (GI). Garoffalo was not worried about the time of Sunday's work.
"Luis told my assistant that he was happy with the work and the horse did what I expected," Garoffalo said. "He used to be very anxious but now he can relax as he goes longer. He is more mature and steadier. I am not worried about the time."
Garoffalo said Wildcat Red would walk Monday and then gallop up to the race with a session at the gate Thursday and a trip to the paddock on Friday.
RIDE ON CURLIN (No. 11) – Daniel Dougherty's Ride On Curlin worked seven furlongs Sunday in 1:29 for trainer Billy Gowan, who had worked him the same distance six days before the colt finished second in the Arkansas Derby (GI).
"Didn't want to change anything,'' Gowan said."Just make sure he's got plenty of air.''
With exercise rider Bryan Beccia aboard, Ride On Curlin set fractions of :14, :27.20, :39.40, :51.60 and 1:16. He galloped out a mile in 1:43.20.
"I told him to work him slow and let him finish up down the lane, and he looked good coming down the lane,'' Gowan said. "So I think we're in good shape.''
"We weren't looking for anything real fast, mainly just maintenance and air,'' Beccia said."He just went there comfortably on his own down the backside and around the turn.''
The workout was typical for Ride On Curlin, Beccia said.
"The track's a little off,'' he said."It was a little dead this morning. It's not as fast as it was last night or anything like that. We weren't really looking for any speed. Just maintenance, just keep the air in him, and he responded well. If you want him to go down there in 59, he'll do it. But that was when we were basically sprinting.
"We're not trying to do that anymore. We're trying to get him to relax the first part of the race and get him off the pace, and he's working that way right now. He's not exactly dragging me all the way down the backside. He's relaxed. I've got a good hold of him, but he's relaxed. His ears are up. He's comfortable. At the sixteenth pole, when I reached up and asked him a little bit, he responded.
"He jumped in the bridle again and then basically just coasted around the turn for the last eighth of a mile (when galloping out). But real good, real comfortable, hit his marks good, hits his leads perfect. No problem.''
Calvin Borel has the mount for the Kentucky Derby.
TAPITURE (No. 13) – Winchell Thoroughbreds' Tapiture had a strong two-mile gallop under exercise rider Abel Flores at 6:45 a.m. Sunday, starting and finishing midway down the backstretch near the five-eighths pole. The Tapit colt, whose multiple graded stakes wins include the Kentucky Jockey Club (GII) over this same Churchill Downs main track, was very eager his first time around the far turn.
"With him, we are 15 days since his last race today," said trainer Steve Asmussen, who accompanied his horse to the track astride a stable pony. "His fitness level is good. We just want to keep him in a nice rhythm and keep him loose."
Tapiture will work a half-mile Monday morning with the second set of Asmussen horses to hit the track, around 6 o'clock.
"The day before a work we wanted to let him stretch his legs a little bit," Asmussen said. "His energy level has gone up every day since he has been here. I think with the Arkansas Derby just 15 days ago today, I think the timing, he is coming around very good."
Tapiture won his 3-year-old debut in the Southwest Stakes (GIII) at Oaklawn Park before finishing second in a roughly run renewal of the Rebel Stakes (GII). Both of those races were at 1 1/16 miles. In his last start, stretching out to 1 1/8 miles for the Arkansas Derby (GI), Tapiture finished fourth and came up empty in the stretch.
"I think our concern right now is if the 1 ¼ miles [of the Derby] is his optimum distance," Asmussen said. "We want to have him nice and loose and relaxed and get him ready as smooth as possible."
RING WEEKEND – St. Elias Stable and West Point Thoroughbreds' Ring Weekend spiked a fever Sunday morning and has been withdrawn from consideration for the race.
"Obviously, we're devastated for the clients, the people who are the owners of this horse," said Jeff Lifson, West Point's executive vice president.
The defection of Ring Weekend enabled another West Point horse, Commanding Curve, to move into the 20th and final spot in the field for the 140th Derby.
"The only good outcome from this is that his black and gold brethren Commanding Curve makes up for what Ring Weekend most assuredly would have done in the Kentucky Derby," Lifson said. "We're excited to run the other colt, but there are mixed feelings, as there is so often in this game."
Lifson said that trainer Graham Motion and his staff at the Fair Hill (Md.) Training Center noticed Sunday morning that the horse wasn't himself.
"They took a temp and it was elevated, 102 degrees," Lifson said. "The white blood cell count was high in the first blood that they took. They waited a little while and the temp went down, but they did another definitive blood sample test and there is some type of infection brewing. So they are going to knock it out, they hope, quickly, with some antibiotics."
However, the issue was discovered too close to the Derby for Ring Weekend to compete.
"You can't run a horse in the most important race in North America a mile and a quarter for the first time in their lives when they are under the weather," Lifson said.
The Preakness on May 17 might still be an option for the horse.
"We're hopeful that we can knock the infection out in 48 hours," Lifson said. "If that's the case, we could look at a race like the Preakness, and we'd be honored to run if we could knock this thing out quickly. But if it lingers on into the week; well, it's too early to be determined at this point."
MEDAL COUNT (No. 15) – Spendthrift Farm's Medal Count walked the shedrow at trainer Dale Romans's barn one day after posting a six-furlong breeze in 1:13 and looked great, according to Tammy Fox, assistant to her longtime partner.
The Blue Grass Stakes (GI) runner-up is set to make his third starts in five weeks, a progression Fox referred to as "old-school" before adamantly disavowing any concerns that such a demanding schedule – at least by today's standards – could be a disadvantage for their sturdy Dynaformer colt.
"You just got to know your horse," Fox said. "Some horses can do it. I'm not saying all of them can – some horses are a lot lighter and races take a lot more out of them – but he's big. He looks good on the racetrack, he's holding his weight good, his mind's good."
Fox, a former jockey from a racing family, rattled off several examples of horses that won repeatedly on what would be considered short rest these days, including one of her own best mounts, Big Courage, who rattled off three consecutive stakes wins at the Fair Grounds in 1991.
"I won the Sugar Bowl, the LeComte and the Risen Star and all of those races were only a few weeks apart back then," Fox said. "If a horse can handle it and he's keeping his weight good, it's fine. My dad used to do it all the time. Dale has run horses with three days in between starts and won before."
Further emphasizing Medal Count's heartiness, Fox added that she hasn't galloped Medal Count since prior to last year's Breeders' Cup Juvenile because the colt proved too strong for her to handle.
Robby Albarado has the mount on Saturday.
His last start in the Blue Grass was on Polytrack.
CANDY BOY (No. 16) – It was a quiet Sunday morning at Barn 43 for Kentucky Derby starter Candy Boy. After having worked five furlongs in 1:00.80 the day before, the bay colt simply walked the shedrow, then took some pleasure in a soap and water bath.
"He's doing fine," said trainer John Sadler, who has handled the C R K Stable homebred since he came to the racetrack last spring and guided him through a solid seven-race campaign that has him ready for a try at the roses next Saturday.
Candy Boy, a son of the Argentinian transplant Candy Ride, will be handled by Hall of Famer Gary Stevens in Kentucky Derby 140. His trainer indicated that he'd return to galloping Monday morning and continue on that path up until the race.
UNCLE SIGH (No. 17) – Wounded Warrior Stables and Anthony Robertson's Uncle Sigh tested the Churchill Downs surface for the first time, jogging one mile under exercise rider Benito Alvarado during the Oaks and Derby training session. The Gotham (GIII) and Withers (GIII) runner-up was outfitted in the purple and gold blinkers he began sporting after a fifth-place finish in the Wood Memorial (GI) last time out.
"[Corey] Nakatani said he thought he needed blinkers," said Marcelo Arenas, assistant to trainer Gary Contessa. "We thought about blinkers before but he was running so big we figured, why make that decision? But Nakatani said, 'When he goes to pass outside, he's looking at the horses inside of him.' So we'll see; he's doing really good with them."
Uncle Sigh arrived from New York's Aqueduct racetrack by van Saturday night around 8:45 p.m. without incident.
"No problem," Arenas said. "He's classy. He just likes to look at everything."
While the Indian Charlie colt had his final serious pre-Derby drill in New York last Friday, there is a chance he could have a quarter-mile or three-eighths blowout through the stretch Wednesday. Nakatani has the call on Blue Grass Stakes (GI) winner Dance With Fate, allowing Irad Ortiz Jr., leading rider at the Aqueduct meeting that ends today, to secure his first Derby mount.
Contessa, set to saddle his first Derby starter, arrives in Louisville today and will be on track Monday morning.
COMMANDING CURVE (No. 20) – West Point Thoroughbreds' Commanding Curve has been ensured a spot in the Kentucky Derby starting gate with the withdrawal Sunday of another West Point colt, Ring Weekend.
"I'm very happy to be able to run my horse,'' trainer Dallas Stewart said."I think the horse is going to run very well. It's unfortunate any horse that's been planning to make the Derby is not going to make it. For (West Point president) Terry Finley, you know, it's bad for him.''
Stewart said he knows people involved in the partnership that owns Commanding Curve and the group that owns Ring Weekend.
"Actually, a friend of mine, a guy from New Orleans, Craig Accardo, owns a piece of Ring Weekend and Commanding Curve,'' Stewart said. "So I've got a relationship with all these people.
"I've been working for Terry Finley for 20 years, and he always does the right thing by the horse, whether it's little – whatever the issue is – he's going to do right by the horse and make the right call.''
Commanding Curve, the third-place finisher in the Louisiana Derby, walked in the barn Sunday morning, a day after working five furlongs in 1:02.40.
"My horse is good right now,'' Stewart said. "He's going to be ready to run. Hopefully, everything will stay the way it's supposed to.''
Last year, defections from the possible Derby field days before the race opened room in the starting gate for Golden Soul, trained by Stewart. At 34-1 odds, Golden Soul finished second to Orb.
Working on his own after the morning renovation break, Big Bazinga recorded fractions of :12.20, :24.20 and galloped out five furlongs in 1:01.20. The half-mile was the eighth fastest of 75 at the distance.
PABLO DEL MONTE (No. 21) – Susan Magnier, Derrick Smith, Michael Tabor and trainer Wesley Ward's Pablo Del Monte returned to the track and jogged a mile at Keeneland Sunday morning. "He's doing great. He's still breathing fire," Ward said.
The defection of Ring Weekend on Sunday moved Pablo De Monte up a notch and he is the first horse eligible to move into the 20-horse field if another runner is withdrawn.
"Right on the bubble. I've been there before with Pleasant Prince," Ward said.
Pleasant Prince did not make it into the Derby in 2010. He later won the Ohio Derby (GIII).
Ward said that Pablo Del Monte will ship from Lexington to Louisville on Wednesday morning. "We'll be over there and ready to go if we get in," Ward said. "They mandate that every Kentucky Derby horse be on the grounds, so we'll be there just in case."
Ward said that jockey Jeffrey Sanchez will ride Pablo Del Monte in the Derby.
SOCIAL INCLUSION (No. 22) – Rontos Racing Stable's Social Inclusion is scheduled to breeze Monday at Gulfstream Park after galloping Sunday.
With the defections of Ring Weekend and Bayern from the Kentucky Derby picture. Social Inclusion would need two more withdrawals to vault into the top 20 point producers and a spot in the starting gate for Derby 140.
"We will breeze tomorrow and make a decision tomorrow afternoon," owner Ronald Sanchez said. "If he is 21 on the list, we would probably ship."
BIG BAZINGA (No. 23) – Derby Dreamers Racing Stable's Big Bazinga came out of his Saturday work of :48 at Churchill Downs in good order according to Amber Mayers, assistant to trainer Katerina Vassileva.
Big Bazinga walked the shedrow.
KENTUCKY OAKS UPDATE – Sunday, April 27, 2014
UNTAPABLE (No. 1) – Winchell Thoroughbreds' Untapable posted her final official workout in advance of Friday's Kentucky Oaks (GI), breezing a half-mile in :48.60 under regular exercise rider Angel Garcia. The Oaks favorite accomplished the move through splits of :12, :23.80 and :36. Churchill Downs clockers also noted her five-furlong gallop-out time of 1:02.80.
The half-mile move was the seventh fastest of 58 at the distance.
The Tapit filly appeared on the track at 6:15 a.m., accompanied by trainer Steve Asmussen aboard a pony. She was very keen galloping down the backside, tossing her head in anticipation of the work to come. Flores broke her off several jumps before the half-mile marker.
"She was very full of herself," Asmussen said. "I thought Angel did a good job of getting her to the pole because she seemed very physical. She went around there really smooth. She is a filly, obviously, with a tremendous amount of talent, and we will just try to keep her on the ground from here until Friday."
Flores has been Untapable's exercise rider since she arrived at Fair Grounds to kick off her 3-year-old season in January and Asmussen said that experience and rapport is coming in handy as they approach their target date.
"Getting her to the pole today, I didn't want to pony her around to the pole and then break her off and then have her be horribly aggressive," Asmussen said. "That's a lot of horse under you.
Everybody can work a slow horse correctly because there aren't a lot of things that can happen, but when you have that much talent to deal with, it puts quite a bit of pressure on you. Come work day for her on race week, he is like, 'easy baby.' "
All indications suggest that Untapable is amped up and ready to cut loose. The remainder of this week will be about managing that enthusiasm.
"Her race (the GII Fair Grounds Oaks) was five weeks ago," Asmussen said. "She trained so good at the Fair Grounds over the winter, and her races were just tremendous. I think she came here with a lot more in her, with the timing and stuff. With her, I think it is just trying to keep her on the ground, hold what we've got. I wouldn't have minded it being last week.
"We've spent the winter walking her, just walking her around, trying to get patience. Her talent level is not in question, you just want her to show a little patience."
SUGAR SHOCK (No. 2) – On Cloud Nine LLC's Sugar Shock galloped 1 ½ miles and visited the starting gate after the morning renovation break under exercise rider Seth VanDyke for trainer Doug Anderson.
"She does not like to load and needs a little encouragement so I want the gate crew to get to know her," Anderson said. "Once she is in there, she is fine."
Sugar Shock ran twice here last fall with fifh- and third-place finishes. At Oaklawn this year, she won four consecutive races, but was disqualified from the Honeybee (GIII) victory in her first try around two turns.
"I think the difference is a little more maturity," Anderson said of the turnaround. "In her first start, she did not break well and turning for home ran green. The second time, she was in the one hole and they went :21 and 3 for the first quarter and for a 2-year-old, that's pretty fast, but she hung on and only got beat 3 ¾ lengths."
Three months removed from her initial victory, Anderson is surprised he has an Oaks contender.
"She has come a long way," Anderson said. "I had no idea (she'd be an Oaks filly). She's a nice filly and she sure has surprised me.
"I know we have not gotten to the bottom of her. Terry Thompson, who rode Kiss Moon in the Fantasy (GIII), said he made three runs at her and each time she had a little more."
Calvin Borel will have the mount in the Oaks.
FASHION PLATE (No. 3) – Arnold Zetcher and Michael Tabor's two-time Grade I winner Fashion Plate came out of her five-furlong work of 1:00.40 at Santa Anita on Saturday in good order according to trainer Simon Callaghan.
Fashion Plate is scheduled to fly to Louisville early Monday and will be ridden in the Kentucky Oaks by Gary Stevens
MY MISS SOPHIA (No. 4) /GOT LUCKY (No. 6) – Trainer Todd Pletcher's Oaks duo returned to the racetrack Sunday morning for light jogs following four-furlongs works at Churchill Downs Saturday.
My Miss Sophia, who had drilled in tandem with Got Lucky in an equal time of :49.40 during the Derby/Oaks training period the day before, came out with the conditioner's 7:10 a.m. set and jogged a mile under Humberto Zamora. Earlier, Got Lucky and Isabelle Bourez did their mile jog with barnmates at 6:40. Both figured to return to galloping Monday and for the balance of the week leading up to the Friday classic.
My Miss Sophia, a chestnut by Unbridled's Song, will have Javier Castellano aboard in the nine-furlong Oaks. Got Lucky, a dark filly from the last crop of the stellar stallion A.P. Indy, will have the saddle services of John Velazquez.
ROSALIND (No. 5) – Landaluce Educe Stables' Rosalind walked the shedrow at trainer Kenny McPeek's barn the morning after working a half-mile in :49.40 and reportedly came out of the work in perfect condition.
"Really good," said Mike Kleier, assistant to McPeek. "She ate up her feed and everything's good, like she never even worked."
Rosalind is scheduled to resume exercising Monday at 8:30 a.m.
"She'll go back to the track tomorrow to jog a mile, gallop a mile," Kleier said.
AURELIA'S BELLE (No. 7) – Trainer Wayne Catalano didn't have an explanation for his success with fillies, but it's real, and he's hopeful about adding to it with he runs James Miller's Aurelia's Belle on Friday in the Kentucky Oaks.
"I would say it's the way it's working out,'' he said of his record with fillies."We're very lucky in the filly department. We won three Breeders' Cups, three different surfaces.''
His Breeders' Cup winners were Stephanie's Kitten in the Juvenile Fillies Turf (GII) in 2009, She Be Wild in the Juvenile Fillies (G1) in 2009 and Dreaming of Anna in the Juvenile Fillies (G!) in 2006. She Be Wild and Dreaming of Anna won Eclipse Awards as champion 2-year-old fillies.
Aurelia's Belle, the Bourbonette Oaks (GIII) winner, will be Catalano's second Kentucky Oaks starter. Dreaming of Anna, who finished sixth in 2007, was his first.
"Any of those races, like the Kentucky Derby, the Oaks, all those big races, that's why we're here every morning for seven days a week,'' said Catalano, a 57-year-old New Orleans native. That's what we get up to go do. It keeps us going. It would mean a lot to me, win the Oaks.
Aurelia's Belle galloped Sunday under exercise rider Calamity Compton.
RIA ANTONIA (No. 8) – Christopher Dunn and Loooch Racing Stable's Ria Antonia galloped 1 1/2 miles Saturday morning.
Trainer Bob Baffert said the filly will have her final work for the Oaks Monday morning.
KISS MOON (No. 9) – Carl Pollard's Kiss Moon worked five furlongs in 1:01.20 after the morning renovation break with Otto Thorwarth aboard for trainer David Vance.
Working on her own, Kiss Moon produced fractions of :12.20, :23.60, :36 and galloped out six furlongs in 1:16. The five-eighths move was the seventh fastest of 37 at the distance for the morning.
"I thought the track was a little slower than last week when she worked," Vance said. "I had 1:01 in mind and he hit it pretty close."
In her first work since the runner-up effort in the Fantasy (GIII), Kiss Moon had worked five furlongs in 1:00.60 last Monday.
Although she never has raced at Churchill Downs, Kiss Moon is no stranger to the track.
"She came into the barn last September and trained here all fall," Vance said. "I can't use the track as an excuse."
Vance said that Kiss Moon would walk Monday and then gallop the next three days with a possible trip to the gate on Tuesday.
FIFTYSHADESOFGOLD (No. 10) – The Estate of Clarence Scharbauer Jr.'s Fiftyshadesofgold jogged a mile early Sunday morning under exercise rider Sara Escudero for trainer Bret Calhoun.
Fiftyshadesofgold finished second, beaten 7 ½ lengths by Untapable, in the Fair Grounds Oaks (GII) in her most recent start and Calhoun was asked about how to make up that deficit.
"You don't," Calhoun said. "She's by far the best 3-year-old filly in the country and maybe the best 3-year-old period.
"But things happen in a race. Sometimes you don't get the trip. I don't see anybody beating her, but you've got no shot if you are in the barn."
Calhoun said a decision likely would come Monday on whether Fiftyshadesofgold would run in the Oaks or the Eight Belles (GIII) the same day.
UNBRIDLED FOREVER (No. 11) – Trainer Dallas Stewart said he can't compare the way Unbridled Forever is going into this Oaks with the way her dam, Lemons Forever, went into the Oaks in 2006.
"That was a long time ago,'' said Stewart, who won the Oaks with 47-1 shot Lemons Forever. "This filly here, I like the way she's worked here, trained here, won here, so, I mean, she'll be ready for battle Friday and see what happens.''
Charles Fipke's Unbridled Forever, the third-place finisher in the Fair Grounds Oaks (GII), galloped Sunday under exercise rider Pedro Velez. She'll be racing at her home track, where she broke her maiden in her second start as a 2-year-old.
"Whether that's an advantage or not, who knows?'' Stewart said. "But it looks like she likes the track. ... The main thing is, it seems like she's doing well. She's very healthy, knock on wood. She's into the feed tub. She's into her training. She had a good work coming into the race. "That's all you can ask for, training a horse. There's really no other secret recipe."
THANK YOU MARYLOU (No. 12) – Ken and Sarah Ramsey's Thank You Marylou walked in trainer Mike Maker's barn Sunday morning, a day after working five furlongs in 1:01.00.
Thank You Marylou has raced only in stakes. She broke her maiden as a 2-year-old in the Tippett, a turf sprint at Colonial Downs, before finishing third in the Adirondack (GII) at Saratoga. As a 3-year-old, she won the Any Limit at Gulfstream Park and finished third in the Ashland (GI) at Keeneland.
EMPRESS OF MIDWAY (No. 13) – Daniel Kramer and Rick Pitino's Empress of Midway jogged one mile after the morning renovation break at Churchill Downs under exercise rider Humberto Gomez for trainer Doug O'Neill.
As of early Sunday afternoon, no rider had been confirmed on Empress of Midway by O'Neill, who is scheduled to arrive from California on Thursday.