Ginger N Rye Looks to Extend Streak in $100,000 Sensible Lady Turf Dash Two of Six Grass Stakes on Tap for Saturday's Fall Festival of Racing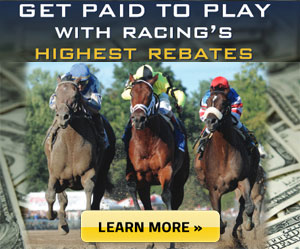 LAUREL, MD – Stablemates Amelia's Wild Ride and Class and Cash, with 21 wins and nearly $850,000 in purse earnings between them, will become opponents for the first time when they meet up in a field of 10 for Saturday's $100,000 Fidelity First and Blackwell Real Estate Laurel Dash at Laurel Park.
The 19th running of the Laurel Dash for 3-year-olds and up and the inaugural $100,000 Sensible Lady Turf Dash for fillies and mares 3 and older, both at six furlongs, are among six stakes over Laurel's world-class turf course that complement the 26th running of the $250,000 Xpressbet Frank J. De Francis Memorial Dash (G3) on a 12-race Fall Festival of Racing program.
First race post time is 1:10 p.m.
Dennis Tanchak's Amelia's Wild Ride is already a multiple stakes winner, having taken an off-the-turf Woodford (G3) at Keeneland in the fall of 2015 and the Sunshine Millions Turf Sprint last winter at Gulfstream Park.
The 6-year-old D'wildcat ridgling was beaten less than a length combined in his next two starts, both Gulfstream stakes, before ending a 14-month layoff by running third in the Jim McKay Turf Sprint May 19 at historic Pimlico Race Course. He was off the board after finding trouble in three subsequent starts, but trainer Jane Cibelli is optimistic heading into the Dash.
"He had legitimate excuses, actually, and that's why we've not opted to drop into the claiming ranks," Cibelli said. "The first time he ran off the layoff he got in a lot of trouble and just got beat by a couple of very nice horses. When he came back he got annihilated when a horse bolted and took him to the outside fence. After that there was no point.
"The last time a horse came over on him a little bit and crowded him. It really hasn't been his fault," she added. "He's doing great. He's training super. Soundness-wise he couldn't be better, he's feeling good and everything else. This seems like the spot. We'll give it another whirl and see. He couldn't really be doing any better. It would be no surprise if he jumped up and won quite honestly because he has the back class and he's doing well."
Edward J. Short's Class and Cash, meanwhile, enters the Dash having won two straight races and five of six this year, improving his record to 11-for-23 lifetime. The front-running son of Exchange Rate will be making his first attempt at a listed stake, having run 11th in the Claiming Crown Emerald last winter.
Class and Cash has mostly run at a mile or longer since last summer but did win going 7 ½ furlongs on the Gulfstream Park turf in April. He is the third choice on the morning line at 9-2 from Post 1, while Amelia's Wild Ride is a 15-1 longshot from Post 2.
"He's like a win machine, for sure," Cibelli said of Class and Cash. "He is in good form right now. When I claimed him I thought to myself he's never really tried two turns. It was a bit of a gamble but I knew he ran one turn OK. So I ran him two turns and he just got better and better.
"Now we're at the point where he's gone through all his conditions so the next spot is a stake," she added. "Ideally I would have liked to have been running him two turns and there isn't anything that's ungraded. It's hard to go from a conditioned allowance to graded stakes company so we'll try him in there and see what it looks like and go from there. He's quite the star of the barn now that [Rose Brier] is gone."
Mens Grille Racing's Triple Burner came within 1 ½ lengths of pulling off a 40-1 upset in last year's Dash, and returns to a Laurel surface where he has earned each of his five wins from 19 career starts. This will be just his third start of 2017 after finishing in the top three six times in eight tries last year.
"I remember thinking he had a pretty good shot that day. I just liked the way he was coming into the race and he ran to form. He just didn't get quite lucky enough to get past that last horse," trainer Linda Albert said. "He hasn't gotten to run much this year. He's had a few tough circumstances that have kept him from getting in races. Early in the year I couldn't seem to get him ready for races that came up quicker than he was ready for. I think he's ready now. He's had plenty of good workouts and he's ready to go."
The narrow 3-1 program favorite is Robert L. Cole Jr.'s Blu Moon Ace, winner of the Coalition Aug. 26 at Timonium who trainer Kevin Patterson cross-entered in the De Francis. Blu Moon Ace has won his last two starts including the Coalition in his first start since being claimed for $30,000 July 20.
Completing the field are 2015 Laurel Dash winner Spring to the Sky, Rapid Dan, Dream Mover, Full Salute, Snowday and Joseph.
Ginger N Rye Looks to Extend Streak in $100,000 Sensible Lady Turf Dash
Having found a home sprinting on the turf and earning her elusive first stakes victory last time out, Sagamore Farm homebred Ginger N Rye goes after her third consecutive win overall in the $100,000 Sensible Lady Turf Dash.
Ginger N Rye, a 5-year-old More Than Ready mare in her last season of racing, put together back-to-back winning efforts going 5 ½ furlongs this summer at Saratoga, taking an optional claiming allowance at odds of 11-1 July 23 and rallying for a 1 ¾-length score in the Smart N Fancy Aug. 27.
Though Ginger N Rye had been competitive mostly at longer distances earlier in her career, including runner-up efforts in the 2016 Dahlia and All Brandy in Maryland, trainer Horacio DePaz thought the time was right to try something new. She is the 8-5 program favorite in the Dash from Post 5 in an overflow field of 16.
"She's been doing really well. She's really taken a liking to this sprinting," DePaz said. "She came out of her race recently at Saratoga in good form and she's been training at the farm and she's happy, so she looks like she's going to come out of it well. She's a pretty honest filly when she runs.
"Last year we tried her going a mile, mile and a sixteenth, and she didn't run bad. She hit the board a few times and was off the board a few times in tougher stakes races,' he added. "This year we just kind of got behind in getting her ready. She broke her maiden sprinting so we figured we'd put her back in the same type of race on the turf to see how she'd run and she ran so good that we just kept her at the same distance. It was more of finding a starting point and seeing how she took to that."
Ginger N Rye will meet a familiar foe in Jack Swain III homebred Miss Ella, a multiple graded stakes winner that finished second in the Smart N Fancy. The 5-year-old Exchange Rate mare is also wrapping up a career that has seen her win six of 17 starts and more than $614,000 in purse earnings. Five of her wins have come in stakes, including the 2016 Franklin County (G3) and 2015 Beaumont (G2).
"I hadn't originally thought of running this filly but it kind of ties in very well with her going forward. She's just has done really well since Saratoga so it just makes sense to me," trainer Graham Motion said. "It's our local track and I think the six furlongs is a good distance for her. You don't get to do six furlongs very often so I think it's clever of Laurel to do that. Normally we have to do five or 5 ½. That's very appealing to me.
"I also think she handles grass when there's perhaps a little give in it," he added. "Perhaps it's not quite as firm as it was over the summer. She's a really consistent filly. This will be her last year of racing so anything she can do from here on out is kind of gravy for her. She's a really hard-knocking, consistent filly. I'm very fond of her."
Lael Stables' stakes winner Exaggerated will be making just her second start of the year and first since April 15, having run seventh in defense of her 2016 triumph in the 5 ½ furlong Giant's Causeway at Keeneland. She shows a string of sharp works at the Fair Hill Training Center for her return.
"She's doing well. She's won at Laurel Park so I'm excited to run her," trainer Arnaud Delacour said. "She loves the turf there. She had a little setback after the race in Keeneland. She didn't come back very well from that so we gave her some time in the spring but she seems to have come back in good spirits and she's ready to run. When she's well she's a very efficient performer. I think she'll run good."
Also entered are Dare to Be, Cali Thirty Seven, Euroboss, Everything Lovely, Fire Key, Paquita Coqueta, Sycee and Catching Fireflies. Rocky Policy, Carolina Shag, Always Thinking and Sweet On Smokey are also-eligibles.