Anticipation Builds for Saturday's Mandatory Rainbow 6 Carryover Payout

Carryover Jackpot Pool Stood at $1,357,478 for Friday's Program Pool Expected to Reach $5 Million-Plus if Wager goes Unsolved Friday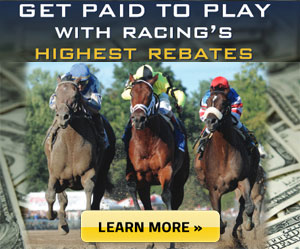 Grade 3 Miami Mile, Powder Break Stakes Included in Six-Race Sequence
HALLANDALE BEACH, FL – Anticipation and the carryover have been building all week as Saturday's mandatory payout of the 20-cent Rainbow 6 carryover has drawn closer and closer at Gulfstream Park.
Heading into Friday's nine-race program, the Rainbow 6 had gone unsolved for 26 consecutive racing days, generating a life-changing carryover jackpot of $ 1,357,478. Should the popular multi-race wager stump the bettors again Friday, the total pool that will be forced out on Saturday is expected to reach $5 million-plus.
When a $1.4 million carryover was forced out on April 23, 2011, the total pool that afternoon swelled to $5.1 million after $3.5 million was bet into it.
Saturday's Rainbow 6 sequence will span Races 5-10 and will be anchored by the $100,000 Miami Mile (G3) in the ninth and the $75,000 Powder Break Stakes in the finale.
The Rainbow 6 jackpot was last hit on March 18, when a unique ticket returned $210,973.74. Six days earlier, a winning Rainbow 6 ticket bet through the Portland, Ore. wagering hub returned a jackpot payoff of $1,079,444.22.
The Rainbow 6 carryover jackpot is paid out only when there is a single unique ticket sold with all six winners. On days when there is no unique ticket, 70 percent of that day's pool goes back to those bettors holding tickets with the most winners, while 30 percent is carried over to the jackpot pool. Yet, on a mandatory-payout day, the entire pool must be paid out to those bettors with tickets sporting the most winners in the six-race sequence.
The $6,678,939.12 jackpot won by a Palm Beach bettor last May set a national Pick 6 and overall pari-mutuel payoff record. The previous record Rainbow 6 payoff occurred on Feb. 22, 2013, when a New Jersey bettor collected $3,591,245.44.
A Las Vegas simulcast bettor demonstrated that you don't need to construct an expensive Rainbow 6 ticket to make a score on April 1, 2012. The bettor invested only $2.40 and walked away with a $791,364 jackpot.
During the recently concluded Championship Meet, there were three jackpots won with wagers totaling less than $35. On Feb. 13, a $4 investment returned $133,874. On Dec. 19, a $243,469 jackpot was won with a $12.80 ticket. Three weeks later, a $33.60 ticket earned a better a payoff of $317,166.