MARYLAND MILLION PRE-ENTRIES INCLUDE BEN'S CAT, EIGHTTOFASTTOCATCH & ROADHOG

LAUREL, MD. 10-10-14---The Laurel Park racing office announced this afternoon that a total of 188 pre-entries were named to the nine stakes races which comprise the 2014 Jim McKay Maryland Million.

The 29th running of the event will take place at Laurel Park next Saturday, Oct. 18. First post is 12:15 p.m. The post-position draw for the $1 million day will be held at 12 p.m. on Wednesday, Oct. 15 in Laurel Park's Tips Restaurant.

Introduced in 1986, the Maryland Million, a program of races restricted to the offspring of Maryland-based stallions, has been duplicated by more than 20 other states. Maryland-sired Thoroughbreds are nominated before they become 2-year-olds and remain eligible for life to run in the Maryland Million races.

Forty-six of the nominees are Maryland-bred horses who will be allowed to run only if there is a field of less than six.

"The Maryland-bred horses might come in handy for the Classic," said Maryland Jockey Club stakes coordinator Coley Blind. "In that race only three runners were not cross-entered. We went to the Maryland Million board and asked for the condition change because we anticipated a short field in the Classic."

RACE-BY-RACE NOMINATIONS • $150,000 Classic 16 nominations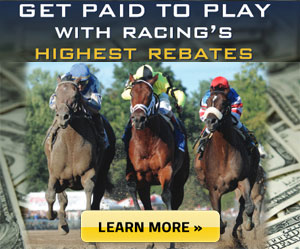 • $125,000 Turf 26 nominations • $125,000 Ladies 22 nominations • $100,000 Sprint 19 nominations • $100,000 Distaff 22 nominations • $100,000 Lassie 23 nominations • $100,000 Nursery 15 nominations • $50,000 Starter Handicap 22 nominations • $50,000 Distaff Starter Handicap 23 nominations
There were no pre-entries taken for the two $50,000 maiden races on the turf. Sixteen horses are nominated to the Classic, including defending champion Eighttofasttocatch, who also won the race in 2011. The son of Not For Love finished off the board in his only start this year but the 8-year-old has nine career stakes victories at Laurel Park. A win in the Classic would vault the Tim Keefe trainee over $1 million in career earnings.
Ben's Cat is looking to become the first horse to win four Maryland Million races. After victories three straight years (2010-2011-2012) in the Turf Sprint, the King Leatherbury homebred finished second in the Turf a year ago after the Turf Sprint was eliminated. Leatherbury cross-entered his star in the Sprint and Turf. The 8-year-old son of Parker's Storm Cat has won 27-of-43 starts with earnings of $2,175,990.
Roadhog beat Ben's Cat by a neck in the Turf a year ago for his second consecutive victory in the race. The 7-year-old son of Bowman's Band has a win and three second place finishes in six starts this year for trainer Lizzie Merryman. The 7-year-old is 10-of-35 lifetime with earnings over $600,000.
Five additional previous Maryland Million winners are nominated, including Monster Sleeping, the defending champion in the Ladies.
"I really like the Ladies, Distaff and Nursery," added Blind. "Todd Pletcher has not run a horse on Maryland Million day in many years but he nominated Bullheaded Boy to the Nursery. That horse broke his maiden first time out at Saratoga then finished on the board in a pair of stakes races."
Hall of Fame broadcaster Jim McKay originally proposed the concept and remained Chairman of the Board until his death six years ago. Twenty-two times attendance figures have topped 20,000 for the event. After twenty-eight runnings, 222 stallions have been represented in Maryland Million races.
The first 4,000 full-paid admissions and Maryland-licensed owners and trainers will each receive a free Maryland Million Sport Cap. On-track entertainment between races will include two pony races, Special Olympics Maryland, Suttler Clydesdales, Goshen Foxhounds, Side Saddle Ladies, and Roman and Trick Riding by Rachel Jackson.
HRTV will have a live presence for the entire card with hosts Dick Jerardi and Caton Bredar on site.