Columbus, OH --- Matt Minger from New Lenox, Ill. won Thursday's USTA qualifier for the 2014 $60,000 World Harness Handicapping Championship at the Meadowlands in April, by selecting 19-1 longshot Coopers Beach, who paid $16.80 to place, and raised his total earnings to $134.50 on the 12-races contest from Dover Downs.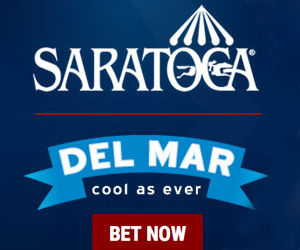 Entering the final race of the contest, the top four contestants Joseph Desposito ($124.30), Minger ($117.70), Randy McMillan ($112.50) and Joseph Ernsthausen ($111.30) each had a different selection in Dover's Race 15. While McMillan picked the winner #6 Fancy Colt with his alternate selection, he still only finished third when the favorite paid only $6.00, $4.20 and wasn't enough to catch Minger with his $16.80 score. Despite being shut out in the finale, Desposito held on for second. A total of 616 entered the Dover Downs contest.
With his victory, Minger earned a free berth ($800 value) to the $60,000 World Harness Handicapping Championship (WHHC), which will be held at the Meadowlands on Saturday, April 19, 2014.
The next contest in the series of 10 USTA Free, Online Qualifiers to the WHHC takes place Saturday night, Feb. 15 with the first 12 races from Cal Expo where first post time is 8:45 p.m. (Eastern).
Contestants can enter free at http://www.HorseTourneys.com prior to the start of the first race. Free TrackMaster Platinum Past Performances are available now on that site.
Following are the top 10 finishers in the fifth USTA online qualifier for the WHHC:
USTA Free, Online WHHC Qualifier 5 – Dover Downs, Feb. 13, 2014
# Name Earnings 1 Matt Minger $134.50 2 Joseph Desposito $124.30 3 Randy McMillan $122.70 4 John Jones $117.50 5 Lewis Falton $115.00 6 Joseph Ernthausen $111.30 7 Ken Snyder $109.40 8 Brian Spaeth $107.80 9 Rob Luke $106.80 10 Jerry Carney $105.80
Following is the schedule/results with featured racetracks for the 2014 USTA Free, Online WHHC Qualifying Series:
Date Track Winner Thursday Jan. 30 Northfield Park Gerry Tuzzolino Friday, Jan. 31 The Meadows Jeffrey Arnold Friday, Feb. 7 Meadowlands Arthur Nigro Saturday, Feb. 8 Yonkers Rick Arbiter Thursday, Feb. 13 Dover Downs Matt Minger
Saturday, Feb. 15 Cal Expo 8:45 p.m. Friday, Feb. 21 Buffalo Raceway 6:40 p.m. Saturday, Feb. 22 Pompano Park 7:05 p.m. Friday, Feb. 28 Maywood Park 8:10 p.m. Saturday, March 1 Balmoral Park 8:10 p.m.