ELMONT, N.Y. - Racing fans will have the opportunity to wager on a special thoroughbred/standardbred pick 4 on Saturday, October 14, when the New York Racing Association and Yonkers Raceway join to offer the New York, New York Pick 4.
The Pick 4 wager, hosted by NYRA, is comprised of the $1 Million Yonkers International Trot @ Empire City Casino featuring the premier international Standardbred horses in the world along with the Harry Harvey Invitational. Both races will feature 10 horses at the mile-and-a-quarter distance.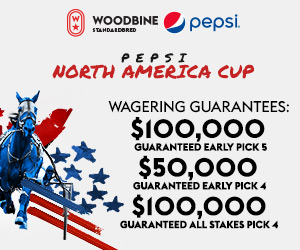 At Belmont, the sequence will include the Grade 3 Belmont Futurity for 2-year-old thoroughbreds and the Pebbles for 3-year-old fillies.
"The New York, New York Pick 4 is an exciting new wagering option that expands on the success of the New York, New York double by linking the richest Standardbred race in New York with a typically strong Saturday from Belmont Park," said Pat McKenna, NYRA Communications Director. "We're pleased to work with Yonkers Raceway to offer this dual breed wager to horseplayers in New York and across the country."
The New York, New York Pick 4 (NY,NY Pick 4) will kick off with the Harry Harvey Invitational Trot from Yonkers and include: • Yonkers Race 8 Harry Harvey Invitational Trot (Post Time 3:30 p.m.ET) • Yonkers Race 9 $1M International Trot (Post Time 4:00 p.m. ET) • Belmont Race 8 G3 Futurity (Post Time 4:46 p.m. ET) • Belmont Race 9 Pebbles Stakes (Post Time 5:19 p.m. ET)
"This is the richest day ever in New York harness racing, with an 11-race, all-stakes program and $3.3 million in purses," Raceway COO Bob Galterio said. "It's also the third season we have brought the International Trot back as we showcase Empire City and Yonkers Raceway to the world. Yonkers Raceway has held a long-standing relationship with the New York Racing Association, which has continued with our the 'New York, New York Double' included in our Sunday matinees. We appreciate NYRA being a part of our richest day with the 'New York, New York Pick 4' and we encourage all racing fans to test their handicapping. As always, we couldn't do it without the cooperation of the New York State Gaming Commission and both horsemen's associations." Past performances for Yonkers International Trot and Harry Harvey Invitational will be included in the Post Parade, while PP's for the Futurity and Pebbles will be found in Yonkers' Saturday program.
The Belmont-Yonkers Pick 4, with a $0.50 minimum wager and 24 percent takeout, will be available on-track, to members of NYRA Bets and Empire City Bets as well as in simulcast facilities across the country.