Mandatory Payout Pool Swells to $15.285 Million with $10.782 Million Bet Total Handle for 12-Race Program Tops $25.9 Million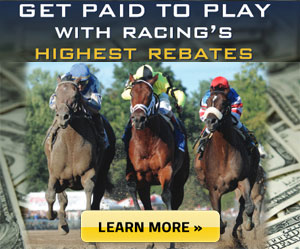 Multiple Tickets with Six Winners Each Worth $89,456
HALLANDALE BEACH, FL – North American Pick 6 wagering records were set Saturday at Gulfstream Park, spurred by a scheduled 20-Cent Rainbow 6 mandatory payout that yielded a payoff of $89,456.54 to the 147 ticketholders with all six winners.
When betting on the popular multi-race wager had concluded prior to the first leg of the Rainbow 6, which spanned Races 7-12, the pool had swelled to $15,285,707, shattering the Pick 6 pool record of $10,870.852 set at Hollywood Park July 2, 2007, when a three-day carryover of $3.2 million was a stake.
A total of $10,782,375 was wagered on the Rainbow 6 Saturday, eclipsing the $7,596,347 wagered on the $2 Pick 6 at Hollywood July 2, 2007.
A Rainbow 6 carryover of $4.5 million served as incentive for bettors, who wagered $25.9 million on the 12-race program – a record handle for a single day other than Florida Derby Day since Gulfstream's state-of-the-art facility opened in 2006. The past two Florida Derby programs handled $27.2 million and $26.8 million, respectively.
"We're delighted by the enthusiastic reception to the Rainbow 6 and today's mandatory payout," said P.J. Campo, Gulfstream's Vice President of Racing and General Manager. "We want to thank the horsemen for all their support and the bettors for their continued interest in this unique wager. This was the exciting result of a wager that's only 20 cents. We're pleased there were so many winners and we look forward to another great afternoon Saturday with the 65th running of what will be an historic $1 million Florida Derby."
Mighty Mo ($8.60) kicked off the six-race sequence with a victory in the seventh, followed by Deer Dog ($15.60) in the eighth, Rose's Dancer ($31.80) in the ninth, Bibbo ($18.80) in the 10th, Harmonize ($6) in the 11th , and Appa ($14.20) in the 12th.
The carryover jackpot is only paid out when there is a single unique ticket sold with all six winners. On days when there is no unique ticket, 70 percent of that day's pool goes back to those bettors holding tickets with the most winners, while 30 percent is carried over to the jackpot pool.
However, on days when a mandatory payout is scheduled, the entire pool is shared by those holding tickets with the most winners.
The Rainbow 6 had gone unsolved for 53 consecutive programs since last being hit for $76,799.38 by one lucky bettor on Jan. 13. The largest payoff of the current Championship Meet, which opened Dec. 5, was $262,634.84 on Jan. 7.
The Rainbow 6 produced a record payoff of $6,678,939 for a Palm Beach bettor on May 25, 2014, breaking the previous mark of $3,591,245.44 set by a New Jersey bettor on Feb. 22, 2013.
The Rainbow 6 starts anew on Sunday's 10-race program on Races 5-10.