Baffert Feeling 'Super' about Arrogate, Saturday's Pegasus World Cup Espinoza, California Chrome Set for One Last Adventure in Pegasus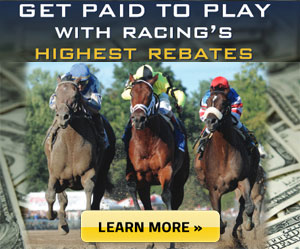 Breaking Lucky Coming into his Own for World's Richest Race
HALLANDALE BEACH, FL – After sending Arrogate out for a routine gallop around Gulfstream Park Friday morning, Hall of Fame trainer Bob Baffert handled a variety of requests from national and international media concerning Saturday's $12 million Pegasus World Cup Invitational (G1).
Baffert said that everything is going smoothly with Juddmonte Farms' champion colt, who will again meet two-time Horse of the Year California Chrome, along with 10 other contenders, in the first running of the world's richest horse race.
"He's doing fine. He shipped well. He's gotten over the track really well," Baffert said. "We're anticipating another big race out of him. The break is going to be crucial. He has to break. If he doesn't break, well, it's going to be tough. We're looking forward to it. It's a tough race; we're running against California Chrome. Hopefully, when they turn for home he's right there running. We're looking forward to it. It's exciting. We've never run for this kind of purse before."
Stronach Group founder Frank Stronach has brought the Pegasus World Cup from concept to reality and its first running will feature the two top-ranked horses from 2016, Arrogate and California Chrome. The pair tangled in the Breeders' Cup Classic on Nov. 5, with Arrogate prevailing by a half-length.
Baffert said it is clear that the unique race has gotten everyone's attention.
"I think everybody is watching it," he said. "It's not only the $12 million, but it's the matchup, you've got Chrome and Arrogate running again. It would be like Songbird and Beholder matching up again."
Baffert said the timing is perfect for the race.
"In racing, there always is a little lull," he said. "We have to wait for the spring for something big to happen. It's something that Frank had an idea and I don't think they will get a tougher Pegasus than they have today.
"When I heard about the idea last year, I thought, 'wow!' I'm sure American Pharoah would have been in there for one more try at it. That would have been a lot of fun. I just feel lucky that I had a horse like Arrogate that I could run in this race. we heard about it we thought, 'well, maybe we'll take a look at it, he's doing well.'"
With the race in late January, California Chrome is able to compete one final time for a huge purse before retiring to stud at Taylor Made Farm.
"The concept is good," Baffert said. "A lot our horses, especially the top colts, go to the breeding shed because there is so much value. Just like American Pharoah, he was worth so much more in the breeding shed. Some horses are, some horses aren't. When you get to run for that kind of money, then you will wait a month before you go to the breeding shed to take a crack at it.
"Plus, it's good for our own racing in general to watch something like this. What else would we be doing right now? Getting ready for the Super Bowl? C'mon. This is our Super Bowl."
Espinoza, California Chrome Set for One Last Adventure in Pegasus
Victor Espinoza and California Chrome have traveled the world during the past four years, winning a lot of big races and many, many more hearts.
Espinoza has been aboard the two-time Horse of the Year for 14 victories, including successes in the 2014 Kentucky Derby, Preakness Stakes and the 2016 Dubai World Cup, during a high-profile association that is slated come to a close in Saturday's $12 million Pegasus World Cup Invitational (G1) at Gulfstream Park.
"To be here for the world's richest race, the Pegasus World Cup, is a real honor. To be here with America's richest horse, which is California Chrome, makes it even more exciting. It's his last race. It is what it is. We've been through a lot of things, but when you think about it, enough is enough. He's done a lot for the sport. What else can you ask from him?" Espinoza said. "He's going into the race in great shape, and hopefully, he'll come out of the race safe and sound, and then he'll go on to his next job, which is going to be even more fun for him, I think."
California Chrome, the richest horse in history outside Japan with more than $14.5 million, would become the world's top earner ever should be capture the $7 million winner's purse of the 1 1/8-mile Pegasus. Established as the 6-5 morning-line favorite in a field of 12, California Chrome has drawn the far-outside post for his last start before entering stud duty at Taylor Made Farm in Nicholasville, KY.
"I have to think positive. I can't be negative because he has the 12, or the 1 or the 3. I have to stay positive. He has the 12, and in my mind, it's not going to affect me," Espinoza said. "You have to ask me after the race. If he doesn't win, I might think about it. Right now, I have to deal with that post. Hopefully, it's my lucky number 12. I just have to let him go out there and run the show."
Breaking Lucky Coming into his Own for World's Richest Race
Breaking Lucky took a while to realize the potential his owners have had him, but he has carried Gunpowder Farms, owned by the married couple Tom Keithley and Erick DeVinney, and new partners to the world's richest race.
Five years ago, Kiethley and DeVinney retired from their corporate jobs and moved into the horse business as Gunpowder Farms, based in southeastern Pennsylvania, very close to Fair Hill Training Center in Elkhorn, Md. The name comes from the Gunpowder River, located on the western Chesapeake Bay in Maryland near were Keithley was raised.
Breaking Lucky, purchased for $100K as a weanling in Nov. 2012, was one of the first few horses acquired by Gunpowder Farms. Although his owners figured they would have seen him on the track long before he made his debut in March of his 3-year-old season, they never wavered. In his sixth start, he won the 2015 Prince of Wales Stakes, the second leg of the Canadian Triple Crown.
"We believed from the day he was in the barn that we had made the right move," Kiethley said. "There was a presence there that he was a different cat."
Breaking Lucky really stepped forward last summer with a win in the Seagram Cup (G3) at Woodbine and a very close fourth in the Woodward (G1) at Saratoga. He completed his 4-year-old season with a second-place finish to Gun Runner in the Clark Handicap (G1). Since the Clark, Keithley and DeVinney have taken in West Point Thoroughbreds, Reeves Racing and R.A. Hill Stable as partners. A lot has happened in a hurry in recent months with a horse that has required patience.
"When you looked at him as a 2-year-old he looked like he had never run. He was so big and stout," Kiethley said. "As a 3-year-old he looked immature but big. I think finally what we're seeing now is kind of the horse that he was always going to be. He's changed rapidly from the spring of last year to the end of last year. He really just matured, came into himself and started to muscle out. He looked different."