Maker staking claim to fame Wins 3rd, 4th stakes of meet — all former claimers -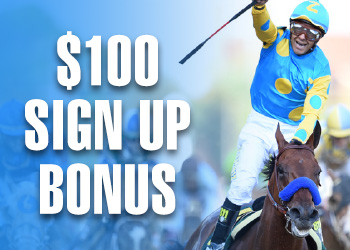 Oscar Nominated rolls in Dueling Grounds Derby, Try Your Luck Dueling also romps in Grounds Oaks
FRANKLIN, Ky. (Sept. 11, 2016) — Trainer Mike Maker won his third and fourth stakes at this Kentucky Downs meet Sunday, and all four came with horses that he'd claimed.
The latest were Try Your Luck taking the $200,000 Dueling Grounds Oaks by 7 1/2 lengths over Taralena. Thirty-three minutes later, Oscar Nominated won the $350,000 Exacta Systems Dueling Grounds Oaks by 6 1/4 lengths over Path of David. They followed Saturday's big haul when the Maker-trained Watchyourownbobber took the $400,000 More Than Ready and Da Big Hoss the $600,000 Calumet Farm Kentucky Turf Cup.
Asked the secret, Maker said, "Having the money to claim them. It's obviously a huge gamble. But no different than getting them out of the sale and you're getting them for a little less."
The stakes double capped a huge weekend for jockey Florent Geroux, the Dueling Grounds Derby being his fifth win on the 10-race card. He now has a meet-leading 11 victories, with Thursday's card the last day.
"Both of them were forwardly placed and had a nice stalking trip from the outside," Geroux said. "Both of the horses just really liked the track and ran away. Very similar."
The 3-year-old Oscar Nominated, who was taken out of a maiden-claiming race for $75,000 at Belmont Park in his second start, ran 1 5/16 miles in a hand-timed 2:11.45, just off the course record of 2:11.30. He paid $8 as the second choice. Cordon finished another three-quarters of a length back in third, followed by Madtap, Nessy, Crescent Drive, favored Airoforce, Manitoulin, Little Scotty, Call the Colonel and Trinitas Soldier.
Winner of Turfway Park's Spiral Stakes (G3) on Polytrack in March, Oscar Nominated in his subsequent four starts finished 17th in the Kentucky Derby on dirt, fifth in the Penn Mile (G3), 10th (though losing by a total of three lengths) in the Belmont Derby (G1), second by a half-length in the American Derby (G3) and a close fifth in the Secretariat (G1).
"Super very impressive," Maker said of the win. "He's been facing the best. I thought the competition was a little lighter than he's been up against. Proud of his performance."
"He's just maturing," said Mark Partridge, farm manager for Ramsey Farm in Nicholasville, Ky. "Every month goes by, he gets bigger, stronger. He must have been a light-maturing kind of horse. That's probably why they put him in claiming race and gave us the opportunity to take him. But he's just maturing every day, and he'll be better next year."
Oscar Nominated Now, a son of Ramsey's stallion and turf champion Kitten's Joy, is 4-3-0 in 12 starts, earning $628,095 with the $200,690 payday.
Try Your Luck also approached the course record, winning in 2:11.60, after blowing away Taralena and third-place Leafy Shade. Rounding out the rest of the field were Celestrial Insight, Blame It On Me, Shelbysmile, Galilea, Outsider Art, School Board Prez, Mine As Well, Harlan County and Inconclusive. Try Your Luck paid $8.40 as the second-choice behind favored Taralena.
Justin Carroll, who races their three horses in the name of wife Stephanie's Out Of This World Racing, said he'd been looking for a filly that lied to run on grass, "And I know Mike does a great job moving horses forward. We wanted a trainer based at Churchill but also ran in Florida and Chicago and looked at his background."
So out of the blue, Carroll called Maker and said he had his eye on a horse running in a $75,000 maiden-claiming race Feb. 3 at Gulfstream Park.
"He just called up, identified himself and said there's a filly running in a few days at Gulfstream, would you claim her for us?'" Maker said.
The victory was official Try Your Luck's first in a stakes. She was disqualified from first to third after hitting the wire in front but was ruled to have caused interference in the three-horse photo. She also was third in Churchill Downs' Grade 3 Regret and Indiana Grand's $100,000 Ta Wee.
"That was impressive. I'd say she'd been hard luck," Maker said. "Hard luck at Churchill, stuck behind horses with no pace. Same thing at Indiana. Got DQEd last time. She's very deserving to be a stakes-winner."
"She's had a couple though trips," Carroll said. The last three stakes we thought we could have won. When the jockeys came back they said, 'Should have done this. Should have done that.' It was just a matter of letting things open up in front of her and let her do her thing. We see more big things to come from her."
Geroux said of his big day: "We've been focused on this meet for a while. While some connections were focusing on Del Mar or Saratoga, Mike's been focusing on this meet. You have to have luck to get in the (overfilled) maiden and allowance races, but with a stakes you pretty much know you're going to get in."
Try Your Luck now officially is 3-1-5 in 10 starts, doubling her earnings to $$225,175 with the $114,060 paycheck.
All-sources handle on the card was $4,4887,790.40 as Kentucky Downs continues its record-breaking meet.