•RAIL OR NO, CHROME SET FOR AWESOME AGAIN • DORTMUND ADDS BLINKERS AGAINST CHROME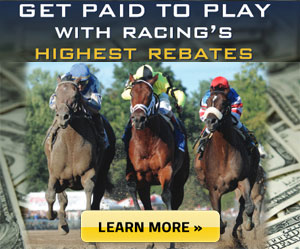 • ARGENTINE-BRED FILLY IN CLASSY RODEO DRIVE • McANALLY: ANOTHER OPENING, ANOTHER SHOW • MACHOWSKY HAS TWO FOR EDDIE D. ON FRIDAY
PACE COULD PUT CHROME IN CATBIRD SEAT
The number one post position didn't hamper California Chrome in the slightest when he rolled to a front-running, five-length victory in the Grade I Pacific Classic at 1 ¼ miles on Aug. 20.
Call it negative karma, but the reigning king of Thoroughbreds drew the rail again for Saturday's Awesome Again Stakes at 1 1/8 miles.
Art Sherman doesn't expect it to make a difference.
"I can't believe we got the rail again, but if he comes away running, we should be OK. You've got to see how the race unfolds," the trainer said at Santa Anita before sunrise Thursday after Chrome had an early morning gallop.
"A mile and an eighth is going to be a little bit different. You have no gaps to go by, but he should come away from there running. He looks awful good, physically.
"Dortmund, I'm sure he's going to send him this time. He (Bob Baffert) put blinkers on him. But my horse runs his best race coming off the pace. People don't realize that. He's a horse that likes to stalk. If they're going fast the first part, he'll be in the catbird seat, I hope.
"They better be ready turning for home, I can tell you that."
The Awesome Again is one of five Grade I, "Win and You're In" Breeders' Cup Challenge events on the second day of Santa Anita's 23-day Winter Meet that gets underway tomorrow with a 1 p.m. first post time. First post Saturday and Sunday will be 12:30 p.m. Santa Anita hosts the Breeders' Cup World Championships for an unprecedented ninth time on Nov. 4 and 5.
Supporting the Awesome Again are the Zenyatta Stakes for fillies and mares, three and up, at 1 1/16 miles; the FrontRunner Stakes for two-year-olds at 1 1/16 miles; the Chandelier Stakes for two-year-old fillies at 1 1/16 miles; and the Rodeo Drive Stakes for fillies and mares, three and up, at 1 ¼ miles on Santa Anita's renovated turf course.
Victory in the Challenge Races gives the winning horse a fees paid berth to its respective Breeders' Cup event.
BLINKERS BACK ON DORTMUND, HOPPERTUNITY COULD SHIP
Bob Baffert has entered the speedy Dortmund and stretch-running Hoppertunity in the Awesome Again Stakes, but only Dortmund is likely to start.
"Hoppertunity still might run in the Jockey Club at Belmont next week (Oct. 8 at a mile and a quarter)," Baffert said Thursday morning. Santa Anita Derby winner Dortmund, beaten in his last two races by California Chrome, will wear blinkers in the Awesome Again for the first time since his debut race on Nov. 2, 2014, which he won by nearly five lengths.
He was beaten 7 ¼ lengths by California Chrome in the Pacific Classic on Aug. 20 and a half-length in the San Diego Handicap July 23.
"Sometimes you have to change things up," Baffert said when asked why the blinkers. "He had them on the first time he ever ran. I just want to make sure he's a little bit more keen away from there, a little bit more aggressive."
As for Del Mar Futurity winner Klimt going two turns for the first time in the FrontRunner Stakes, Baffert took a wait and see approach, even though the son of Quality Road displayed a close tracking style in his last three victories, all in a row, but none longer than seven furlongs, that in the Grade I Del Mar Futurity on Sept. 5.
"We're all going to find out if our horse can go two turns," Baffert said. "We all think we can, but until you do it, you don't know."
RODEO DRIVE DISTANCE SUITS IMPORT, SIMON SAYS
Sobradora Inc has had but two starts in the United States and drew the extreme outside (14) post in Saturday's Rodeo Drive Stakes at 1 ¼ miles on turf, but Simon Callaghan is optimistic the four-year-old Argentine-bred filly will give a good account of herself.
"They went very slow last out (in the John C. Mabee at 1 1/8 miles on grass where Sobradora Inc finished a close fifth)," the trainer said. "We got a little far back and nothing really opened up when she needed it.
"Stretching out to a mile and a quarter is going to help . . . I'm not overly concerned about the outside draw. She's training well and I expect her be in the mix at the end." Sobradora Inc captured the restricted Osunitas Stakes at 1 1/16 on turf in her U.S. debut, Aug. 7 at Del Mar.
MACHOWSKY IN BOTH HALVES OF EDDIE D. STAKES
Mike Machowsky entered a horse in each half of the split Eddie D. Stakes on opening day, Why Two in first division (race six) and Secret Primero in the second (race nine). Why Two, a gelded son of Bob and John, won his last two starts at five furlongs on Del Mar's turf course, the most recent being in the restricted Green Flash.
The Eddie D. is a Grade III event offering $100,000 in purse money and will be decided at about 6 ½ furlongs on Santa Anita's unique downhill course.
Machowsky expects Why Two to fancy the added distance. "You never know," the trainer said, "but he's won going seven-eighths, he's won going two turns, so the distance should be good for him. It's a tough race. There's a lot of speed in there."
Eddie Delahoussaye will be on hand to present a trophy to the winning connections of the races named in his honor.
"It would be very special to receive the trophy from him," Machowsky said. "He's one of the greatest of all time. You could put him on any type of horse when he was riding, whether it was a two-year-old or an older horse going a mile and quarter. He could win on any of them."
McANALLY NEARS SEVENTH DECADE AT SANTA ANITA
Friday marks another opening, another show for Ron McAnally. The legendary Hall of Fame trainer hasn't missed an opening at Santa Anita going on seven decades, when he started here in 1948.
Much has changed in that span, but McAnally remains as active as can be at age 84, still making annual trips to South America in search of another Paseana or Bayakoa, and still attending stateside sales such as the recent one at Keeneland in Kentucky. Currently, he has some 25 head at Santa Anita.
"I came here in 1948, then spent two years in the service and they were the only two years I missed," McAnally recounted from his customary seat at Clockers' Corner. "In those days I was a groom and a hot walker, and worked my way up.
"After I got out of the service, I started all over again. In 1948 I was mucking out stalls where Paddy Gallagher is stabled now (Barn 68). At the barn on the opposite side there was a little tiny guy also mucking out stalls.
"I thought at the time, 'This guy should be exercising horses, not mucking stalls.' But the policy in those days was for a trainer to have a rider under contract and he would teach the boys from the bottom up.
"When I got out of the service, I read newspaper headlines about this guy riding all these winners and I wondered who it was. I went to the barn and looked at this jockey on the horse and it was Bill Shoemaker. The rest is all history. He was one of the greatest riders I've ever seen.
"That was the beginning of my career, and after that I worked my way up, claiming a horse or two at Hollywood Park. I did pretty good with them and kept getting more and more clients. Nowadays, owners want to give their horses to young guys with no experience, instead of the old guys with a lot of experience.
"You've got to work your way up and be lucky to have a good horse. It's the horses that make the trainers, owners and jockeys. If you've got the right horse, you can do it. I've had a lot of good horses, especially with Elmendorf Farms. They would send me 20 horses every year and they were either stakes horses or allowance horses.
"Later on, along came John Henry, Bayakoa, Paseana, Candy Ride and on and on, but I feel very fortunate. Everybody says, 'When are you going to retire?' and I don't think I ever will, because the horses have been good to me and the least I can do is be good to them."