• Palace Malice, pointing toward G1 Whitney, turns in Sunday breeze • Kid Cruz works five furlongs in 1:03.57, possible for G2 Jim Dandy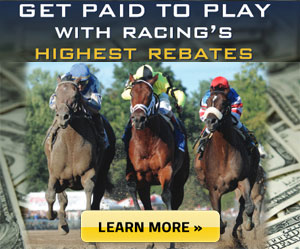 • Somali Lemonade, nearly retired, becomes G1 winner in Diana • Big Trouble rewards Dutrow's faith with G3 Sanford win • Hot Stones to stretch out in G3 Shuvee • Grade 1 winner Artemis Agrotera finds soft spot in NY-bred allowance race • Trainer Cannizzo wins two on Saturday, to be married on Sunday
SARATOGA SPRINGS, N.Y. - With an eye on the Grade 1, $1.5 million Whitney on August 2, Palace Malice breezed five furlongs in 1:00.48 seconds with Hall of Fame jockey John Velazquez aboard.
The two-time Grade 1 winner went in company with unraced 3-year-old March Two and was caught by NYRA clockers galloping out six furlongs in 1:13 3/5 on the main track.
"I thought he worked great and we were very pleased with what he did," said trainer Todd Pletcher. "He seems to be maintaining form and doing very well."
Palace Malice is exiting a one-length win in the Grade 1 Metropolitan Handicap on June 7 and is unbeaten in four starts as a 4-year-old. At 3, he won the Grade 1 Belmont Stakes and made two starts at the Spa, taking the Grade 2 Jim Dandy and finishing fourth in the Grade 1 Travers.
Pletcher added that Palace Malice is scheduled to work again next Sunday at 8:45 a.m.
* * *
Grade 3 Dwyer winner Kid Cruz may make his Saratoga debut in the Grade 2, $600,000 Jim Dandy at Saratoga on July 26, trainer Linda Rice said Sunday morning.
The son of Lemon Drop Kid, who won the 1999 Belmont Stakes and Travers, as well as the 2000 Whitney, worked five furlongs in 1:03.57 over the main track. It was his first breeze since taking the 1 1/16-mile Dwyer by three-quarters of a length on July 5, and first at the Spa.
"He's doing very well and settled in well here," Rice said. "It was an easy breeze. He ran two weeks ago, and we're running him back on three weeks' rest. I just wanted to let him stretch his legs on this track and make sure he's comfortable. We'll see how he comes out of it and decide where we want to run him. I'm leaning toward the Jim Dandy."
Rice is also considering the Grade 2 West Virginia Derby at Mountaineer Park, which would give Kid Cruz an extra week. The primary summer goal is the Grade 1, $1.25 million Travers on August 23, a race in which Rice - the only female ever to win a Saratoga training title in 2009 - has never had a starter.
"He ran a big race at Belmont in the Dwyer, and I just have to decide if I want to run him back this coming Saturday or the following one. Then, of course, you lose a week on the other end of it," Rice said. "I would really like to use one of those two races to get to the Travers, which has been a big dream of mine. I've been racing here at Saratoga for 20-some years, and that would be an exciting event."
Since being claimed for $50,000 in November 2013, Kid Cruz has banked $335,400 in six starts. All four of his wins have come in stakes - the Dwyer and Easy Goer at Belmont Park and the Federico Tesio and Private Terms in Maryland - sandwiched around an eighth-place finish in the Grade 1 Preakness.
It is not unlike the recent success Rice has had with Palace, who she claimed for $20,000 in October 2012 and has gone on to win eight of 15 starts with five seconds, including victories in the Grade 2 True North in June and Grade 3 Fall Heighweight Handicap in November.
"You claim horses and most of them are not the success story that Kid Cruz is. Palace was the same kind of success story," Rice said. "It's kind of a numbers game. We knew pretty soon after we got him that he looked like he was really headed in the right direction."
Also working this morning for Rice was Grade 2 winner La Verdad, who fired a half-mile bullet of 47.01 seconds on the main track, the fastest of 86 horses at the distance. It was her first work since taking the Dancin Renee Stakes at Belmont on July 3, her fourth straight victory.
* * *
After a string of four off-the-board performances in stakes races last year, trainer Michael Matz strongly considered retiring his graded stakes-winning turf mare Somali Lemonade.
He reflected on it Sunday morning, the day after the 5-year-old Lemon Drop Kid mare reached the apex of her career, winning the Grade 1, $500,000 TVG Diana at Saratoga Race Course.
"We were going to retire her because she ran four races - they were all in stakes - but she was beaten four lengths and 3 ½, and she looked like she wasn't trying anymore. I said the only thing I can do differently is put a set of blinkers on, and we can try and see how she does," said Matz.
Owner Caroline Forgason asked if he would continue on with Somali Lemonade because it is the only horse she owns. With no soundness issues, Matz agreed and put the blinkers on for the Grade 3 Marshua's River on January 4 at Gulfstream Park. After poking her head in front in the lane, Somali Lemonade finished a close-up second.
Encouraged, Matz told the owner, "OK, if we're going to do this, let's turn her out and give her a rest.' So, we gave her 45 days in the paddock. We sent her to Randy Bradshaw [who operates a breaking and training center] in Ocala, and he sent her back and she looked terrific."
Somali Lemonade kept her blinkers on for her return in an allowance April 13 at Keeneland, which she won by 1 ¼ lengths. She then scored powerfully in a front-running win in the Grade 3 Gallorette on Preakness Day at Pimlico. In her lead-in to the Diana, she led to the end before finishing third in the Grade 1 Longines Just a Game at a mile at Belmont.
Stretching out to a mile and an eighth for the Diana, Matz told jockey Luis Saez to do what he wanted but avoid a speed duel. Somali Lemonade broke on top, but an eager Discreet Marq and rank Tannery went right with her.
"When she broke, I thought she was going to have the easy lead by herself, and then all of the sudden, everybody came up after her and he said, 'OK, take it,' and it ended up the right decision," said Matz.
Matz said Somali Lemonade will return to her base at Fair Hill on Monday and get turned out and freshened up.
"There's a possibility she could come back in the [Grade 2, $250,000] Ballston Spa [on August 23], but I'm going to run another filly, Assateague, who's down at Parx, so they're going to have to fight it out. I don't want to run both of them together."
* * *
As a $230,000 Keeneland sales graduate, Big Trouble was cut out to be a good colt, but trainer Tony Dutrow had to make a decision on whether that and a 46 Beyer Speed Figure for a maiden win June 1 were good enough to go ahead and run in the Grade 3, $150,000 Sanford on Saturday.
Ultimately, Dutrow decided to go ahead, and the decision was a good one as Big Trouble rallied from sixth, deflected a hard bump and then withstood a thrilling stretch duel with runner-up Mr. Z to score by a neck.
Big Trouble ran the six furlongs in 1:10.64. Back in the barn Sunday morning, the 2-year-old Tiz Wonderful colt gleamed in his stall while his teeth were brushed. Asked whether he considered the low speed figure before entering the Sanford, Dutrow said, "I don't pay attention [to them] like I once did, but I'll look. It was a distraction because I believed this was a nicer kind of horse, and I had to be concerned with such a slow race. So, it was a distraction, but, ultimately, I couldn't let that get in the way of giving this horse a chance."
The Sanford performance stamped Big Trouble as a young horse to watch. Dutrow said he will wait for the Belmont fall stakes schedule to be released before deciding on his next objective, but he didn't envision running Big Trouble more than two times the rest of this year. He also ruled out any trip to the Breeders' Cup at Santa Anita. Dutrow said Big Trouble exceeded his expectations.
"You could say that because I live in the real world, and I wouldn't want to put that kind of performance on a horse's shoulders, or my own, so I would say he exceeded expectations, yes," he said.
* * *
Grade 3 Bed o' Roses Handicap winner Hot Stones will stretch out to 1 1/8 miles for her next start in the Grade 3, $200,000 Shuvee Handicap on July 27 at Saratoga.
Trained by Bruce Levine for co-owners Roddy Valente and Charles Casale, the 4-year-old daughter of undefeated Grade 1-winning sprinter Bustin Stones worked seven furlongs in 1:30.56 on the main track this morning.
"She started slow and finished up good," Levine said. "We just kind of wanted to put some stamina and a little air in her. We know she's fast. The mile and an eighth is a question mark. She came out of [her last race] good. I couldn't be happier. We'll keep our fingers crossed."
Co-bred in New York by Valente and Jerry Bilinski, Hot Stones broke her maiden going six furlongs at Saratoga last summer and five of her six wins in 11 lifetime starts have come in sprints. She won an open allowance going a mile at Aqueduct in January to kick off her 2014 campaign.
"This will give her a chance to go a mile and an eighth," Valente said. "She's been two turns at Aqueduct. If she doesn't do good here we'll just drop her back and go seven-eighths in the [Grade 1] Ballerina [Aug. 23]. Some of the bigger horses just ran so they won't be in this one. It just seems like the right place to try it."
Purchased for $58,000 at Saratoga in August 2011, Hot Stones has a record of 6-3-1 with purse earnings of $363,607. Her sire, Bustin Stones, who stands at Bilinski's Waldorf Farm in North Chatham, was 6-for-6 in 2007-08 with a pair of graded stakes wins for Valente before being retired due to a nagging foot injury.
"It's exciting to have one like that, especially one we bred," Valente said. "The biggest thing is, when a filly or mare gets good, they get really good. They'll run over their heads. When they get bad, you don't know where they're going to end up. She's just doing great, eating 14 quarts a day. She's sound, so it's time to take a shot."
A native of nearby Troy who owns a local sand, gravel and stone company, the 58-year-old Valente has owned horses for 22 years but has never run in a stakes at Saratoga. Bustin Stones would have been his first, but was forced to scratch from the Alfred G. Vanderbilt in 2008, then a Grade 2, the day before the race.
"It'll be the first time I'll run in a stake up here," Valente said. "We're looking forward to it."
* * *
Artemis Agrotera, victorious in the 2013 Grade 1 Frizette, will attempt to regain winning form when she drops into a second-level optional claimer for New York-bred fillies and mares on Wednesday.
The seven-furlong race will be Artemis Agrotera's first start at Saratoga since debuting an 11 ¾-length winner last August. The Chester and Mary Broman homebred won the Frizette by 1 ¼ lengths in October at Belmont Park and was fifth in the Grade 1 Breeders' Cup Juvenile Fillies in November at Santa Anita. In her lone start as a 3-year-old, she steadily retreated when eighth in the Grade 1 TVG Acorn going one mile on June 7 at Belmont.
"I'm not sure why she didn't run better in her last race," said Hushion. "We've tried changing a few things and trained her differently, and we put her in this race to find out. I was stumped by her performance last time."
Hushion hopes a lighter training load and the drop in class will make a difference. "We trained her as easily as we can," said Hushion. "She's acting a lot fresher, and maybe it was good for her."
* * *
Mike Repole is excited about Blame Jim, who debuted a three-length winner on Saturday in a 5 ½-furlong maiden race, but the owner can't help but wonder what could have been if the juvenile hadn't been gelded.
Repole acquired the horse in utero when he purchased his dam, Tamboorensnshampan, in foal to Sharp Humor for $42,000 at the Heiligbrodt Racing Stable Dispersal sale. Repole said he bought her because she crosses well with Uncle Mo, the 2010 Champion Two-Year-Old he raced and who now stands at Ashford Stud in Kentucky.
Tamboorensnshampan's foal was gelded as a yearling upon the advice of Jimmy Crupi of New Castle Farm in Ocala, Fla., with the final decision made by Jim Martin, Repole's racing manager.
Repole, however, didn't know the horse had been gelded until he was 2-years-old and training with Todd Pletcher.
"The horse gets to Todd, and he's training well," recalled Repole. "Todd told me he breezed only three eighths, but that he did it really well. He then asked me, 'Why was the horse gelded?' And I say, 'The horse isn't gelded.' So I call Jim Martin, and he tells me the horse isn't gelded."
Martin, however, didn't remember that the horse had been difficult to handle as a yearling and that Crupi had recommended having the procedure.
"Now all Todd has to do is text me 'Hahaha' and I know what he means," said Repole. "He sends me that after the horse has a good breeze. Todd and his staff are rooting for the horse because they want me to have a Kentucky Derby winner who is a gelding."
With the juvenile showing promise but unable to eventually stand at stud, Repole felt compelled to name him after Jim Martin, who led Blame Jim into the winner's circle on Saturday.
"[Martin] seemed to be happy," said Repole. "It's a good story, and we're going to have fun with it."
* * *
Trainer David Cannizzo made a huge splash at the onset of the Saratoga meet by winning two races on Saturday, which also happened to be the day before his wedding.
Cannizzo, who will be married to veterinarian Carolyn Kondra on Sunday afternoon in Saratoga, struck first with Sol the Freud in Saturday's second race, a New York-bred allowance race.
"Back to the dirt, back to Saratoga," said Cannizzo, attributing those factors to Sol the Freud's win. "He loves this track. I gave him the layoff, and truthfully, he wasn't ready. I gave him two races on the grass, and this was the plan, to win at Saratoga. Hopefully we'll get him back in a two-other-than and go from there."
Three races after Sol the Freud broke through, Cannizzo saddled the salty veteran Sam Sparkle to victory in Saturday's fifth, a $50,000 claiming race.
"I've always liked [Sam Sparkle] from the day he broke his maiden," said Cannizzo. "I was waiting for him to be in for a tag for about three years. I was patient."
Cannizzo was nonchalant about his plans for the day on Sunday morning, just a handful of hours before his wedding.
"Go home, relax, and get married. Great way to kick off the meet," said Cannizzo.