• Exaggerator taking 'fresh approach' to G1 Travers • Lady Eli gets 'A+' from Brown after Sunday morning breeze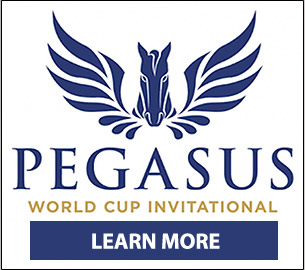 • Laoban keeping it cool • Destin on track for Travers; Pletcher eyes other assignments for stable • Amoss keeps Mo Tom in consideration for Travers • Fish Trappe Road impressive in breeze; targets G1 King's Bishop • Effinex in good order; next start to be determined • Mott, Campbell to be honored on Friday, August 26 at Walk of Fame
SARATOGA SPRINGS, N.Y. - Initially concerned about rain forecasted in the Saratoga area over the weekend, trainer Keith Desormeaux called an audible with Grade 1, $1.25 million Travers hopeful Exaggerator and decided to pass over the Curlin colt's penultimate work scheduled for Saturday morning.
"We're going to take the fresh approach," said Desormeaux, who arrived from Del Mar Thursday evening. "He's had plenty of racing, he's been running steadily since February. He had a tough Triple Crown campaign and he showed his ability to maintain fitness by the run in the Haskell. For him to show that level of fitness off of seven weeks [after the Grade 1 Belmont on June 11], it tells me that he maintains fitness very well."
Desormeaux said the skipped work will not affect the 3-year-old's training schedule ahead of the race which, weather permitting, currently includes a two-minute lick planned for Tuesday and his final breeze on Saturday, which will be his first and only work between his 1 ½-length Haskell victory on July 31 and the "Midsummer Derby" on August 27.
With Desormeaux returning to California later this weekend, Exaggerator will remain under the care of assistant trainer Julie Clark, who has been the principal overseer of the conditioner's New York string.
"It's going to be all on Ms. Clark to determine how he works," Desormeaux said. "The important thing is that he gallops out well next weekend."
Exaggerator had originally been pointed to the Grade 2 Jim Dandy on July 30 but turned in a lackluster breeze over the main track on July 22, which Desormeaux cited as one of several reasons he ultimately chose to target the Haskell instead.
"He might work the same way over the track but, obviously, it doesn't affect his readiness to run," Desormeaux mused. "I didn't like the work here but he ran great in the Haskell. We know here that the track is so busy in the morning, it becomes loose. It might be as simple as that, that's the kind of stuff you shouldn't complicate. That's probably what it is, it becomes loose from use in the mornings, but they run fast times in the afternoon. It's nice and tight [for the races] and that means that the track is fine.
"I had actually accepted that and was planning on running in the Jim Dandy but, as I looked at it more, there was no speed in the Jim Dandy," he continued. "Exaggerator is not about the track. His success is not dependent on a sloppy track but his success is dependent on a pace to run at."
Meanwhile, Desormeaux reported that 2015 Jim Dandy winner Texas Red is in good order and will rejoin Desormeaux' stable at the beginning of September. Winner of the 2014 Breeders' Cup Juvenile, Texas Red will resume training through the fall and is planned to launch a 5-year-old campaign targeting the Grade 1 Santa Anita Handicap in the spring.
"I check on Texas Red daily, weekly," he said. "He's out but he doesn't have any major issues. He was never diagnosed with any problem but his ankle was bothering him so I just stopped on him and gave him three or four months off. I expect him to be ready [to run] by January 1st, so we're really looking forward to 2017."
* * *
In company with stablemate Mrs McDougal, the undefeated Lady Eli turned in an 'A+' work this morning over the turf course at the Oklahoma training track, covering five furlongs in 1:01 as she remains on schedule for her return in the Grade 2, $400,000 Woodford Reserve Ballston Spa on August 27.
Clockers caught the 4-year-old daughter of Divine Park in opening splits of :24 2/5 and :37, galloping out six furlongs in 1:13 2/5 and up in 1:27 under exercise rider Walter Malasquez.
"I'm very pleased with her progress," reported Chad Brown, who trains Lady Eli for Sheep Pond Partners. "She's right on target. She doesn't care for soft-ish ground but she still worked well. An 'A+' work."
Since her return to training in July, Lady Eli has stayed on a Sunday-Monday schedule, but Brown said he wanted to take advantage of Saturday morning's sunny weather. "I was very happy to work today," he said. "When a weather pattern moves through the area like this, when there's a chance [of rain] every day, when you have a clean strip you should take advantage of it."
Lady Eli was undefeated in six starts in 2014 and 2015, highlighted by victories in the Grade 1 Breeders' Cup Juvenile Fillies Turf at Santa Anita Park and the Grade 1 Belmont Oaks Invitational last July. She was sidelined while recovering from laminitis following the Oaks, and returned to serious training at Belmont Park.
Sunday's move was Lady Eli's third at Saratoga in preparation for the 1 1/16-mile Ballston Spa.
Brown, who won last year's Ballston Spa with Dacita, said he also was pleased with the way Mrs McDougal worked, but did not know where she would start next. The 4-year-old Medaglia d'Oro filly won the Grade 2 Lake George at the Spa last summer and most recently finished seventh in the Grade 1 Diana.
* * *
Laoban, who shed his maiden status with his upset in the Grade 2, $600,000 Jim Dandy, has a found a way to beat the heat and humidity, courtesy of his trainer, Eric Guillot.
"It's been so sticky and hot, and he's not the best [eater] in the world for as big as a horse he is, so I try to train him early in the morning when it is cooler, and have him done up and back in his stall before it gets too hot," Guillot said Saturday morning.
A day earlier, the son of Uncle Mo had his first work since wiring the field to win the Jim Dandy July 30. The colt, who is owned by Southern Equine Stable and McCormick Racing, will work once again before he tries to parlay his Jim Dandy victory into another in the Travers.
Laoban, who was ridden in his work by Jose Ortiz, his pilot in the Jim Dandy, covered five furlongs in 1:01.45 on the main track. Guillot said it was an eventful work.
"I put him behind another horse, and he ended up picking up a couple of other horses who got in his way down the lane, and he had to go around them," the trainer said. "He got by everything, and worked in 1:01 and 2 and galloped out another [furlong] in 12 and went 1:13 and 2. He came back good."
Next Saturday, weather permitting, Guillot said he will again work Laoban five furlongs.
Asked if he has noticed any changes physically in Laoban, who stands 17.2 hands tall, after the Jim Dandy, Guillot said, "He bounced back a little quicker [after the Jim Dandy] than usual because he didn't have to travel and has stayed here. You can't train him aggressively when he travels because he will not take the stress well."
Laoban will be Guillot's second Travers starter; his Moreno finished second at odds of 31-1 in 2013, and was beaten just a nose by Will Take Charge. Laoban will look to follow in the footsteps of 10 Jim Dandy winners who doubled up in the Mid-Summer Derby. The Jim Dandy has been the Travers prep of choice on 18 occasions since 1960.
* * *
Along with the deluge of 432 horses looking to get in a workout yesterday before today's previously expected rainy weather was Twin Creeks Racing Stables and Eclipse Thoroughbred Partners Destin.
Visiting the Saratoga main track Friday morning for his first breeze following a third-place effort in the Grade 2 Jim Dandy, the 3-year-old son of Giants Causeway completed four furlongs in 48.87 seconds in what trainer Todd Pletcher described as a key maintenance work.
"He seemed to go well and looked particularly energetic this morning so I was happy with the way he came out of it," said Pletcher. "It was just a standard half-mile breeze so we'll continue with preparations towards the Travers."
Visiting the Oklahoma training track this morning for Pletcher was multiple graded stakes winner Stopchargingmaria. Looking to bounce back off a sixth-place finish in the Grade 1 Ogden Phipps on June 11 at Belmont Park, the 5-year-old daughter of Tale of the Cat worked five furlongs in 1:02.30. With the Grade 1 $500,000 Ballerina at 7 furlongs and the Grade 1, $750,000 Personal Ensign both on Travers Day, August 27 as next out options, Pletcher stated he would like to see one more work before making a decision on which race to point towards.
"We need to see another work to see where we're at," said Pletcher. "She went five-eights this morning 1:02 and 1/5 but after her next work we'll see if we'll head possibly towards the Ballerina, maybe the Personal Ensign or neither."
Sweet Loretta, who is undefeated in two starts for St. Elias Stable after most recently winning the Grade 3 Schuylerville Stakes on July 22 by an impressive 4 ¼ length margin was on tap for a start in the Grade 1 $350,000 Spinaway on September 3.
"She's doing well," added Pletcher. "She's on schedule for the Spinaway and has one more work to go."
Lastly, Pletcher updated that 4-year-old Comfort who finished second in his first graded stakes start in the Grade 1 Whitney, was in consideration for the Grade 1, $600,000 Woodward.
"I don't know yet," said Pletcher. "We're just going to monitor and see how he trains and how the fields shape out.
* * *
The Tom Amoss-trained Mo Tom, who remains under consideration for th eGrade 1 Travers, breezed four furlongs on the Oklahoma track in 51.71 seconds Friday.
Mo Tom skipped the Belmont Stakes on June 11 to run in the Ohio Derby, which he won by three lengths under jockey Javier Castellano. The sophomore son of Uncle Mo's career record stands at four wins and three thirds from nine starts for owner Gayle Benson's GMB Racing.
Bred in Kentucky by Hargus, Sandra Sexton, and Silver Fern Farm, Mo Tom was purchased for $150,000 at the Keeneland September Sale, and currently holds overall earnings of $591,526.
"He's doing well," said the veteran trainer. "Our plan is to work next Friday and give him something much more significant and at that point we will make a decision on what to do after that."
* * *
Fish Trappe Road breezed four furlongs in 46.88 seconds over the Saratoga main track on Friday in preparation for the Grade 1, $500,000 Ketel One King's Bishop on August 27. Trained by Bret Calhoun, Fish Trappe Road's bullet workout was the fastest out of a group of 172.
"He's pointing toward the King's Bishop and he's really coming into his own," said Chris Sankar, assistant to Calhoun. "He's been a slow-developing horse. Every day he's been better than the last. We didn't think he went that fast [yesterday.] We all looked at our watches thinking it was wrong. He's just looking to be that kind of horse."
Fish Trappe Road will be making his first start since winning his first stakes in the Grade 3 Dwyer on July 9 at Belmont Park, in which he registered a career-high 97 Beyer Speed Figure. Martin Racing Stable's 3-year-old colt finished second to Tom's Ready in the Grade 2 Woody Stephens on June 11. He will now be coming off a six-week layoff before his first career Grade 1 start.
"The Dwyer was kind of rushed, we felt it was a little too soon after the Woody Stephens," Sankar said. "This is a Grade 1, so have to make it count."
Fish Trappe Road, who sold for $140,000 as a yearling, has won two of his four races this year in addition to his close finish in the Woody Stephens. He will be returning to the Spa, where he raced twice in maiden special weights as a 2-year-old.
"He's just physically and mentally more developed from last year," Sankar said. "He's just a playful colt."
* * *
Tri-Bone Stables' Effinex came out of his fourth-place finish in the Grade 1 Whitney Stakes in good order, and trainer Jimmy Jerkens reports the 5-year-old's next start has yet to be determined.
"We haven't really decided what we're going to do next," said Jerkens. "It's tempting to run in the Woodward [September 3], but I don't know. We'll have to see what Russell [racing manager Russell Cohen] wants, but if it was up to me I'd like to wait for the [Jockey Club] Gold Cup, I really would. You can't ever write anything off these days, though. If your horse is doing super good you take a shot. It's certainly on the table, but we're leaning towards not [running]."
Jerkens was pleased with the effort Effinex put forth. He earned a 103 Beyer Speed Figure despite racing wide with Mike Smith, who felt the son of Mineshaft wasn't entirely comfortable with the footing.
"He says that a lot about him, it may just be the way he's put together, his mechanics, you know, the back doesn't follow the front," noted Jerkens. "Listen, coming off a mile and a quarter race [his second straight win in the Suburban] where the race is so deliberate, to be chasing a fast pace like that where you're losing ground it's hard. I loved how he made a second effort right at the very end. It even surprised Mike, I think. He got beat an inch for third, but it just shows how classy he is. He's never done."
Unified, who won the Grade 3 Bay Shore and Grade 2 Peter Pan in the spring, has been taken out of training, but Centennial Farms and Jerkens have another promising 3-year-old in Adulator, who stretched out successfully to 1 1/8 miles in a first-level allowance Friday for a one-length victory.
Adulator, purchased as a 2-year-old for $400,000, benefited from a rail-skimming ride by John Velazquez, who was aboard the Flatter colt for the first time.
"You could tell by his other races he didn't really want to be rushed off his feet - he acted like he resented it a little bit," said Jerkens. "He worked a gorgeous mile here a week ago. It worked out just like Johnny said - he's 'going to come running out of there and make the speed horses outside run if they want to get the lead and cross over, and then I can take it easy,' and that's exactly what happened."
Adulator a maiden winner at Aqueduct's spring meet in his second start, is now 2-1-0 from five outings. He earned a Beyer Speed Figure of 88.
"We'll see how he handles this race first, see how he comes out of it, and look ahead a little bit from there," said Jerkens.
* * *
Trainer Bill Mott and owner Cot Campbell will be honored at Saratoga Race Course on Friday, August 26, when plaques commemorating their achievements are unveiled during the Red Jacket Ceremony at the Walk of Fame.
Campbell, whose Dogwood Stable was the pioneer in syndicated racehorse ownership, campaigned such stars as Eclipse champion Storm Song, Preakness winner Summer Squall, and Belmont Stakes hero Palace Malice.
Mott, who achieved prominence as the trainer of two-time Horse of the Year Cigar, is a three-time Eclipse Award winner who has won more than 4,600 races. Among the champions he trained are Theatrical, Escena, Paradise Creek, Ajina and Royal Delta.
Past Red Jacket honorees include all-time Saratoga leading riders John Velazquez, Jerry Bailey and Angel Cordero in 2013; Hall of Fame trainers D. Wayne Lukas and Allen Jerkens; and longtime New York Racing Association race announcer Tom Durkin in 2014; and owners Ogden "Dinny" Mills Phipps and Marylou Whitney in 2015.