Weaver considering recent maiden winner Mid Ocean for G1 Travers Lovely Maria, 'Chatterbox' gallop, school for G1 Alabama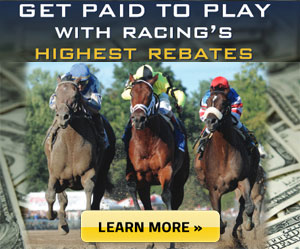 Wildcat Red arrives at the Spa to prep for G1 Forego Hall of Fame trainer Sheppard relieved to extend streak Top Billing tries turf for the first time on Saturday Familiar foes set to battle in Tale of the Cat
SARATOGA SPRINGS, N.Y. - Add Bermuda Limestone Thoroughbreds' Mid Ocean to the list of contenders for the Grade 1 Travers, Saratoga Race Course's centerpiece event on August 29.
Trainer George Weaver said Thursday morning he is considering the gelded bay son of 2003 Horse of the Year Mineshaft for the Travers, which drew a total of 16 nominations.
"Mid Ocean is doing well and coming off a couple of good races," Weaver said. "We nominated to the Travers with the idea that we just might take a shot. Who knows where he stacks up. He's got to jump up big time to be in the same zip code, but we wanted to be in position to take a shot if that's what it comes down to."
The addition of Mid Ocean brings the number of horses possible for the Travers to 11, led by Triple Crown champion American Pharoah. A decision on whether American Pharoah runs won't come until after he works Sunday morning at Del Mar.
Should American Pharoah run, the purse for the Travers will increase from $1.25 million to $1.6 million. Prize money is paid out to the first eight finishers, with eighth place worth $25,000 or $45,000.
"We're going to consider it either way, if Pharoah runs or not," Weaver said. "It's just like what we do with all these horses. We try to get an idea of how the race is going to shape up and make a decision of whether or not it's the right thing to do with the horse at that time as you get closer.
"The horse is doing well. He's been running mid-80 Beyer figures and just a little bit more puts him on the map to get a check in there," he added. "I love American Pharoah. We're definitely not thinking that we can beat him or be anywhere in the same zip code as him, but after you get past him and a couple of others, it's not inconceivable that this horse could get a check in there."
After struggling over the winter in south Florida, Mid Ocean has faced older horses in each of his last two starts, both maiden special weights at 1 1/16 miles. He was third July 4 at Monmouth Park before breaking through with a rallying, 6 ½-length score 10 days later at Delaware Park.
Mid Ocean shows two works at Saratoga this month, and Weaver said he will have another breeze either Saturday or Sunday.
"He's always been kind of lazy and doesn't put a lot into what he does. His last couple races have given us an indication that he's kind of figuring it out," Weaver said. "He's the right type of horse [for the Travers]. He'll be running at the end and he'll like the distance. I told the owner, 'Let's nominate, at least, and see how things shape up as it comes up.' It's just something we're going to consider."
Others being considered for the 1 1/4-mile Travers are Frammento, Frosted, Keen Ice, King of New York, Madefromlucky, Smart Transition, Tale of Verve, Texas Red and Upstart.
* * *
Grade 1 Kentucky Oaks winner Lovely Maria and multiple graded stakes-winning stablemate I'm a Chatterbox galloped on the main track Thursday, their first trip over the surface since arriving from Delaware Park early Wednesday morning.
Trainer Larry Jones was aboard both horses, each of whom will make their next start in Saturday's 135th running of the Grade 1, $600,000 Alabama for 3-year-old fillies at 1 ¼ miles.
"Chatterbox went out first, before the break, and Lovely Maria was after the break," Jones said. "They both galloped five-eighths and they both went to the paddock. It was just to kind of show them around and let them spend some time out and unwind a little. Both of them had good mornings."
Making her Spa debut, Lovely Maria is 5-1 in the program for the Alabama, while I'm a Chatterbox is the 5-2 second choice behind Curalina (7-5). I'm a Chatterbox beat Curalina by a nose in the Grade 1 CCA Oaks at Saratoga July 26 but was disqualified to second for interference.
"Lovely Maria has never had to carry her track with her, where Chatterbox does like some better than others. She doesn't like Churchill at all," Jones said. "Lovely Maria has run well pretty much at every track we've had her on. I'm not overly concerned with her ability to handle the track. I think both horses get the mile and a quarter OK. We'll see; that'll be the test of champions here."
Quick with a one-liner, a hearty laugh and broad smile, the 58-year-old Jones vanned both horses to Saratoga himself, a practice he has scaled back since being seriously injured in a fall during training hours on April 19, 2014. He suffered massive bleeding between his brain and skull, cracked ribs, a fractured wrist and bruised lung and still deals with bouts of dizziness. He was back on horses five weeks after the accident.
"That was the first thing I did," Jones said. "I was off for five weeks and then I started getting back. I got on my ponies for a couple weeks, but within two months I was getting back on thoroughbreds. I can get on 12 a day now. It is God's blessing, I guarantee you. That's all it is. It's all good. We're hanging on, taking it one day at a time."
* * *
Multiple graded stakes winner Wildcat Red galloped once around the main track Thursday morning as he begins preparations to run in the Grade 1, $700,000 Priority One Jets Forego August 29.
Owned by Honors Stable Corp., the 4-year-old son of Grade 1-winning sprinter D'wildcat arrived Wednesday afternoon from Monmouth Park, where he has remained since winning the six-furlong Teddy Drone Stakes August 2.
The win was Wildcat Red's first since the Quality Road Stakes last June at Gulfstream Park and just his second start since being injured finishing fifth in the Sunshine Millions Classic January 17.
"It was an easy ship. He does everything right," said Nick Galati, assistant to Gulfstream Park-based trainer Jose Garoffalo. "We were very happy with his last race. He dug in, he was between horses. That's Red, fighting to get to wherever he's going first. As always, he made us proud."
Wildcat Red became a millionaire with his most recent victory, adding to a resume that includes wins in the Grade 3 Hutcheson and Grade 2 Fountain of Youth, a second in the Grade 1 Florida Derby and a third in the Grade 1 Haskell last year.
Stabled in the barn of Gulfstream Park neighbor Jena Antonucci, Wildcat Red is scheduled to work Saturday morning with jockey Jose Lezcano aboard. Last summer at Saratoga, the bay colt was compromised at the break by hitting the starting gate and wound up fifth in the Grade 1 King's Bishop.
"We're very excited to be back. He loves it here, and we love Saratoga," Galati said. "We didn't get a good shot last year. We had no luck, but he loved it here. Hopefully, Red will be vindicated this year."
* * *
Entering yesterday's steeplechase race with 7-5 morning-line favorite Lune de Caro, Hall of Fame trainer Jonathan Sheppard already felt enough pressure before saddling his horse along with the anxiety of being able to extend his streak of at least one victory in a flat or jump race at Saratoga dating back to 1969. Although he had to wait for stewards to review the last hurdle to make the race official, Sheppard was able to breathe a sigh of relief when Lune de Caro was declared the winner.
"We were very happy for the horse and the connections," said Sheppard. "It's a small owner and he was initially given the horse with the vet telling him he would probably never race again. After turning him out at his small farm in Versailles, Ky., the horse ran two or three times on the flat before winning a hurdle race.
"With no more jump races in Lexington close to where he lives, he gave me call to ask if I'd be interested in taking a look at the horse or selling him to some of my other owners," he said. "We ran him at Parx, where he won pretty impressively, and so he said you know what 'I'm kind of enjoying this' so he decided to keep him. This is the only horse he has in training, he drove all the way from Kentucky for the race and had a good time here with friends and drove back this morning."
Reflecting on extending his streak to 47 years at the prestigious Saratoga meet, Sheppard still lets the horses in his stable guide him on where they might run best.
"Yes, that was a huge relief to get that off my back," Sheppard said. "You don't talk about it, but you think about it. We don't really point for this meet, it's just what might seem best for each individual horse on where each might end up and run. I did think this horse yesterday was just about our best shot."
On how long he thinks he may be able to keep the streak going, Sheppard has no plans to try to extend it beyond 50 should he be given the opportunity.
"I guess I have to come back again next year," said the Hall of Famer. "See if we can get it up to 50 then maybe I'll pack it in. I'm 74 now and I'm not particularly planning on dying with my boots on as Wayne Lukas says he's going to do. I'll take it year by year."
* * *
Looking to shake things up following a pair of fourth-place finishes in the Grade 3 Pimlico Special and an allowance race on July 12 at Belmont Park, 4-year-old Top Billing will try turf for the first time Saturday in an allowance race at 1 3/16 miles. The son of Curlin has raced four times this year, with his best finish coming in April at Keeneland when he lost by a nose to multiple graded stakes winner Noble Bird.
According to Hall of Fame trainer Shug McGaughey, Top Billing has trained well on the surface warranting him a try on the grass. Most recently, the chestnut colt worked four furlongs in 50.04 seconds to rank ninth out of 35 horses at the distance on the surface on August 14.
"I wasn't getting anywhere with him on the dirt, except for the one race at Keeneland," said McGaughey. "I worked him on the turf back at Belmont, he seemed to go good. He wants to go the distance, so that's the thinking behind it - sort of change things up a little bit. He looks good, breezed well on the turf here so we'll just keep our fingers crossed and see how he does and go from there."
Scheduled to be ridden for the first time by Hall of Famer John Velazquez, Top Billing drew post 5 from a field of nine at morning-line odds of 5-1.
* * *
Sunday's $100,000 Tale of the Cat at six furlongs features a field of eight headed by David Jacobson's 5-year-old Stallwalkin' Dude. With five wins from 12 starts this year, and a lifetime record of four wins from eight starts at the distance, in his most recent race at six furlongs, he finished second by head to multiple graded stakes winner Wildcat Red in the Teddy Drone Stakes at Monmouth. Jacobson will also saddle Saturday's Charm for Final Turn Racing Stables LLC. A 6-year-old son of Any Given Saturday, he will make the jump to face stakes competition after impressively winning by 6 ½ lengths at Saratoga on August 2 in a claiming race.
Making a return to the races for the first time since June, Red and Black Stable's Weekend Hideaway will look to get back in the winner's circle from the barn of trainer Phil Serpe. A 5-year-old son of Speightstown, Weekend Hideaway began the year winning the Sunshine Millions Sprint by four lengths on January 17 at Gulfstream Park while recording a lifetime-best Beyer Speed Figure of 107, tops in the field. Following that win he entered the Grade 3 Gulfstream Park Sprint, where he finished fifth racing five-wide most of the way.
Loki's Vengeance, who bested Weekend Hideaway in the Affirmed Success at Belmont on May 3, will enter for trainer Mike Hushion and Blue Bison Stable. Most recently, the 4-year-old son of Frost Giant finished third in an optional claiming race at Belmont on June 18. Hushion will also enter Scarly Charly, for Silver Ranch and Wachtel Stable, who has two wins from three starts this year and comes off a victory in an optional claiming race on July 16 at Belmont.
Completing the field are A.P. Indian for trainer Arnaud Delacour, who enters with a two-win race streak, most recently capturing the Donald Levine Memorial Handicap on June 20; last year's Grade 1 King's Bishop runner-up Fast Anna, making his first start for Wayne Catalano; and Catron for trainer Todd Pletcher.