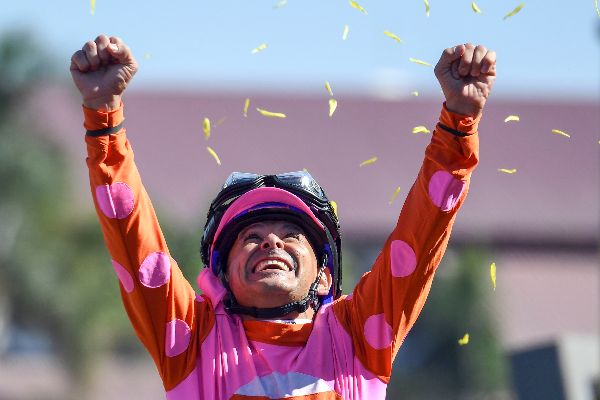 Mike Smith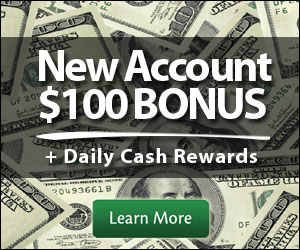 By Hank Wesch
Hall of Fame jockey Mike Smith has 215 Grade I stakes victories in his career, one short of tying the retired Jerry Bailey for the wins recorded at the highest-level events in racing.
While he's aware of the circumstances, Smith knows from the experience of breaking many records in many categories that envisioning and doing are two different things. So he's resolved to take it one Grade I at a time.
"When you get to those wonderful milestones, if you get to thinking about it too much it seems to take forever to get (there) and on by," Smith said in a recent interview in the Del Mar jockey's room. "Of course, it has taken a long time getting to it, but it has been so much fun getting there. I'm trying to let it come naturally and not think about it too much.
"If we are blessed to do it, it would be a big feather in my cap, a big honor. I've got the utmost respect for Jerry Bailey and all the wonderful riders that came before him and are coming up after him.
"When you're talking about Grade Is, the best races in the country, to be the leader in that … I think that says enough on its own."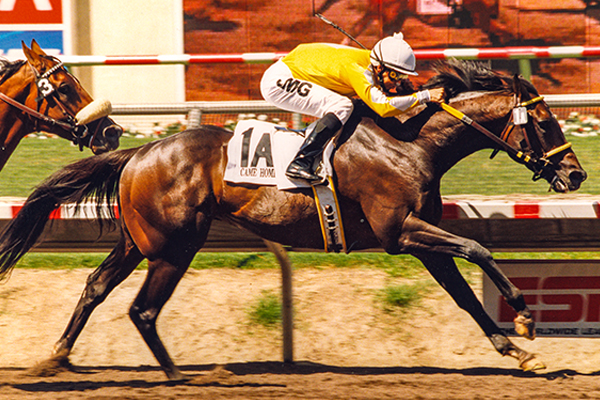 Came Home and Mike Smith win 2002 Pacific Classic © Benoit
Smith has put 16 of the 215 Grade I notches on his belt at Del Mar since coming west from New York and commencing to summer here in 2001. The first was aboard Came Home for trainer Paco Gonzalez* and owners John Toffan, Trudy McCaffery and partners in the 2002 Pacific Classic. The most recent was on Unique Bella for Hall of Fame trainer Jerry Hollendorfer and Don Alberto Stable in the 2018 Clement L. Hirsch.
Smith was provided a list of the Del Mar Grade I stakes wins to peruse and given the opportunity to reminisce at random.
CAME HOME, PACIFIC CLASSIC, 2002 – "I had a lot of respect for the horse. Chris McCarron was riding him before he (McCarron) retired and it was an honor that he handed the torch to me. I was blessed to ride him in that race and win it, which meant a whole lot to me."
ZENYATTA, CLEMENT L. HIRSCH, 2009-2010 – "Every race that I was blessed to ride Zenyatta and win was incredible."
RICHARD'S KID, PACIFIC CLASSIC, 2009-2010 – "The only times I rode him were in the Pacific Classic and he won it both times. The first time, I don't think anybody else really wanted to ride him. He was a pretty good long shot ($50.80). Bob Baffert said 'It's going to take a Hall of Fame ride with this one. If you can pull this off, I'll bow down to you in the winner's circle.' I said 'Deal.' And I'll be darned if we didn't win and Bob did what he said he would. For some reason the horse just ran for me and it's too bad that I only got to ride him those two times. Or maybe I just got to ride him the right two times. Who knows?"
SONGBIRD, DEL MAR DEBUTANTE, 2015 – "This is where she got her big start and what a great mare she turned out to be."
TOM'S TRIBUTE, EDDIE READ, 2014 – "It meant a lot to me. The owners (Braly Family Trust) were such great people that Jim Cassidy trained for and he was such a cool horse."
STARDOM BOUND, DEL MAR DEBUTANTE, 2008 – That's a filly that people have kind of forgotten about, but what a filly she was. She came along about the same time as Zenyatta but she was two and Zenyatta was a little older. They didn't look anything alike but they had the same running style and (Stardom Bound) went on to do some great things after getting her start here."
CALEDONIA ROAD, BREEDERS' CUP JUVENILE FILLIES, 2017 – "First Breeders' Cup at Del Mar and to win a race was pretty cool. Not to mention that the trainer, Ralph Nicks, and I grew up together. I had never ridden a horse for him and to pull off a Grade I in the Breeders' Cup was pretty neat."
Given the fact that Smith, 54, has ridden at Del Mar for only about half of his 37-year career, and the track has averaged around six Grade I offerings a year, the 16 here is a remarkable percentage.
But many of Smith's records, and they are legion, can be said to fall into the "remarkable" or "I-can't-believe-it" categories.
He has 5,552 career wins entering this Thanksgiving weekend, which is a number that would be commendable for mounts alone, never mind wins, for most riders. He has won more than $327-million in purses. (Third highest in the history of the game.) He has won 26 of the Breeders' Cup's $1-million-plus races. (The next nearest to him is John Velazquez with 16.)
Fifteen graded stakes wins so far in 2019 give Smith a staggering 602, while his eight Grade I scores this year have put him on the threshold of tying Bailey's record.
"I'd like to add about 10 more on there before my career is over. I'm going to try hard," Smith said. "But they're hard to win, harder than any other kind of race, and you don't get that many opportunities."
---
*Previous version of the story incorrectly named Paco Lopez