SPARKLING REVIEW SHINES IN GRADE II, $237,800 MRS. REVERE

LOUISVILLE, Ky. (Saturday, Nov. 15, 2014) - Beverly Anderson and Edward Seltzer's Sparkling Review displayed a brilliant late kick inside the final three-sixteenths of the mile to win Saturday's 24th running of the $237,800 Mrs. Revere (GII) for 3-year-old fillies by a widening 2 ¾ lengths over Lady Lara-IRE. Longshot pacesetter Kiss Moon was another neck back in third.

Sparkling Review, trained by Ben Colebrook, ran 1 1/16 miles over a firm Matt Winn Turf Course in 1:42.33 to defeat 13 3-year-old fillies with overwhelming authority in the late stages. She was ridden by Julien Leparoux, who earlier won the $115,300 Commonwealth Turf (GIII) aboard Heart to Heart.

The victory, Sparkling Review's fourth in a row, was reminiscent of her 2 ¾-length win in last month's $150,000 Valley View (GIII) at Keeneland in which she unleashed a strong, eye-catching rally in the middle of the course.

Kiss Moon led the full field of 14 sophomore fillies through a comfortable clip of :23.61, :47.63 and 1:12.05 with Sparking Review unhurried in mid-pack about four to five lengths off the leader. Sparkling Review fanned wide on the far turn to range into contention but Kiss Moon, sent off at 29-1, began to widen her margin and opened up a three-length lead at the head of the stretch. When Leparoux dropped his hands, Sparkling Review rolled by the leader and won going away. Lady Lara-IRE, conditioned by Hall of Fame trainer Bill Mott, also rallied late to nail Kiss Moon by a neck for the show.

Sparkling Review banked $134,167 for the win and paid her backers with $10.60, $5 and $4.80 as the 4-1 third betting choice.

Lady Lara-IRE, the 5-2 second choice ridden by Shaun Bridgmohan, returned $4.40 and $3.40. Kiss Moon, piloted by the Fall Meet's leading rider Corey Lanerie, paid $11.40.

Personal Diary, Sandiva-IRE, Walk Close, 2-1 favorite Testa Rossi-FR, Speed Seeker, Miss Frost, A Little Bit Sassy, Spring Included, Munirah, Distorted Beauty and Courageous Julie completed the order of finish. V V Goodnight, Secret Someone, Photo Call-IRE and Black Elegance-IRE were scratched from the also-eligible list.

Sparkling Review, a Lemon Drop Kid filly out of the Pleasant Tap mare Pleasant Review bred in Kentucky by Seltzer, is perfect since she moved to the turf four races ago following a fifth-place run over dirt in her career bow at Churchill Downs in June. Overall, she has won four of five starts and $303,642.

"She's got such an unbelievable turn of foot," Colebrook said. "It's pretty crazy when you think about the fact that she was just a maiden in August."

Colebrook said that Sparkling Review is eligible for a pair of Grade I, $300,000 turf stakes at Del Mar - the Hollywood Derby for 3-year-olds at 1 1/8 miles on Nov. 29 and the Matriarch for fillies and mares at one mile on Nov. 30 - but he wouldn't firm future plans until he saw how she came out of the race and discussing it with his owners. Either way, the filly will go back to the owner's farm and will get a break over the winter.

Sparkling Review's time of 1:42.33 was the second-fastest Mrs. Revere only behind the 1:41.73 by Mary's Follies in 2007.

The race - which offered the final opportunity for North American 3-year-old fillies to compete on turf against members of their age group - is named in honor of Mrs. Revere, an accomplished Churchill Downs fan favorite in the mid-1980s. Mrs. Revere won 12 races in 28 starts, finished second seven times and earned $429,545 for Hall of Fame trainer Bill Mott. Her six wins in a dozen starts at Churchill Downs included stakes triumphs in the Regret, Dogwood and Edgewood in 1984 and the Kentucky Cardinal in 1985. She was owned by Drs. David Richardson and Hiram Polk, who have provided the winner's trophy for the Mrs. Revere in each year of its existence.

MRS. REVERE QUOTES

BEN COLEBROOK, jockey of Heart to Heart (winner) - "I don't know if she got the best trip but she got a pretty good one. Julien (Leparoux) and I talked about it before the race how we didn't think she would be quite as far back as she had been in other races. But Julien was able to work that out; he saved ground around the first turn and kind of waited and he said she only really ran for a quarter of a mile. She's got such an unbelievable turn of foot; it's pretty crazy when you think about the fact that she was just a maiden in August." On next start: "I nominated her to the Matriarch and to the Hollywood Derby, because we said going in that if she won impressively that we would talk about it, and now that she has, we'll definitely talk about it. But I'm not sure what we'll do from here to be honest."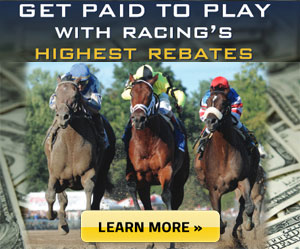 On winter plans: "I'm most likely going to Sam Houston for the winter and we'll ship around to some other tracks. The filly will go back to the owner's farm and she will either get a break after this race or after the next one depending on what we decide."
JULIEN LEPAROUX, jockey of Sparkling Review (winner) - "She's a very nice filly. She always has given me a very nice kick at the end and she's done everything very easily in her last two wins now. I didn't even have to whip her today; I just asked her a little bit and felt like she had plenty left in the tank. I don't know where she'll go next but I am definitely excited about riding her again."
KENNY MCCARTHY, assistant to trainer BILL MOTT, trainer of Lady Lara-IRE (runner-up) - "With the slow break, he (jockey Shaun Bridgmohan) had no choice but to sit back there. It looked like over on the second turn that everybody stepped on the brakes a little bit and she was forced to tap the brakes herself and then come wide. But she gave it a run. She was second best today to a nice filly."
SHAUN BRIDGMOHAN, jockey on Lady Lara-IRE (runner-up) - "She's a very honest filly. I thought she gave me everything she had. She broke a step slow and I had to go wide on the far turn, but she's a very honest filly."
DAVID VANCE, trainer of Kiss Moon (third) - Q: She looked like she might be gone at the three-sixteenths pole ... "That's where we tried to win our race. We thought that our best shot was to kind of steal away from them and everybody would be kind of waiting for you. She still had run in her, but we couldn't hold off that filly that won the race. I don't want to face her too many times. She's a super filly." Q: You said before the race you hoped to at least get a piece of this one, and Kiss Moon did just that ... "I ended up getting third money in a Grade II. I wish she could have won the race, but I'm happy that she got third. We'll got home and get her five or six months of rest and she'll back Derby Day in that stake here (Churchill Downs Distaff Turf Mile). That'll probably be her first start next year."
COREY LANERIE, jockey on Kiss Moon (third) - "She set the pace the whole way and gave me everything she had. At the eighth-pole I really thought I had got away with it, but they just came and got her."
JON COURT, jockey on Personal Diary (fourth) - "She got kind of sawed-off a couple of times and I ended up being shuffled back a little further than I wanted. We weren't expecting her to be close, but we'd like to have been in mid-pack and make one run, which is her style. She had to make a late close from quite far behind. With a little racing luck, she'd have been right there."
JOSE LEZCANO, jockey on Testa Rossi-FR (seventh as the favorite) - "She had a pretty good trip. I think the turf was a little hard for her. She gave me a good run. She had been away for a long time and I think she'll move forward off this race."