McPEEK DREAMING OF 'ALL STAKES PICK 4' AT 'DOWNS AFTER DARK'

LOUISVILLE, KY (Thursday, June 12, 2014) – The exhilarating Downs After Dark Presented by Stella Artois and Finlandia Vodka night racing program features four graded stakes for Thoroughbreds, highlighted by the $500,000-added Stephen Foster Handicap Presented by Abu Dhabi (Grade I), and Churchill Downs-based trainer Kenny McPeek is shooting for the "All-Stakes Pick 4" with a starter in each graded event.

McPeek is looking for his first Foster win with Magic City Thoroughbred Partners' Golden Ticket, who has been given morning-line odds of 8-1 in post position seven.

The runner-up to Fort Larned in last year's Foster will try for his first victory of 2014 and only his second graded stakes triumph. His prior graded score came in a thrilling dead-heat finish with Alpha in the 2012 Travers (GI).

McPeek's main handicap horse is no stranger to finishing second-best in big races. The 5-year-old son of Speightstown made a late charge against Foster contender Moonshine Mullin last time out in the Alysheba (GII), but it wasn't enough as Moonshine Mullin prevailed by a half-length on Kentucky Oaks Day.

He also ran second in the 2013 Breeders' Cup Dirt Mile (GI) and 2014 Gulfstream Park Handicap (GII).

When asked about Golden Ticket's close misses McPeek said, "He's a top horse and has run well over this racetrack. He's knocked on the door several times and been a little unlucky in some races, but he's run well every time. He deserves another chance at a race like this. But he's doing as good as ever – locked and loaded."

Preston Stables LLC's Flashy American, who could become the first $200,000-added Fleur de Lis Handicap Presented by Etihad Airways (GII) winner for McPeek, is a story of true persistence for her conditioner.

The 5-year-old daughter of Flashy Bull did not break her maiden until her 11th start, but has since won six of her last 15, including two graded stakes-placed finishes and four stakes wins. She rallied late to take the Sixty Sails Handicap (GIII) by three quarters of a length in her last start at Hawthorne.

"She was slow coming around for whatever reason, but now she's gotten really good," McPeek said. "It was always a matter of distance and surface for her. Anytime we ran her at two turns on the dirt, she got it done. It was like we'd run her in a race at Keeneland on the Polytrack or we had several instances where the race didn't fill early on. But since then, we've stuck to the two turns going a mile and a sixteenth or mile and an eighth, and she's hickory doing that."

Flashy American drew the outside post position six for the Fleur du Lis, and has been made the 7-2 third choice on the morning-line.

Magdalena Racing's Rankhasprivileges will be the first stakes horse to take the field Saturday for McPeek in the $100,000-added Matt Winn (GIII), the sixth race on Saturday's card with an approximate post time of 8:30 p.m.

Since breaking his maiden in his debut at Keeneland in October of 2013, the 3-year-old son of Einstein has raced three times, all in graded stakes, the best finish coming in third in the Delta Downs Jackpot (GIII), a race won by Matt Winn contender Rise Up.

"It's a little ambitious spot here, but we've always felt that he was a dirt horse," McPeek said. "I got a race under his belt in Chicago and I think that race is going to key him up pretty well for this spot. I'd prefer to run him in an allowance race, but I didn't have anything coming up for another couple of weeks and I think he's a stake horse and it's just a matter of testing him and trying him."

Rankhasprivileges breaks from the rail in post position one with morning-line odds of 20-1, the highest odds in the seven-horse field.

McPeek's final stakes contender of the evening will be Thorndale Stable LLC's Share the Sugar in the $100,000-added Regret (GIII), who makes her stakes debut. The Regret will be run as the ninth race with an approximate post time of 10:11 p.m.

The 3-year-old daughter of Heatseeker captured an allowance race at Churchill Downs going a mile in her last start on June 5.

"She's a filly that we've been high on from the beginning," McPeek said. "Her last two turf races were excellent and we feel like she has a chance to be a stakes horse. We're wheeling her back on short rest, but she hadn't run in a while before that… about five weeks out in between races, but she's been doing well. We'll be happy if she can hit the board."

Share the Sugar gets post nine of 10 fillies going 1 1/8 miles on the turf, with odds of 6-1.

McPeek scored the Regret and Matt Winn on the same day in 2011 with Bizzy Caroline and Scotus. He also won the 2004 Regret with Sister Star.

Golden Ticket, Flashy American and Share the Sugar will be ridden by Julien Leparoux, two-time winner of the Regret aboard Pure Clan in 2008 and Lady of Venice in 2006 and also took the 2006 Fleur de Lis with Happy Ticket.

Rankhasprivileges will be ridden by Robby Albarado, who is seeking his first win in the Matt Winn.

The four stakes were first run on the same day in 2001. Since then, Jerry Bailey has been the only jockey to take three of the four, winning the Foster on Street Cry, the Matt Winn on Danthebluegrassman and the Regret on Distant Valley in 2002.

In addition to McPeek taking two of the four in 2006, three other trainers have taken two of the stakes races in the same day: Steve Asmussen won the Foster and Matt Winn in 2008; Todd Pletcher won the Matt Winn and Regret in 2010; and Bill Mott was the greatest success, winning the 2012 Foster with Ron the Greek and Fleur de Lis with champion Royal Delta.

LUKAS STICKS WITH STEVENS, WEIGHT NO ISSUE FOR WILL TAKE CHARGE

Despite a sixth-place finish in the Alysheba (Grade II) on Kentucky Oaks Day, Hall of Fame trainer D. Wayne Lukas didn't hesitate to put Hall of Fame jockey Gary Stevens back aboard champion Will Take Charge for Saturday's $500,000-added Stephen Foster Handicap Presented by Abu Dhabi (Grade I).

"Luis (Saez) did nothing but ride him brilliantly," Lukas said of the rider that piloted Will Take Charge in seven consecutive races from August through April. "We liked everything about him. We just thought that with the magnitude of the races coming up we'd go with Gary.

"I've had a great rapport with Gary over the years and the owners (Willis D. Horton and Three Chimneys Farm LLC) thought, with the Breeders' Cup being at Santa Anita (Stevens' home track), that they'd take every edge. That was their decision and I endorsed it."

Will Take Charge, who was stuck down on the inside for most of the Alysheba while racing under Stevens for the first time, will break from post four Saturday night.

Will Take Charge is the 123-pound high weight for Saturday's 1 1/8-mile race and will concede five-to-nine pounds to his eight rivals.

"I thought that our weight was very fair and in line," Lukas said. "I'd like to have seen some of the others a little bit higher; I'm not sure about giving five-to-nine pounds to some of those other horses, but I've never really been one to complain much about the weights. It is what it is; I don't think I really need to agonize over it."

Saturday's race will be the sixth straight race that Will Take Charge has carried 123 pounds. Six of the scheduled starters will drop weight from their previous starts, while two others will carry the same.

ON FIRE BABY SEEKS FOURTH STAKES WIN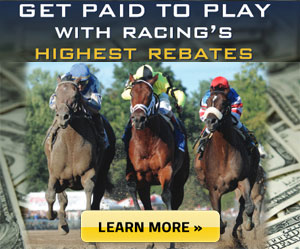 BENEATH TWIN SPIRES IN FLEUR DE LIS
Anita C. Cauley's On Fire Baby looks to score her fourth graded stakes win at Churchill Downs in Saturday's $200,000-added Fleur de Lis Presented by Etihad Airways (GII). The spectacular 5-year-old mare trained by Gary "Red Dog" Hartlage will take on five tested fillies and mares going 1 1/8 miles at her home track with regular rider Joe Johnson in the saddle.
On Fire Baby's signature victories in the 2013 Apple Blossom (GI) and 2014 La Troienne (GI) were the first and second Grade I wins for both Harlage and Johnson, easily making her the most successful horse for the trainer and jockey.
"She's been with us about three years and the day she came off of the van we knew she was something special," Hartlage said. "As a matter of fact I think she's run in one maiden race, and everything else was stakes, she's never even run an allowance race, but that's how good we thought she was and she's just something special to come to every morning."
The Louisville-based trainer has been tremendously pleased with her performance in 2014, especially after the stalking the leader in the La Troienne, commanding the lead in the stretch and drawing away clear by 2 ¾ lengths at the wire.
"She has a personality of her own and she's been a little more laid back this year than I think she has been," Hartlage said. "Joe has to encourage her a little bit more, which is good because it shows she's laidback and we can start stretching her out a bit more. We're going a mile and an eighth here Saturday and her next race might be 1 ¼ miles if she runs well here.
"She'll be stalking right on the lead. If she's anywhere besides there I will be surprised. But that'll be my instructions on her and Joe knows how to ride her. If he can make his own fractions going a mile and an eighth, that'd be really good. Joe really knows this horse well though, he's the only one that has ever ridden her and he's the only one that gallops her in the mornings. We like where we're at."
AMOSS LOOKING FOR SPEED IN FOSTER; HAS SPEED FOR THE MATT WINN
Goldmark Farm LLC and Whisper Hill Farm's Mylute and Paul and Andrena Van Doren's Rise Up are both shooting for big stakes wins on Saturday night's card for trainer Tom Amoss.
While Mylute has earned $630,502 entering Saturday's Stephen Foster Handicap Presented by Abu Dhabi (GI), he is still looking for his first graded stakes victory. He finished fourth beaten 5 ½ lengths in the Alysheba (GII) at Churchill Downs in his last outing.
"Mylute made his 4-year-old debut in New Orleans at the end of the Fair Grounds meet in an allowance race and it was a good start off the bench for his 4-year-old campaign," Amoss said. "The race here at Churchill was disappointing. It's funny how this track can be during Kentucky Derby week. I don't think it suited him, which was a surprise, because he's always taken to this track really well.
"A lot of how the race sets up on Saturday is going to let us know how he's going to perform. He wants speed in the race, something to set up his close, and that's a bit of a question mark whether that's going to exist or not."
While Rosie Napravnik has been the regular rider on Mylute in his last five starts, James Graham has the call in the Foster. Graham has ridden Mylute twice, in his maiden victory at Arlington and to a fifth-place finish in the Arlington-Washington Futurity, both in 2012.
"It's nothing to do with Rosie, she's a great rider, but we're just looking to shake things up and hope that it might make a difference," Amoss said.
Rise Up enters the Matt Winn (GIII) off a 10 ¾-length romp in the Robert Hilton Memorial at Charles Town. He enjoyed success as a 2-year-old at Delta Downs where he won the $1 million Delta Downs Jackpot (GIII) and the $200,000 Jean Lafitte, but has had a tougher time with traditional tracks such as Churchill Downs and Fair Grounds.
"The knock on Rise Up is that he's been a horse that likes the tighter tracks, the kind of 'bull ring' type tracks, and he has never won on traditional tracks." Amoss said. "I don't know what the future holds for this race, but we're going to be on the lead, that's for sure."
Rise Up will break from post position three with Leandro Goncalves aboard as the 3-1 third choice in the Matt Winn. Mylute has drawn post position five in the Foster with morning-line odds of 12-1.
FIFTYSHADESOFHAY SEEKS MILLIONAIRE STATUS IN FLEUR DE LIS
Fiftyshadesofhay, winner of the Ruffian (Grade II) at Belmont Park in her last start, is looking to surpass the $1 million earnings mark with a win in Saturday's $200,000-added Fleur de Lis Handicap Presented by Etihad Airways (Grade II).
The 4-year-old daughter of Pulpit, conditioned by Hall of Fame trainer Bob Baffert, has banked $946,547 entering Saturday's 1 1/8-mile test for fillies and mares.
"She's been training super well," Baffert's chief assistant Jimmy Barnes said. "When you look at her past races, she likes coming off the pace. She's not one that likes to be rushed along. In California, it's a little different because of the speedier track, you kind of have to rush her along and I don't think she likes that."
Prior to capturing the Ruffian, Fiftyshadesofhay's other two starts of 2014 resulted in a fourth in the La Cañada (GII) and a sixth in the Santa Margarita (GI), both at Santa Anita.
"Watching her last race at Belmont, she broke well and then fell back a bit," Barnes said. "Then she dropped down to the rail, saved some ground and swung out wide and finished in the stretch so I'm assuming (jockey) Johnny (Velazquez) would ride her similarly to that race."
STEPHEN FOSTER HANDICAP FAST FACTS
Combined, the nine Stephen Foster entrants have won 52 of their 174 starts (29.9%), including 17 graded stakes events, and $11.3 million. Eight are stakes winners (Mylute is the lone non-stakes winner) and five are millionaires: Will Take Charge ($3,668,568), Prayer for Relief ($1,682,413), Departing ($1,438,300), Revolutionary ($1,347,500) and Golden Ticket ($1,238,178).
Three Stephen Foster entrants ran in last year's Kentucky Derby Presented by Yum! Brands: Revolutionary (third), Mylute (fifth) and Will Take Charge (eighth).
Three horses used victories in the Stephen Foster as part of their résumés in Horse of the Year campaigns. The three are Black Tie Affair (1991), Saint Liam (2005) and Curlin (2008). In addition, two runner-ups were crowned Horse of the Year: Mineshaft (2003) and Wise Dan (2012).
Victory Gallop owns the stakes and track record for 1 1/8 miles of 1:47.28 established in 1999.
Pat Day and Robby Albarado have won the Stephen Foster three times to lead all riders. Day's Foster victories came in 1985 (Vanlandingham), 1998 (Awesome Again) and 2003 (Perfect Drift). Albarado won the race three consecutive years in 2007 (Flashy Bull), 2008 (Curlin) and 2009 (Macho Again).
Two horses have won the Stephen Foster in consecutive years: Vodika Collins (1982-83) and Recoup The Cash (1994-95).
Three trainers have won the Stephen Foster twice and all did it in consecutive years: Forrest Kaelin (1982-83 with Vodika Collins), Jere Smith Jr. (1994-95 with Recoup The Cash) and Pat Byrne (1997-98 with City by Night and Awesome Again).
Three horses have won the Stephen Foster and the Breeders' Cup Classic in the same year. Black Tie Affair (1991) and Awesome Again (1998) won both races at Churchill Downs. Saint Liam won his running of the Classic at Belmont Park. The 2014 renewal of the $5 million Classic is scheduled for Nov. 1 at Santa Anita.
Curlin (2008) carried the highest impost of any Stephen Foster winner: 128 pounds.
Colonial Colony (2004) carried the lightest winning Foster impost at 111 pounds.
The Stephen Foster Handicap was elevated to Grade I status in 2002.
STEPHEN FOSTER HANDICAP: "WIN & YOU'RE IN" BREEDERS' CUP CLASSIC
The winner of Saturday's 33rd running of the $500,000-added Stephen Foster Handicap Presented by Abu Dhabi (GI) is entitled to an automatic entry into the $5 million Breeders' Cup Classic (GI) on Nov. 1 at Santa Anita. The nominated winner will have pre-entry and entry fees waived for the 1 ¼-mile Classic and will receive a travel stipend of $10,000 if traveling from a location in North America or $20,000 if traveling internationally. Breeders' Cup Ltd.'s Chief Operating Officer Bob Elliston is scheduled to be on hand for post-race ceremonies.