HALLANDALE BEACH, FL - Gulfstream Park West's Super Hi 5 returned $127,569.70 Saturday afternoon when a carryover built over four races on the popular new wager going into the 10th and final race of the day.

The carryover started building when the sixth race Super Hi 5 wasn't hit. There was an $11,594 carryover going into the ninth race when Frontier Ranger lit up the tote board by winning and returning $98.40, bringing about a carryover of $58,528 going into the 10th and final race. Bettors wagered $231,341 into the last race Super Hi 5.

Racing resumes Sunday with a 1:15 p.m. first race post and a carryover in the 20-cent Rainbow 6 of $9,779.60.

Gaffalione's Apprenticeship Ends, Becomes Journeyman Sunday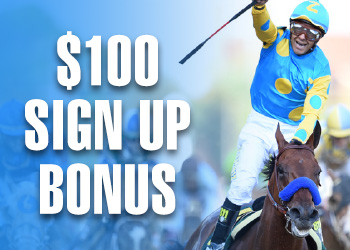 Jockey Tyler Gaffalione ended his apprentice career Saturday, winning >> race on the 10-race program at Gulfstream Park West.
Gaffalione, the son of former rider Steve Gaffalione, took the summer riding title at Gulfstream Park. He leads all apprentice riders this year with 182 victories from 1,135 starts and earnings of $4.855 million.
The South Florida native, who rode five winners Sept. 20 and won Saturday's fourth race, is hoping to continue his success Sunday when he begins riding as a journeyman.
"I really don't have any expectations," he said. "I'm just going to go out there and try to ride every race, do the best I can with each horse, give everything I've got. Everyone keeps telling me they think I'm going to be alright, but you never know. You kind of just have to go out there and do it yourself, and get lucky, hopefully.
"I'm not sure what's going to happen yet, but a few people have told me that they're going to continue to use me, and as long as I can keep winning races and riding for the right people I think I'll be alright."
Gaffalione, who is named on nine of Sunday's 10 races, says his plan is to stay in South Florida throughout the year. "For now, this is my home."