Preakness Stakes 2019: Contenders & Odds

The 144th Preakness Stakes is on Saturday May 18, and there is plenty of intrigue surrounding the second leg of the American Triple Crown following a historic and controversial close to the Kentucky Derby.
This time around, some of the Kentucky Derby's top contenders, including 2019 champion Country House and DQ'd first-place finisher Maximum Security, will not be on the track. But a handful of Derby hopefuls, from War of Will and Win Win Win to current betting favorite Improbable, are among those set to race at Pimlico Race Course.
Improbable, the post time Kentucky Derby favorite promoted to fourth following Maximum Security's disqualification at Churchill Downs, looks to be the morning line favorite for the 2019 Preakness Stakes at Pimlico Race Course.
2019 Preakness Stakes Odds & Entries
Race 13 at Pimlico on Saturday, May 18 - Post 6:48 PM
Entry
Horse
ML Odds
Jockey
Trainer
1
War of Will
4-1
Tyler Gaffalione


126 Lbs

Mark Casse
2
Bourbon War
12-1
Irad Ortiz, Jr.


126 Lbs

Mark Hennig
3
Warrior's Charge
12-1
Javier Castellano


126 Lbs

Brad Cox
4
Improbable
5-2
Mike Smith


126 Lbs

Bob Baffert
5
Owendale
10-1
Florent Geroux


126 Lbs

Brad Cox
6
Market King
30-1
Jon Court


126 Lbs

D. Lukas
7
Alwaysmining
8-1
Daniel Centeno


126 Lbs

Kelly Rubley
8
Signalman
30-1
Brian Hernandez, Jr.


126 Lbs

Kenneth McPeek
9
Bodexpress
20-1
John Velazquez


126 Lbs

Gustavo Delgado
10
Everfast
50-1
Joel Rosario


126 Lbs

Dale Romans
11
Laughing Fox
20-1
Ricardo Santana, Jr.


126 Lbs

Steven Asmussen
12
Anothertwistafate
6-1
Jose Ortiz


126 Lbs

Blaine Wright
13
Win Win Win
15-1
Julian Pimentel


126 Lbs

Michael Trombetta
WinStar Farm LLC, China Horse Club International and Starlight Racing, principles in the ownership group of 2018 Triple Crown champion Justify, will once again be represented by a morning-line favorite for the Preakness Stakes (G1) Saturday when Improbable is scheduled to take on 12 rivals in the 144th running of the 1 3/16-mile Spring Classic at Pimlico Race Course.
Installed as the 5-2 morning-line favorite, Improbable may not be as highly regarded as Justify, who was the 1-2 morning-line favorite and won the Preakness by a half-length as the 2-5 betting choice last year. However, the 3-year-old son of City Zip would appear to have a solid chance to give trainer Bob Baffert back-to-back victories and a record-breaking eighth success in the Middle Jewel of the Triple Crown.
Currently tied with Robert Wyndham Walden, who won the Preakness seven times from 1875-1888, Baffert has been victorious with Triple Crown champions Justify (2018) and American Pharoah (2015), as well as Silver Charm (1997), Real Quiet (1998), War Emblem (2002), Lookin At Lucky (2010) and Point Given (2001).
Improbable had the best finish of the four Preakness entrants that ran in the May 4 Kentucky Derby (G1) at Churchill Downs, finishing fifth before being placed fourth through the disqualification of first-place-finisher Maximum Security.
Improbable was assigned Post No.4 at Wednesday's post position draw at Power Plant Live! in Baltimore's Inner Harbor area.
Hall of Famer Mike Smith, who rode Justify in his Triple Crown sweep, is slated to ride Improbable for the first time Saturday.
Also representing the Kentucky Derby in the Preakness will be War of Will, Win Win Win and Bodexpress, who finished eighth, 10th and 14th, respectively, before all being bumped up a spot upon Maximum Security's disqualification.
Gary Barber's War of Will, who nearly clipped heels with Maximum Security when the first-place finisher drifted out into his path at Churchill Downs, was rated second in the morning line at 4-1 after drawing Post No. 1.
War of Will will be looking to rebound from back-to-back out-of-the-money finishes in the Kentucky Derby and Louisiana Derby (G2), which were preceded by stellar triumphs in the Risen Star (G2) and LeComte (G3) at Fair Grounds.
Live Oak Plantation's Win Win Win earned his way into the Derby field with a third-place finish in the Tampa Bay Derby (G2), and second-place finish in the Blue Grass (G2) at Keeneland. The Michael Trombetta-trained son of Hat Trick was rated at 15-1 in the morning line after drawing Post No 13.
Top Racing LLC, Global Thoroughbred and GDS Racing Stable's Bodexpress, who finished second behind Maximum Security in the Florida Derby (G1) to earn his way into the Derby, is winless in six career starts. With a victory Saturday, the Gustavo Delgado-trained son of 2012 Preakness runner-up Bodemeister would become the first maiden to win the Middle Jewel of the Triple Crown since Refund beat only three rivals in 1888.
Bodexpress was rated at 20-1 in the morning line after drawing Post No. 9.
Anothertwistafate, Alwaysmining and Laughing Fox, who all earned automatic entries by winning Preakness `Win and In' races, are among the prominent newcomers to the Triple Crown scene.
Peter Redekop B.C. Ltd's Anothertwistafate, who earned his way into the Preakness with a victory in the El Camino Real Derby at Golden Gate Fields before finishing second in both the Sunland Derby (G3) and Lexington (G3), drew Post No. 12 and was rated third in the morning-line at 6-1.
Runnymede Racing LLC's Alwaysmining, who is riding a six-race winning streak, was rated at 8-1 after drawing Post No. 7 for his graded-stakes debut. Should the son of Stay Thirsty win Saturday, he would be the first Maryland-bred to capture the Preakness since Deputed Testamony (1983), as well as putting his trainer, Kelly Rubley, in the record books as the only woman to saddle a Preakness winner.
Alex and JoAnn Lieblong's Laughing Fox, who won the `Win and In' Oaklawn Park Invitational on Kentucky Derby Day, could give Hall of Fame trainer Steve Asmussen his third Preakness winner, following Curlin (2007) and Rachel Alexandra (2009). The son of Union Rags drew Post No. 11 and was rated at 20-1.
Hall of Fame trainer D. Wayne Lukas is slated to saddle Robert Baker and William Mack's Market King (Post No. 6; 30-1 in a quest for a record-equaling seventh Preakness victory.
Trainer Brad Cox is scheduled to saddle two Preakness starters, Rupp Racing's Owendale (Post No. 5, 10-1) and Warrior's Charge (Post No. 3; 12-1).
Also entered in the Preakness are Bourbon Lane Stable and Lake Star Stable's Bourbon War (Post No. 2; 12-1), and Tommie Lewis, Steve Crabtree, Dean Demaree, David Bernsen, Jim Chambers and Magdalena Racing's Signalman (Post No. 8; 30-1); and Calumet Farm's Everfast (Post No. 10; 50-1).
2019 Preakness Stakes Draw Quotes & Reactions
Bob Baffert (trainer, Improbable; PP #4; 5-2): "I'm fine with it. I wanted to be in the middle somewhere. That's pretty close. I didn't want to be way outside."
"[Jockey] Mike [Smith] will figure it out. We've got a few days to talk about things."
Elliott Walden (CEO, President WinStar Farm, Improbable; PP #4; 5-2): "I thought it was fine. It looks like there's some speed inside of Improbable, so `4' looks really good."
Mark Casse (trainer, War of Will; PP #1; 4-1): "It is what it is and we're going to have to deal with it [Post. No. 1]. Do I wish we had drawn farther outside? Of course, but we're going to have to deal with it. [Jockey] Tyler [Gaffalione] is going to have to play the break and see how it works. I don't think the `1' hole is quite as tough here, but I'm going to have to go study that. I didn't study it on purpose because I was hoping not to get it."
"We have to play the hand we we're dealt. You never can tell how things can go. All we can hope for is a clean trip and I think if he can get that, he's going to be tough to beat."
(On pace) "I thought the pace would be a little slower in the Derby, but they went a half in 46-and-3 [seconds]. So I don't see it going a whole lot faster than that. We'll be fairly close and if someone wants the lead really bad I guess they'll have it."
"I think he's doing good. I think he's doing as well as Classic Empire [second in 2017 Preakness]. This horse has a lot of energy and he's extremely tough."
"We definitely know the (`1' hole) is not as bad as in the Derby. You have Bourbon War who is going to come from out of it. Warrior's Charge he's fast. But I think if he tries to get in front of War of Will - that could be his demise. One thing about it is the `1' hole can be extremely good or extremely bad. In the Derby it was extremely bad, so I'm thinking we're going to get extremely good this time."
Blaine Wright (trainer, Anothertwistafate; PP #12; 6-1): "For right now it's going to have to be our spot. You can't change things. We'll take it, move forward and see how good we are."
"We've been covered up a little bit in the Sunland Derby and the Lexington, so maybe he can keep his face clean from out there. Maybe our jockey can adapt to things that are happening in front of him. If we have the lead, well, hey, we have the lead."
"I'm not going to make that assumption at this point [how the race plays out]. I'll wait to see it on paper. We just have to hope that our horse comes away from the gate well. It's a long run to the first turn and we'll just let the jock do the work."
Kelly Rubley (trainer, Alwaysmining; PP #7; 8-1): "We're happy. It looks like there is a little bit of speed in this race, so we'll have to see how we break and take it from there. I think my horse belongs in this field, he deserves a shot. We're just really happy and grateful to be here."
Brad Cox (trainer, Owendale; PP #5; 10-1; Warrior's Charge, PP #3, 12-1): "I like the post with Owendale. I don't think it matters a whole lot with him with the post. I'm happy with it. Warrior's Charge drawing the `3,' maybe a little bit closer to the inside than I would have liked. Improbable is outside of him and War of Will inside. I'd actually have preferred to be to the outside of both of them. But we'll see how it plays out. That's up to the jocks what happens once they break them out of the gate, where to place them."
"As far as Warrior's Charge, the draw was probably a little more important for him. He did draw closer than I'd like. It kind of forces our hand maybe just a little bit. But we'll see what happens. It's a long run to the first turn. Ultimately, I do feel the fastest horse will get the lead, and our horse is naturally fast. He's got a high cruising speed, and we'll see what he can do."
Mark Hennig (trainer, Bourbon War; PP #2; 12-1): "At least we won't get hung wide outside this time, hopefully. We think he'll be more tractable with the blinkers on and just fall in behind the pace and save some ground."
"[The blinkers will] put him more in the bridle. We tried breezing him with them and it seemed to make him a little more aggressive. Sometimes you want to make first run on horses and we've been getting second or third run on some of the horses and it may have cost us a placing a time or two."
Michael Trombetta (trainer, Win Win Win; PP #13; 15-1): "The post [13] has its ups and downs. We're not going to be in there long; we'll be in and out. If we get away clean and get on over, hopefully, we'll find a space and we'll settle in wherever the rider wants him to be. I've drawn [so-called] good posts before, and ironically, the horse next to me bumps into me. We just have to work with what they give us."
Alex Lieblong (owner, Laughing Fox; PP #11; 20-1): "Well he won the Oaklawn Invitational from the `10' hole so maybe they'll scoot over and he can get to the rail. I don't think he'll go up there with the leaders. I probably wouldn't have picked [that post] but it's probably not the end of the world for his style."
"I think there will be plenty of people chasing around there is my guess. What he did at Oaklawn there was certainly I'd think you`d have to qualify that as somewhat of a speed bias track that day. And so if he can do it on that much of a speed bias track, you know I don't have any worry about him if he gets his trip."
Gustavo Delgado (trainer, Bodexpress; PP #9; 20-1): "There's probably going to be a lot of speed, more speed than the Derby. But he has speed to get position. We like the `9.' It's a good spot."
D. Wayne Lukas (trainer, Market King; PP #6; 30-1): "It's a good spot. I think if you take out Improbable and War of Will it's a toss-up.''
Ken McPeek (trainer, Signalman; PP #8; 30-1): "We're good with the post. It's fine."
"Mark Casse's horse, obviously, on the inside, I don't know what commitment they'll make. My horse is just going to break well, settle and find a place to run. Hopefully, we'll be mid-pack."
Dale Romans (trainer, Everfast; PP #10; 50-1): "It's a tough spot, but we're ready. We'll try and wiggle our way into a piece of it. He's done it before. We'll lead him over and see what happens. The post [10] will be all right. Hopefully, we'll get over by the first turn."
Preakness Pre-Draw Notes
Alwaysmining
We don't have very much to go on with this contender, an easy winner at Laurel Park back in February. What we do know though is that he beat Gray Magician that day giving him 4lbs in weight and that horse went on to finish second in the UAE Derby over in Dubai.
Anothertwistafate
A well-bred son of Scat Daddy, this colt has been beaten twice in preps in the spring but they were behind Cutting Humor in the Sunland Park Derby and Owendale at Keeneland, form that reads OK.
Code Of Honor
Winner of the Fountain of Youth Stakes and promoted to second in the Kentucky Derby, Code Of Honor brings arguably the best recent form into this race.
Assuming Maximum Security is the best out there at the moment, this horse has been consistent behind him having been beaten 6¾ lengths in the Florida Derby and then just 2½ lengths in Kentucky making him a solid selection.
Everfast
Calumet Farm's Everfast became a last-minute addition to Saturday's 144th Preakness Stakes (G1) at Pimlico Race Course, bringing the field for the Middle Jewel of the Triple Crown to 13 horses. Joel Rosario, winner of the 2013 Kentucky Derby (G1) on Orb and the 2014 Belmont Stakes (G1) on Tonalist, has the mount.
Game Winner
After the disappointment of Maximum Security's disqualification in Kentucky, the West's can have another go at a Triple Crown race with last year's Breeders' Cup Juvenile champ.
His form seems to have maxed out at a glance but it could be that he prefers this slight drop in distance and he may been seen to better effect that when fifth in the Derby.
Improbable (early favorite)
Having similar form and ability to Baffert's other star Game Winner, this horse's advantage could come from the fact that he appears to have further improvement in him,his fourth in the Derby now reads very well and we should remember he went off favorite that day.
Laughing Fox
Well beaten behind Omaha Beach in two preps in the spring, this horse comes into the race on the back of just an Oaklawn Invitational win but he is inexperienced and clearly getting better rather quickly, not to be ruled out.
Market King
Market King, a son of Into Mischief, is trained by Hall of Famer D. Wayne Lukas and his addition pushes the expected field to 12 horses, the largest field since 14 competed in 2011. The bay colt broke his maiden fifth time out Feb. 9 at Oaklawn Park going 1 1/16 miles. He was third in a division of the Rebel Stakes (G2) March 16 and 11th in the Toyota Blue Grass Stakes (G2) April 6 at Keeneland.
Owendale
Winner of the Grade 3 Lexington Stakes at Keeneland ahead of Anothertwistafate, this horse needs to take a big step forward but at least comes here fresh.
Tacitus
A rock solid contender and one who is clearly still improving. Winner of the Tampa Bay Derby and the Wood Memorial Stakes, Tacitus was then a close up third behind Country House in the Kentucky Derby after getting the hang of things very late in the day and could be ideal for this race.
Vekoma
A good winner of the Blue Grass Stakes at Keeneland in the spring, but very disappointing in the Derby. Vekoma is on a recovery mission here but is capable of landing a blow for sure.
War Of Will
Although finishing 8th originally, this colt was beaten just 4¾ lengths in the Kentucky Derby and in fact beat Country House in the Risen Star at the beginning of the year. There is every chance this slight drop in distance will be to his liking too.
Win Win Win finished 10th in the Kentucky Derby (G1) and was moved to ninth by the disqualification of Maximum Security.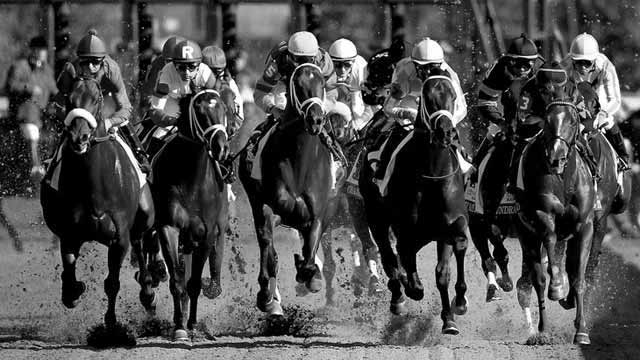 Bet Belmont Stakes with OTB