Preakness Stakes 2020 Contenders & Odds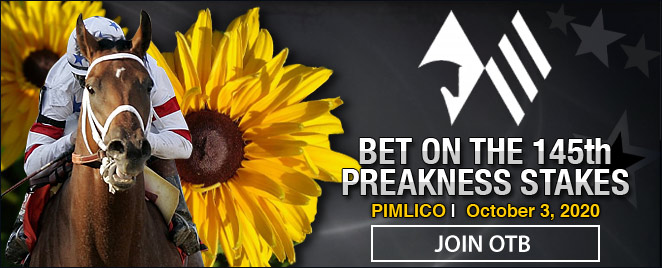 Maryland Jockey Club Press Release |
OTB Writer
Updated:
September 29, 2020
The 145th running of the Preakness Stakes (Grade I), is for the first time, the third jewel of the Triple Crown, set for Saturday, October 3, 2020 at historic Pimlico Race Course in Baltimore, Maryland.
This year the Preakness winner will earn an automatic starting position into the Longines Breeders' Cup Classic (G1). This marks the first time that a Triple Crown race will be a part of the Breeders' Cup Challenge Series.
2020 Preakness Stakes Field & Odds
Race 11 at Pimlico on Saturday, October 3 - Post 5:36 PM
Entry
Horse
ML Odds
Jockey
Trainer
1
Excession
30-1
Sheldon Russell


126 Lbs

Steven Asmussen
2
Mr. Big News
12-1
Gabriel Saez


126 Lbs

W. Calhoun
3
Art Collector
5-2
Brian Hernandez, Jr.


126 Lbs

Thomas Drury, Jr.
4
Swiss Skydiver
6-1
Robby Albarado


123 Lbs

Kenneth McPeek
5
Thousand Words
6-1
Florent Geroux


126 Lbs

Bob Baffert
6
Jesus' Team
30-1
Jevian Toledo


126 Lbs

Jose D'Angelo
7
Ny Traffic
15-1
Horacio Karamanos


126 Lbs

Saffie Joseph, Jr.
8
Max Player
15-1
Paco Lopez


126 Lbs

Steven Asmussen
9
Authentic
9-5
John Velazquez


126 Lbs

Bob Baffert
10
Pneumatic
20-1
Joe Bravo


126 Lbs

Steven Asmussen
11
Liveyourbeastlife
30-1
Trevor McCarthy


126 Lbs

Jorge Abreu
Kentucky Derby (G1) winner Authentic will headline a field of 11 3-year-olds entered Monday in the 145th Preakness Stakes (G1), which will bring down the curtain on a most unusual 2020 Triple Crown campaign Saturday at Pimlico Race Course.
The Bob Baffert-trained colt was installed as the 9-5 morning-line favorite during Monday's post-position draw for the 1 3/16-mile classic that traditionally has been the `Middle Jewel of the Triple Crown' in mid-May. Due to postponements forced by the Covid-19 pandemic, the Belmont Stakes (G1), the traditional third leg of the Triple Crown, went first on June 20, followed by the Kentucky Derby, which was postponed from May 2 to Sept. 5. The Preakness was originally slated for May 16.
In a quest to win a record eighth Preakness, Baffert will also saddle Thousand Words, who is rated at 6-1. When Baffert saddled Triple Crown champion Justify for a victory in the 2018 Preakness, he tied the record for most wins by a trainer with 19th century Hall of Fame trainer Robert Wyndham Walden, who saddled seven winners between 1875 and 1888.
Authentic, owned by Spendthrift Farm LLC, MyRaceHorse Stable, Madaket Stables LLC and Starlight Stable, led throughout in the 1 ¼ miles of the Kentucky Derby on his way to a 1 ¼-length triumph over Belmont Stakes winner Tiz the Law. The colt drew Post No. 9 for the Preakness,
"I didn't want to be in the 1-hole and I didn't want to be in the 11 with him," Baffert said. "But he's got to get away from there well. He's a good gate horse."
Albaugh Family Stables LLC and Spendthrift Farm LLC's Thousand Words, who was a late Derby scratch after rearing and falling while being saddled in the Churchill paddock, drew Post No. 5.
"He's fine [there]," said Baffert, repeating his preference for avoiding Posts No. 1 and 11.
Hall of Famer John Velazquez, who rode Authentic for the first time in the Derby, has the return mount. Florent Geroux is named to ride Thousand Words, who will be equipped with blinkers once again after running twice without them.
Bruce Lunsford's Art Collector is rated second at 5-2 in the Preakness morning line for his quest to win a sixth straight race. The son of 2006 Preakness winner Bernardini had earned his way into the Kentucky Derby field with a victory in the July 11 Blue Grass (G2) at Keeneland but missed a start in the Run for the Roses due to a minor foot issue. Art Collector, who hasn't run since winning the Aug. 9 Ellis Park Derby, drew Post No. 3 for his first start in this year's Triple Crown series.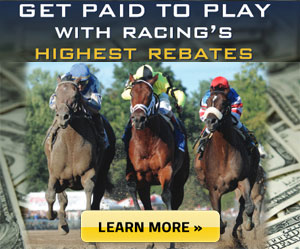 "That's kind of the same spot we've been in every time," said trainer Tommy Drury, whose Preakness contender broke from Post No. 4 for the Ellis Park Derby and Post No. 3 for his two previous races. "Obviously, this has kind of been our trip every time; we're down inside like that."
Drury, who awarded the return mount to Brian Hernandez Jr., is expecting a competitive Preakness.
"I think it's a good race. When you get to this level, you can make a case for all of them. On any day, any of these horses can jump up and run a big race. You can see that from top to bottom," Drury said. "Kenny [McPeek] is obviously high on his filly [Swiss Skydiver] or he wouldn't be coming. Authentic is doing fantastic. I know he's been training lights out at Churchill. Let the doors open, let everybody have a good clean trip, and let's have the best horse win."
Peter Callahan's Swiss Skydiver is rated at 6-1 in the morning line for her quest to join a group of five fillies that have captured the Preakness: Rachel Alexandra (2009), Nellie Morse (1924), Rhine Maiden (1915), Whimsical (1906) and Flocarline (1903). The Ken McPeek-trained daughter of Daredevil, a multiple graded-stakes winner who finished second behind Art Collector in the Blue Grass, drew Post No. 4 for her second start against males. Robby Albarado who celebrated a Preakness victory aboard Curlin in 2007, is scheduled to ride the Kentucky-bred filly for the first time Saturday.
Allied Racing Stable LLC's Mr. Big News, who finished third at 46-1 in the Kentucky Derby, is rated at 12-1 for the Preakness. The Bret Calhoun-trained son of Giant's Causeway, who won the Oaklawn Stakes before finishing a troubled sixth in the Blue Grass, drew Post No. 2 and will be ridden again by Gabriel Saez.
"I would probably have chosen something farther out, but I don't think post position is a huge deal with my horse. I'm going to be sitting back off the pace. There looks like there are several horses to my outside with speed, so I should have plenty of room," Calhoun said. "I don't think there's any bad post positions for too many of them. I'm sure there are some horses who have some quirks and prefer one trip as opposed to another. I think it's a pretty fair race. With an 11-horse field, I don't think anybody is going to be at too big a disadvantage."
Hall of Fame trainer Steve Asmussen is scheduled to saddle three horses - George Hall and SportBLX Thoroughbreds Corp.'s Max Player, Winchell Thoroughbreds LLC's Pneumatic, and Calumet Farm's Excession - for the Preakness in search of his third win in the Maryland Jockey Club's signature race.
Max Player, who closed well to finish fifth in the Kentucky Derby, is 12-1 in the Preakness morning line. The son of Honor Code, who drew Post No. 8, finished third in both the Belmont Stakes and Travers Stakes prior to his solid Derby run.
Pneumatic, who finished fourth in the Belmont and most recently captured the ungraded Pegasus at Monmouth Park, was rated at 15-1 after drawing Post No. 10. Excession, unraced since finishing second in the March 14 Rebel (G2) at Oaklawn Park, is rated at 30-1 and will break from Post No. 1.
Asmussen saddled Rachel Alexandra and Curlin for their Preakness victories.
Hall of Fame trainer D. Wayne Lukas was the last trainer to saddle three starters, including victorious Oxbow, for the Preakness in 2013.
Max Player will be ridden by Paco Lopez while Joe Bravo and Sheldon Russell have the mounts aboard Pneumatic and Excession, respectively.
John Fanelli, Cash is King LLC, LC Racing, Paul Braverman and Team Hanley's Ny Traffic, who was forwardly placed before weakening to eighth in the Derby, is rated at 15-1 in the morning line. The Saffie Joseph Jr.-trained son of Cross Traffic, who will break from Post. No. 7, had previously finished second by a nose behind Authentic in the Haskell (G1) at Monmouth Park. Maryland-based Horacio Karamanos is scheduled to ride Ny Traffic for the first time Saturday.
"He obviously rides the track there; he's got experience; he's won graded-stakes already; and he's won many races; so we feel comfortable with him," Joseph said. "It's not a difficult ride. He's going to be prominent, on or near the lead."
William H. Lawrence's Liveyourbeastlife and Grupo Seven C Stable's Jesus' Team, who finished second and third, respectively, in the Jim Dandy (G2) at Saratoga, are both rated at 30-1 in the morning-line. Trevor McCarthy has the call aboard Liveyourbeastlife, who drew Post. No. 11, while Jesus' Team, who will break from Post No. 6, will be ridden by Jevian Toledo.
OffTrackBetting.com - US Legal Preakness Stakes OTB is a great way to bet Preakness Stakes online. Available to customers across the United States, OTB features both Thoroughbred and Standardbred racing from major racing venues in the US as well as top international racing from Europe, Japan, Australia and Hong Kong.
2020 Preakness Pre-Draw News
AUTHENTIC
Jockey: John Velazquez
Trainer: Bob Baffert
Owner: Spendthrift Farm, MyRaceHorse Stable, Madaket Stables LLC., Starlight Racing
Pedigree: Into Mischief & Flawless
Preakness Notes: Upset winner of the Kentucky Derby. Ownership includes 4,200 "micro-owners" in MyRaceHorse Stable. Likes to be on the lead. Jock is a Hall of Famer. Trainer Baffert looks for record-setting eighth Preakness win.
LIVEYOURBEASTLIFE
Jockey: Junior Alvarado
Trainer: Jorge Abreu
Owner: William Lawrence
Pedigree: Ghostzapper & Ellie's Moment
Preakness Notes: Comes into the Preakness off a second-place finish at Saratoga in the Jim Dandy. Sold for $200,000 as a 2-year-old. Dad was Horse of the Year in 2004. Mom was graded-stakes placed. Abreu's dad was a jockey, and the trainer worked for Hall of Famers Nick Zito and Bob Baffert.
MAX PLAYER
Jockey: Ricardo Santana Jr.
Trainer: Steve Asmussen
Owner: George Hall & SportBLX Thoroughbreds Corp.
Pedigree: Honor Code & Fools in Love
Preakness Notes: Raced first time for Asmussen in Kentucky Derby, finishing fifth. Before that was third in New York's two biggest 3-year-old races, the Belmont and Travers, for trainer Linda Rice. Won Withers in February at Aqueduct to open sophomore season. Sire was Champion Older Horse in 2015. Jockey and trainer won 2019 Pimlico Special with Tenfold.
ART COLLECTOR
Jockey: Brian Hernandez Jr.
Trainer: Thomas Drury Jr.
Owner: Bruce Lunsford
Pedigree: Bernardini & Distorted Legacy
Preakness Notes: Won four consecutive races, including Blue Grass and Ellis Park Derby, and was going to be the likely second choice in the Kentucky Derby before a minor foot injury sidelined him. He's back for Lunsford, who also bred him, and Drury, who earned his first graded-stakes victory as a trainer in the Blue Grass.
THOUSAND WORDS
Jockey: Abel Cedillo
Trainer: Bob Baffert
Owner: Albaugh Pedigree Stables LLC., Spendthrift Farm LLC
Pedigree: Pioneerof the Nile & Pomeroys Pistol
Preakness Notes: He was actually in the paddock for the Kentucky Derby - just a few minutes from competing in the race - before he flipped over and had to be scratched. In the process, he broke the wrist of assistant trainer Jimmy Barnes. Good news? Horse is fine and expected to run in Preakness.
MR. BIG NEWS
Jockey: Gabriel Saez
Trainer: W. Bret Calhoun
Owner: Allied Racing Stable LLC
Pedigree: Giant's Causeway & Unappeased
Preakness Notes: Mr. Big News created just that, finishing third in the Kentucky Derby at odds of $46.50-1 after closing from 10th in the 15-horse field. Previous to the Derby Mr. Big News wasn't, finishing sixth in the Blue Grass. He did win the Oaklawn Stakes in April, a "Win and In" for Preakness.
PNEUMATIC
Jockey: Joe Bravo
Trainer: Steven Asmussen
Owner: Winchell Thoroughbreds LLC
Pedigree: Uncle Mo & Teardrop
Preakness Notes: After winning the Pegasus Stakes Aug. 15 in New Jersey, Pneumatic was pointed to the Preakness. The reasoning? A three-week turnaround wouldn't benefit the heavy-framed horse. Was fourth behind Tiz the Law in the Belmont. Trainer won the Preakness with two-time Horse of the Year Curlin (2007) and Horse of the Year Rachel Alexandra (2009).
JESUS' TEAM
Jockey: Jevian Toledo
Trainer: Jose D'Angelo
Owner: Grupo Seven C Stable
Pedigree: Tapiture & Golden Memories
Preakness Notes: Named for the owner's son, this is a former claimer who has now earned nearly $!50,000 after finishing fourth to Derby winner Authentic in the Haskell and third in the Jim Dandy at Saratoga. D'Angelo is a former leading trainer in Venezuela, just like his father.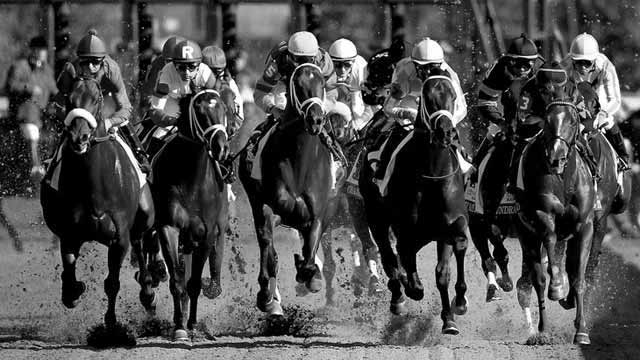 Bet Horse Racing with OTB