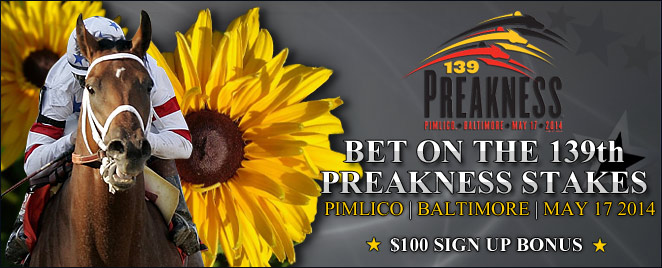 Preakness Stakes Betting: Pocket 10's promo
This Saturday, May 17, 2014 OffTrackBetting.com is offering dual promotions on the 139th Preakness Stakes race.
First, we're offering a No-Lose guarantee up to $10 on qualifying bets made on the Preakness Stakes.
Second, we're giving our members a 10% rebate on their first $100 worth of qualifying Preakness Stakes wagers, win or lose! See below for details and eligibility rules.
$10 No-Lose Bet on the Preakness Stakes
Place any number of bets on the Preakness Stakes this Saturday, May 17th at Pimlico and we will refund the first $10 of any losses to your account.
10% Rebate on the Preakness Stakes
You may be thinking: "Hey, the $10 No-Lose promo is great if I lose, but what if I win?"
Don't worry, we're covering the winners (as well as those less fortunate) with a 10% Rebate on your first $100 in qualifying wagers on the Preakness Stakes, Win OR Lose!
---
Off Track Betting: $10 No-Lose Preakness Stakes Bet & 10% Preakness Stakes rebate terms and conditions:
This offer is available to OffTrackBetting.com account holders only in a state which allows them to wager on the Preakness Stakes. Maximum combined promotional credits issued shall not exceed $20 per person ($10 No-Lose Bet, $10 Wager Rebates).
All bets specific to the Preakness Stakes count for this offer, including WPS and all exotics. Multi-race wagers like Daily Double, Pick 4/5/6 are not eligible for this offer.
Credits will be issued by end of day Monday, 19th, 2014.
Entrants must have an OffTrackBetting.com account in order to participate in any promotion. Not a member - click here to join
Promotional credits will be issued to entrant's OffTrackBetting.com account in the form of wagering credits, which are ineligible for withdraw subject to a 1x rollover requirement, meaning you must wager the full amount of the credit before being able to withdraw funds.
Calculation of the $10 No-Lose refund will be as follows: Your total bets on the race, less any refunds/cancelled bets, less all your winnings on the race and refunding the difference up to a maximum of $10.
OffTrackBetting.com reserves the right to discontinue this promotion at any time without notice.
You must provide a valid email address during the signup process.
OffTrackBetting.com also reserves the right to verify the identity and eligibility of any Player participating in the promotion and to disqualify anyone from receiving any prize if it is determined that the Player has not complied with the rules of the promotion, and/or has provided false or misleading information about his or her identity.
OffTrackBetting.com reserves the right to refuse issuing any credit to anyone at anytime for reasons that OffTrackBetting.com deems relevant.
Patrons residing in jurisdictions where applicable law prohibits account wagering are not eligible for the promotion. Proof may be required from the Player to verify age and residency requirements. All federal, state and local laws and regulations apply.
Patrons residing in jurisdictions where Source Market Fees exist (NY, FL, MD, OR, MT) are not eligible for the 10% rebate, however they ARE eligible for the $10 No-Lose bet.