The Downs at Albuquerque

The Downs at Albuquerque is a horse racing track in Albuquerque, New Mexico that features thoroughbred and quarter horse racing. The Downs at Albuquerque features live horseracing each fall, plus 17 days of racing during the State Fair in September. The Downs also offers simulcast racing from tracks around the world.
---
The Downs at Albuquerque History
The Downs at Albuquerque is actually part of the New Mexico State Fair Grounds. The 8,000 square foot casino at The Downs, as the facility is fondly called, features 310 slot and video poker machines. The casino is open year-round, seven days a week and is packed with all the popular penny and nickel slots. The casino also has a brand new electronic, five-seat, blackjack machine. The Downs at Albuquerque hosts several important stakes events each year. Among them are: Manuel Lujan, La Fiesta, Charlie Iles Express Handicap, Chamisa, Top Deck, Albuquerque Spring Quarter Horse Futurity, Spring Thoroughbred Futurity, John Augustine, Charles Taylor Derby and The Downs at Albuquerque Handicap.
The track at The Downs is roughly one mile in length and oval in shape. The final, homerun stretch measures approximately 1,114 ft in length and has proved to provide plenty of excitement during racing season. The Downs has year-round simulcast horse racing and wagering which focuses on the country's biggest and best horse races. Hundreds of TVs make it possible for you to enjoy the race from anywhere in the clubhouse and the action normally starts at 10:00 AM and ends late. Top races such as the Kentucky Derby, the Breeder's Cup World Championships, the Preakness and the Belmont Stakes make for exciting betting.
The New Mexico State Fair Futurity was dedicated with a special marker at The Downs in September, 1997. The New Mexico State Fair Futurity is the oldest continuously run American Quarter Horse stakes race. This contest between New Mexico-bred American Quarter Horses has been run at the New Mexico State Fairgrounds track since 1946. It was split into divisions and renamed the New Mexico State Fair Señor Futurity and the Señorita Futurity in 1991.
Early in the 2003, the Fair Commission scrapped a plan to put the operation of the Downs at Albuquerque out to competitive bid. Later that year, the state governor vetoed language in a bill that would have allowed the Fair Commission to enter into a lease for up to 25 years with the operator of the Downs.
The Downs undertook the rebuilding the horse barn at the Fairgrounds in 2004.
---
The Downs at Albuquerque Live Horse Racing Schedule
Wednesdays, Fridays through Sundays
---
The Downs at Albuquerque Layout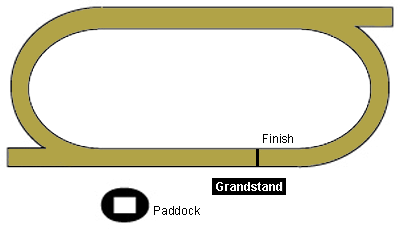 Main Track:One Mile, oval.
Distance from last turn to finish line: 1,114 Feet

---
Post Time at The Downs at Albuquerque
2:30pm MT weekdays, 1:30pm MT weekends
---
The Downs at Albuquerque Track Code
ALB
---
Current Weather Conditions at The Downs at Albuquerque
The Downs at Albuquerque Contact Information
Mailing Address:
The Downs at Albuquerque
P.O. Box 8510
Albuquerque, New Mexico 87198
Street Address:
The Downs at Albuquerque
201 California North East
Albuquerque, New Mexico 87108
Website: www.abqdowns.com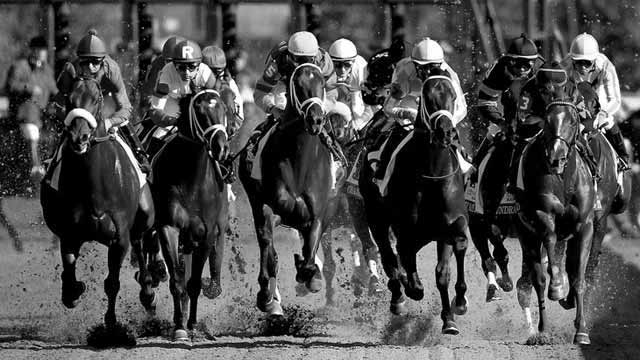 Bet Horse Racing with OTB