Beulah Park

Beulah Park was Ohio's first thoroughbred racetrack and premier event center, offering live thoroughbred racing from October through to early May. The track also offered Quarter Horse racing on select days throughout the season, with the most notable races occurring in mid-October with three AQHA graded stakes. Located seven miles outside of Columbus, Beulah Park was open seven days a week for simulcast wagering. It was also known for the Beulah Twins, who were the simulcast hosts from 1997 to 2009.
Beulah Park has permanently closed and this page is strictly for historical purposes.
---
Beulah Park History
Beulah Park opened in Grove City, Ohio, a suburb of Columbus, in 1923. It was the first thoroughbred racetrack in Ohio. It is currently one of only three tracks in Ohio to offer live thoroughbred racing, the others being Thistledown in North Randall and River Downs in Cincinnati. In 1983, Beulah Park was the first Ohio track to offer simulcast wagering on the Kentucky Derby.
Beulah Park was owned in part or whole from 1923 to May 1983, sixty years, by the Robert Dienst Family. Robert J. Dienst owned and operated the track until his death on August 19, 1959. Robert J. Dienst was most famous for the 1956 and 1957 American Champion Sprint Horse, Decathlon. Robert J. was a bit of a showboat and made gambling fun to the public. After his death, his son, Robert Y. Dienst who was conservative, took over and rebuilt the track, especially the backside when a fire broke out circa 1959. He poured the profits right back into the track, making it a showplace, not just for the general public but for the horsemen. Around 1959, an all wood barn with 40 horses perished in a night time blaze. Because of this Robert Y. Dienst built almost all concrete block with tin roof barns from then on -- having a full- time construction crew just for that purpose. Horsemen and Horsewomen appreciated the care that was taken towards their horses. Robert Y. was a true horseman and loved the sport just for the sport's sake. He had a small stable, River Divide Farm, of about a dozen horses that he raced with the guidance of Trainer & Starter Don Rose up until his death on Nov. 7, 1996 (when Robert Y. was hours shy of his 80th birthday). Robert Y. Dienst's son, "Bob M." Dienst, left working at Beulah in the Spring of 1981 because of a management style disagreement with the then general manager, Mr. Houser (this was during 1981). Bob M. Dienst now resides in Albuquerque, New Mexico doing real estate. Robert Y. Dienst's son-in-law, Thomas E. Heinl worked in charge of Parimutuels (from 1975 to 1986) -- computerizing the Totalization equipment, the first to do so in the eastern part of the United States. Tom Heinl revolutionized the way parimutuel tickets are sold even today. Mr. Heinl is now a math teacher in Phoenix, AZ, and resides with his wife of almost 44 years, Diana J. Dienst Heinl, who is an artist and former teacher.
The track was sold to George Gaulding in May 1983 for about $4.5 million. The name was changed to Darby Downs for two years, and it appeared that some interesting things happened under that new regime: for example like two decades of racing records disappeared. In 1985 the track was resold to Charles Ruma, a building developer, (for just over $6.5 Million) and the name was returned to Beulah Park. Ruma poured millions into the track making it better for the general public. The track was resold to Penn National in May of 2010 for approximately 37 million dollars, about four million shy of what Penn National paid also at the same time for Thistledowns (Race Track) in Cleveland. In 1987, Glacial Princess (a two time Ohio Horse of the Year) died while racing on the track, causing one unlucky patron to lose $34,000. In 2011, Penn National Gaming, the owner of Beulah Park, announced plans to relocate the track and all operations to Dayton, Ohio. The new track would come at a cost of $200 million and create over 1,500 jobs in Dayton. Construction is contingent on video slot machine approval by the state.
---
Beulah Park Live Horse Racing Schedule
Beulah Park has permanently closed.
---
Post Time at Beulah Park
1:15pm ET
---
Beulah Park Track Code
---
Current Weather Conditions at Beulah Park
Beulah Park Contact Information
Mailing Address:
Heartland Jockey Club Ltd.
P.O. Box 850
Grove City, OH 43123-0850
Street Address:
Beulah Park Race Track
3664 Grant Avenue
Grove City, OH 43123
Website: www.beulahpark.com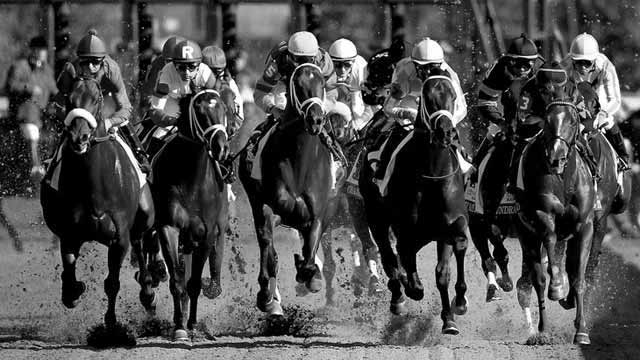 Bet Horse Racing with OTB