Freehold Raceway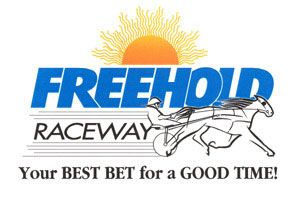 Located in central New Jersey in the historic town of Freehold, Freehold Raceway was established in 1853 and features live Standardbred harness racing for trotters and pacers. The racetrack is also open seven days a week and seven nights for year round thoroughbred and harness racing simulcasts from tracks throughout North America. Freehold Raceway is the nation's oldest and fastest daytime half mile harness racing track.
---
Freehold Raceway History
Freehold Raceway is a half-mile racetrack in Freehold Borough, New Jersey, and is the oldest racetrack in the United States. Horseraces have been taking place at Freehold Raceway since the 1830s. The Monmouth County Agricultural Society was formed on December 17, 1853, and in 1854 they began holding an annual fair with harness racing at Freehold Raceway. Freehold is believed to be the oldest half-mile track in the country. This legendary racetrack has become a big part of the historic town of Freehold and the track features live harness racing for ten months out of every year.
It is interesting to note that the area where Freehold Raceway is presently situated was likely used for racing from as early as the 1830s. There is a lot of research to suggest that both flat and harness racing was regularly conducted on the site in conjunction with the Monmouth Country Agriculture Society annual fair. Today things may have changed quite a bit but you can still enjoy great harness racing at Freehold Raceway. Combine this with as many as fifteen great dining options, the third largest shopping mall in New Jersey and a movie theater and you'll find that Freehold Raceway makes for an unbeatable racing venue.
December, 1853 - Monmouth County Agriculture Society was formed to hold an annual fair with harness racing in the Township of Freehold. Annual Membership fee would be $1.00 and one-time payment of $10 would permit a person to be a life member. It has been researched that racing was held at the same site as early as the 1830's.
In 1854 Society rents a 10-acre plot of land from Hudson Bennett for a sum of $50 a year. That land is currently the site of Freehold Raceway. The first fair meet after expenses showed a balance of $286.06.
In 1858, Society purchases 20 acres, including the original 10 acres for $3,000 from Col. W.D. Davis. In 1875 improvements at a cost of $983.70 were made and two years later the half-mile track and Grandstand were built at a cost of $1,650. One of the first polo matches ever held in the United States was played in 1884 during the fair week.
In 1863, A trotter named George M. Patchen, the "Pride of Monmouth County", set the world record for trotting-under-saddle with a two-mile mark of 4:56 at age 14.
In 1888, The Monmouth County Agriculture Society passed out of existence due to financial problems. The track was idle until 1896 when the Freehold Driving Club was formed.
In December 1895, 52 local men held a meeting and formed the Freehold Driving Club, leasing the track for $174 a year. The club held frequent trotting meetings and trials on the track until 1902, when the Freehold Driving Club was incorporated and purchased the grounds for $4,500. At this time, a golf course was also developed on the grounds.
In 1909, Freehold Driving Club was disbanded and the Freehold Driving Association was organized and incorporated. The first item on the agenda was rebuilding the old track, which was considerably lopsided and was believed to have kept many horsemen away from racing there.
The annual fair was the major racing activity for years with occasional races between local horsemen. In July of 1917, the first major meet was held at the track for five days with over $1,000 in purses.
In 1921, Interest in trotting meets had waned and Joseph Donahay purchased the track for $10,000. In 1923 the grandstand was rebuilt in anticipation of an innovation that became a major problem. In that year the newly formed Freehold Driving Park offered both a week of trotting races and a week of running races. There had been a previous ruling outlawing racing from the early 1900's but the Freehold group had never listened to the ruling and because of poor publicity concerning the ruling, which trickled down to the racing fans, the yearly meets at Freehold started a downward trend.
In 1936, Harry Gould, sportsman and woven label manufacturer from Park Ridge, NJ purchased the track and, along with his wife and son, began repairing and improving the track which reopened as the new Freehold Trotting Association on September 15, 1936.
In 1941, Harry Gould said he was too much of a sportsman and did not wish to own the track if there was to be gambling and sold his shares. Freehold soon became the first pari-mutuel track in New Jersey with a 13-day meeting featuring betting machines and an infield tote board that cost a total of $35,000. There were 24 betting booths and 15 cashier's cages. The track had been sold to Fred Fatzler, a Newark, NJ contractor from Maplewood, NJ for $65,000. He ran the track until 1943 when racing was halted during World War II, and resumed on July 22, 1944 by the Freehold Trotting Association.
On September 12, 1946, Freehold starts 24-day pari-mutuel meeting with a record crowd of 4,000 fans who wagered $78,873 on 10 races. The meet ended with more than $1,423,657 wagered over the 24 days.
In 1960, Fred Fatzler sells Freehold Raceway to Harold and Bernard Sampson of Milwaukee for a reported $5,000,000. After racing steadily for nearly 14 years, slowly increasing the number of racing days each season, Freehold grew in popularity, featuring the best drivers and horses in the sport. On August 11, 1962 a record crowd of 13,206 patrons wagered $758,719. The meet ended that year with total wagering at a record $25,152,981.
In 1965, Gibraltar Pari-Mutuel of Canada buys Freehold Raceway from Harold and Bernard Sampson for a reported $8,000.000.
In 1967, Freehold Raceway reconstructs the racetrack to allow for eight horses to start behind the starting gate instead of just six horses with two trailers as Freehold enters the modern age of racing.
In 1970 The grandstand was enclosed so that Freehold could offer year-round racing featuring such outstanding drivers as Stanley Dancer, William Haughton and Herve Filion. Many of the top horses ever to race including Albatross, Cardigan Bay, Su Mac Lad and a host of other world champion performers, competed at Freehold. Major stakes races, like the James B. Dancer and Helen Dancer Memorial, attracted the best three-year-old pacers in the nation every year.
On May 4, 1984, Freehold Raceway grandstand and dining room is destroyed by an early evening fire caused by an electrical short in an odds board. In July, Racing resumes at Freehold under tents, featuring 19 nights of simulcast harness races from the Meadowlands. Racing concludes on September 30. On New Years Eve, The Wilmot Family of Rochester, NY purchases Freehold Raceway and all of its attached acreage from Gibraltar Pari-Mutuel of Canada.
In 1985, Wilmorite, Inc. begins rebuilding the new grandstand and dining room at an estimated cost of over $12,000,000. Racing goes on under plastic "Bubbles" to extend the season to January 8, 1986, along with simulcasting from the Meadowlands at night.
In 1986, Wilmot Family holds gala affair to mark the opening of the new Freehold Raceway facility.
In August 1990, Wilmorite, Inc. opens the new Freehold Raceway Mall across the street from the track. Mall features its entire motif on harness racing. In September, Kenneth Fischer, owner of local Gaitway Farm in Englishtown, NJ, one of the finest training centers in the country, buys Freehold Raceway from Wilmorite, Inc. and becomes the first harness horse owner to own the track in 30 years.
In 1994, International Thoroughbred Breeders, Inc., parent company of Garden State Park in Cherry Hill, NJ, announces that it has exercised an option to purchase Freehold Raceway for $23 million.
In 1999, Freehold Raceway is purchased for $46 million by Pennwood Racing. Pennwood is a partnership between Penn Gaming and Greenwood Racing.
In 2005, Freehold was also the temporary home of the Yonkers Trot, part of the Triple Crown of Harness Racing for Trotters, while renovations took place at Yonkers Raceway.
In 2008, Freehold Raceway opens New Jersey's third off-track wagering facility to the public - Favorites at Toms River.
Freehold Raceway is currently the home of the Cane Pace, a harness horse race run annually since 1955. In 1956 the race joined with the Little Brown Jug and the Messenger Stakes to become the first leg in the Triple Crown of Harness Racing for Pacers.
Freehold Raceway has two meets per year. They race from New Years Day until the end of May, then reopen in September and race until the middle of December. There are 2 harness tracks in New Jersey, Freehold Raceway and The Meadowlands. New Jersey has always drawn the top horses, trainers, and drivers in the world. There are several farms and training centers located near Freehold Raceway which stable hundreds of standardbred racehorses.
Freehold Raceway is a favorite playground for both trotters and pacers and it is open for racing from August through to May. Besides being open for a long and enjoyable season, the racetrack continues to operate, albeit on a smaller scale, for the rest of the year by way of restaurants, events and great racing simulcast coverage of harness races across the country. A number of the facilities are available for hire and the grounds are often used as a venue for public events. The raceway is the home ground of the legendary Cane Pace harness horse race which has been run every year since 1955. This race, together with the Little Brown Jug and the Messenger Stakes, is now part of the Triple Crown of Harness Race.
---
Freehold Raceway Live Horse Racing Schedule
August - May

---
Post Time at Freehold Raceway
12:30pm Eastern
Thursday, Friday, and Saturday
---
Freehold Raceway Track Code
FHLD
---
Freehold Raceway Wagering
Exotic
$2.00 WPS, Exacta, Exacta Box, Trifecta, Superfecta
$1.00 Trifecta Key, Trifecta Box, Superfecta Box
---
Current Weather Conditions at Freehold Raceway
Freehold Raceway Contact Information
Mailing Address:

Freehold Raceway
130 Park Avenue
Freehold, NJ 07728

Website: www.freeholdraceway.com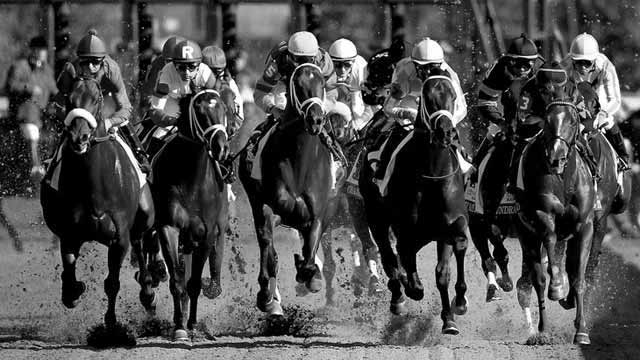 Bet Horse Racing with OTB