Fairplex Park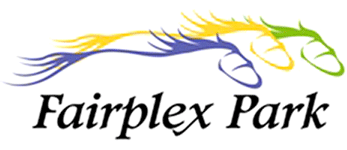 Barretts Sales and Racing (formerly known as Fairplex Park), is a horse racing facility with a 5/8ths mile racetrack and a grandstand that seats 10,000. It is home to 2 1/2 weeks of live thoroughbred, quarter horse and Appaloosa racing during the annual Los Angeles County Fair. Barretts is part of the larger county fair grounds that cover 543 acres (2.2 km2) and include nearly 325,000 square feet (30,200 m2) of indoor exhibit space.
---
Fairplex Park History
Sitting 20 miles east of Santa Anita Park, Fairplex Park's five furlong oval track operates as a training facility to over 500 horses. Every September, Fairplex Park runs a select 3 week race meeting in conjunction with the Los Angeles County Fair.
Fairplex is the oldest SoCal track that is still operating. Fairplex Park began horse racing in 1922 with no pari-mutual betting. Later, in 1933 a bill was passed legalizing betting in the state.
Fairplex Park is a 5/8 mile horse track in Pomona, California. It is home to 17 days of live thoroughbred, quarter horse and Appaloosa racing during the annual Los Angeles County Fair. Fairplex Park is part of the larger county fair grounds that cover 487 acres.
Fairplex Park has the traditional oval configuration of most North American racing surfaces. The main track is comprised of a dirt track with sandy loam surface. The main track consists of a five-eights of a mile oval, with what would be considered tighter than average turns. Many races are won or lost on the turns of Fairplex Park's race track. The distance from the final turn to the finish line is 757 feet. Fairplex Park will often favor front runners as with a short stretch and tight turns it can be difficult for closers to win races here, yet not impossible.
The top stakes races held at Fairplex Park include the Beverly J. Lewis Stakes, Jim Kostoff Stakes, Governor's Cup, Barretts Debutante, Barretts Juvenile, Las Madrinas Handicap, Pomona Derby, and Pomona Handicap.
To be known as Barretts Race Meet at Fairplex from now on, Fairplex Park is the home of horse racing in Southern California and was the first track in Southern California to allow fans to bet on racing when pari-mutuel wagering was legalized in 1933. The track now runs live races five days a week and over 10 stakes each season.
Barretts (Fairplex Park) is located in Pomona, which has been the home of the L.A. County Fair since 1922. The L.A. County Fair is held during the month of September, but the facility is used year-round to host a variety of educational, commercial, and entertainment such as trade and consumer shows, conventions, and sporting events.
Barretts provides equine training facilities, horse show facilities, and the Barretts Equine Limited horse auction complex. The facility can also be used to host music events accommodating up to 30,000 patrons. The track boasted a 7.95 percent increase in handle in 2012 and will be celebrating its 75th race meet in 2013.
---
Fairplex Park Live Horse Racing Schedule
Races September 6 - 22
Dark Mondays and Tuesdays

---
Fairplex Park Layout


Main Track: Five-eighths mile, oval.
Distance from last turn to finish line: 757 Feet.

---
Post Time at Fairplex Park
4:00 pm Wednesday
1:00 pm Thursday - Sunday
---
Fairplex Park Track Code
FPX
Takeout Information
Win, place, and show: 15.43%
All exotic wagering: 20.68%
2 horse exotics: 22.68%
3 or more exotics: 23.68%

---
Current Weather Conditions at Fairplex Park
Fairplex Park Contact Information
Mailing Address:
Fairplex
Barretts Racing Office
1101 W. McKinley Ave
Pomona, CA 91768
Website: www.barretts.com/racing/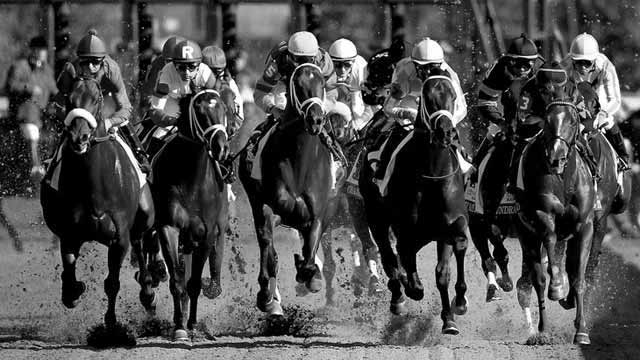 Bet Horse Racing with OTB