Gulf Greyhound Park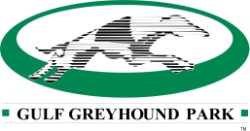 Gulf Greyhound Park, the world's largest and #1 greyhound racing operation, offers a unique entertainment package. The air conditioned complex offers a variety of dining and view options. Other unique features include over 1,100 closed-circuit televisions throughout the facility and parking to accommodate over 8,000 vehicles.
Live world-class greyhound racing and pari-mutuel wagering are offered at Gulf Greyhound Park, year round, rain or shine. Evening performances are Tuesday, Thursday, Friday, and Saturday. Doors open at 5pm on Tuesdays and 6 pm Thursday through Saturday. Races begin at 7:00 pm. Matinee performances are held Wednesday at Noon with doors opening at 11:00 am and Sunday at 1:30 pm with doors opening at 12:30 pm.
---
Gulf Greyhound Park History
Since opening its doors in November 1992, over 10 million race fans have attended Gulf Greyhound Park and over 1.4 billion dollars have been paid to winners. Offering the traditional Win, Place and Show wagers, the track also offers Quiniela, Exacta, Trifecta, .10 cent & $1 Superfecta, Daily Double, Pick Three, Twin-Tri & Tri-Super wagers. On the carryover wagers, there are mandatory payouts on the Twin-Tri every 1st and 3rd Friday night of the month and the Early Tri-Super every 2nd and 4th Friday night of the month. Betting Buddies are available on every floor to answer any wagering or general information questions.
Since opening in November, over 10 million fans have attended Gulf Greyhound Park, and over 1.4 billion dollars has been paid out to winners! Other special interest facts include:
Owner and Management: Gulf Greyhound Partners, Ltd., a Texas controlled partnership, built the $55+ million facility.
Gulf Greyhound Park opened its doors to the public on Tuesday, November 10, 1992.
Location: One block west of I-45 South at Exit 15, thirty (30) miles south of Houston and 15 miles north of Galveston, in La Marque.
Complex: The site consists of 110 acres. The track seats 6,600 people with a total capacity of more than 14,000. Three hundred fifteen thousand square feet (315,000) make up four levels of climate-controlled comfort; 318 teller windows are available for placing bets and collecting winnings. Closed-circuit televisions are available throughout the complex for monitoring races, learning how to bet or watching a favorite sporting event. The parking lot accommodates over 8,000 vehicles.
Dining: Gulf Greyhound Park offers a variety of food and beverages available to meet every patron's taste and budget. The 2nd level Terrace Clubhouse seats approximately 900 race fans for full-service dining, before and during the performances. The first and second floors consist of numerous concessions and beverage areas including a second level food court offering a variety of menus.
Track: The quarter-mile track is made up of a sand composition surface. Races, distances of 3/16 = 330 yds, 5/16 = 550 yds, 3/8 = 660 yds, and 7/16 = 770 yds.
Kennels: Fourteen kennels house sixty two greyhounds each. Each kennel is equipped with hot water supplies, whirlpool, central heat, heat alarm and fire alarm systems, plus 24-hour security.
The Terrace Clubhouse, offers full-service dining in a relaxed atmosphere, with an exciting view of the track for more than just race fans. The menu offers a variety of entrees including steak, fried Gulf shrimp, gourmet hamburgers and much more, in addition to a variety of salads, desserts and beverages, all at very reasonable prices.
Tables in the Terrace Clubhouse overlook the track, providing patrons with an excellent view of the races. In addition most of the tables are equipped with a color television monitor that allows patrons to bring the races a little closer. Also, inside the Terrace Clubhouse, enjoy the Terrace Bar which features all the amenities of your favorite hometown bar, 15 televisions, a big screen television and friendly tellers ready to punch your winning ticket. Reservations are recommended for the Terrace Clubhouse and can be made by calling 1-800-ASK-2WIN.
---
Gulf Greyhound Park Live Greyhound Racing Schedule
Jan 01 to Dec 31
---
Post Time at Gulf Greyhound Park
Monday - no live racing
Tuesday - 7:00pm
Wednesday - Noon
Thursday - 7:00pm
Friday - 7:00pm
Saturday - 7:00pm
Sunday - 1:30pm

---
Gulf Greyhound Park Track Code
GGMAT
---
Exotic Wagering at Gulf Greyhound Park
$2 Quinella Box
$3 Exacta Box
$1 Trifecta Box
$2 Quinella Wheel
$3 Exacta Wheel
$1 Trifecta Wheel

---
Current Weather Conditions at Gulf Greyhound Park
Gulf Greyhound Park Contact Information
Gulf Greyhound Park
1000 FM 2004 Rd
La Marque, TX 77568
Mailing Address:
P.O. Box 488
La Marque, TX 77568
Website: www.gulfgreyhound.com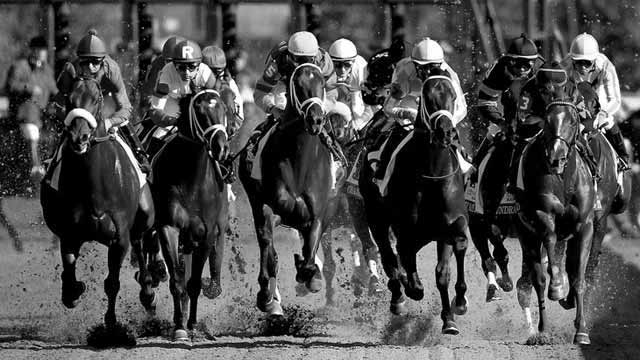 Bet Horse Racing with OTB
Bet Greyhound Racing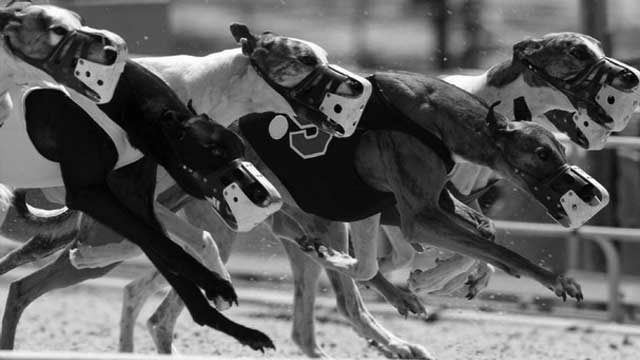 Bet Greyhound Racing online from the top dog tracks in the United States. Watch Free Live Video Streaming of every Greyhound Race when you bet from mobile phone, tablet, laptop or desktop.
Earn Daily Cash Rewards - Win or Lose
Hundreds of weekly Greyhound races
Free Live Video & Race Replays