Harrington Raceway

Harrington Raceway is one of the nation's oldest racetracks and has run a race meet every year since 1946. The lightning-quick half-mile oval was reconstructed prior to the 2003 spring meet by veteran trackmasters Dan and Greg Coon. The renovations have resulted in wider turns, and ultimately a safer, faster racetrack. Some of the sport's top drivers and horses can be seen nightly during our racing season, which runs Sunday thru Thursday, with a 5:30 p.m. post time.
---
Harrington Raceway History
Situated in Harrington, Delaware, the Harrington Raceway is a great place to go if you are looking for some live harness racing action. The track is located in Rider Road and it offers betting almost every night of the year - whether on live races, through simulcast off-track betting or on some other fun activity. The grounds are also used to host the annual fair and this helps to draw additional spectators at certain times of the year.
Harrington Raceway opened to the public in the 1940s and has proved to be a most successful venture. The multi-million dollar raceway, featuring a lightning-fast half-mile oval, is still relatively new. The 2003 renovations not only resulted in a faster track but employed wider turns which make for safer racing conditions. Harness racing is conducted on the track between September and April each year and you will often spot some of the top horses and drivers in the country making their way around the track.
Gaming legislation in Delaware in 1996 allowed the state's three racetracks to have video lottery machines. Presently, the Midway Slots and Simulcast at Harrington Raceway operates more than 2,000 full service machines.
Approximately 10% of the machine win goes towards purses. This has resulted in Harrington Raceway being able to distribute approximately $135,000 in purses nightly and establishing itself as a top track on the national circuit.
The increased purses has provided a capitol base for Delaware horsemen making it possible to upgrade their racing stables with faster, sounder and more consistent race horses. In addition, Delaware owned or bred horses get a 20% bonus on any Delaware owned or bred race.
---
Harrington Raceway Live Horse Racing Schedule
April - June

Governor's Night - July

August - October

---
Post Time at Harrington Raceway
5:30pm Sunday - Thursday
---
Harrington Raceway Track Code
HAR
---
Current Weather Conditions at Harrington Raceway
Harrington Raceway Contact Information
Mailing Address:

Harrington Raceway
15 West Rider Road
Harrington, DE 19952

Website: www.harringtonraceway.com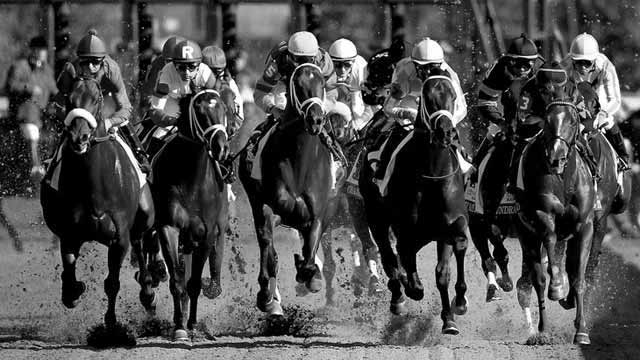 Bet Horse Racing with OTB