Hawthorne

Hawthorne Race Track is a 119-acre horse racing track located near Chicago in Cicero, IL. Hawthorne Race Track is one of the most famous horse tracks in the state of Illinois. It is the oldest continually-run family-owned racetrack in North America. The track has a one-mile (1.6 km) dirt oval and a seven-furlong turf oval. The main track homestretch is 1,320 feet, one of the longest in the country. In 2009, Hawthorne was ranked #8 out of 65 Thoroughbred racetracks in North America by the Horseplayers Association of North America.
---
Hawthorne History
In 1890, Edward Corrigan, a Chicago businessman who owned the 1890 Kentucky Derby winner, Riley (by Longfellow), bought 119 acres (0.48 km2) of land in Cicero and started constructing a grandstand for a new racecourse. His track opened in 1891 with a five-race card including the featured Chicago Derby. In 1902, the grandstand burned to the ground, which moved all racing to the Harlem racetrack in Chicago. The re-opened track held a 12-day summer meet at its own facility later that year.
In 1905, horse racing was banned in Chicago, leading to the closure of Hawthorne. The field was used briefly by pioneer aviators Victor and Allan Haines Loughead in 1910 to fly a powered Montgomery glider and a Curtiss pusher.
In 1909, the track was sold to Thomas Carey who tried to reopen the track twice but was stopped by the sheriff's department and the local police. But in 1916, the track ran a 13-day meeting which included the American Derby. That would be the last race until 1922.
In 1922, the track reopened legally for a 13-day race meeting. In 1923, the meet expanded again to 25 days. The Chicago Business Men's Racing Association took over racing operations in 1924 and ran a 52-day meet in the fall. This same year a new clubhouse was constructed at Hawthorne, and a form of parimutuel betting was introduced.
By 1927, the racetrack was gaining prominence on the national scene. A new starting was introduced as was the Hawthorne Gold Cup Handicap, a major stakes event. In 1929, Sun Beau won his first Gold Cup. He would later capture two more. In 1931, an electric time was introduced as was an infield tote board.
The track introduced Daily Double wagering to Chicago and used a new infra-red timer in the early 1930s. In 1936, the track began the Chicago racing season with a spring meet.
The Hawthorne continued to advance in the 1930s and 1940s, taking over the racing dates of Lincoln Fields Racetrack as well as racing earlier in the spring. The track also introduced races restricted to Illinois-bred horses.
Turf racing returned to Hawthorne in 1948 with the renovation of the racing strip and the introduction of a six-furlong turf course. In 1959, a new clubhouse was opened with vastly expanded seating to serve the racing needs of the Chicago market. The track continued to thrive during the 1960s and 1970s, but it had crested in attendance and the attendance slowly began to drop.
By 1970, harness racing was held at Hawthorne in an effort to offer a product to lovers of standardbred racing. The track was awarded spring dates and ran a spring, summer and autumn thoroughbred meet and a winter standardbred meet. The track stopped in September for the Arlington Park meet. The track also began to hold occasional Quarter Horse races.
In 1978, a fire destroyed Hawthorne's grandstand. The attempt to move the meet to Sportsman's Park Racetrack failed for 1978. In 1979 racing was moved to Sportsman's Park. In 1980 the track officially opened for a 72-day thoroughbred meet begin at the end of September.
In 1985, Arlington Park burned to the ground and Hawthorne Race Course gained all summer dates except Arlington Million day. In 1986, 1987 and 1988 the track also held these summertime meetings.
Hawthorne is now second tier to Arlington Park, the premier thoroughbred track in Chicago. In early November, it hosts the Illinois Festival of Racing restricted to state-breds. Hawthorne runs the grade III stakes the Illinois Derby, Hawthorne Derby, Robert F. Carey Memorial Handicap, and Sixty Sails Handicap, and the grade II Hawthorne Gold Cup Handicap.
---
Hawthorne Live Horse Racing Schedule
February - April: Wednesday, Friday - Sunday

October - December: Wednesday - Sunday

---
Hawthorne Layout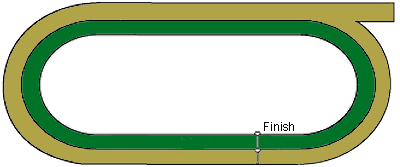 Main Track: One mile, oval.
Distance from last turn to finish line: 1,320 feet.



Turf Course: Seven Furlongs.

---
Post Time at Hawthorne
1:40pm
---
Hawthorne Track Code
HAW
---
Hawthorne Wagering
Exotic Wagering
10¢ SUPERFECTA
50¢ TRIFECTA, PICK 4, PICK 5
$1 WPS,DAILY DOUBLE, EXACTA, PICK 3, PLACE PICK, Jackpot High 5
$2 PICK 6

Takeout
14% PICK 50
17% WPS
20% PICK 6, PLACE PICK, Jackpot High 5
20.5% DAILY DOUBLE, EXACTA
25% TRIFECTA, SUPERFECTA, PICK 3, PICK 4


---
Current Weather Conditions at Hawthorne
Hawthorne Contact Information
Mailing Address:
Hawthorne Race Course, Inc.
3501 South Laramie Avenue
Cicero, IL 60804
Website: www.hawthorneracecourse.com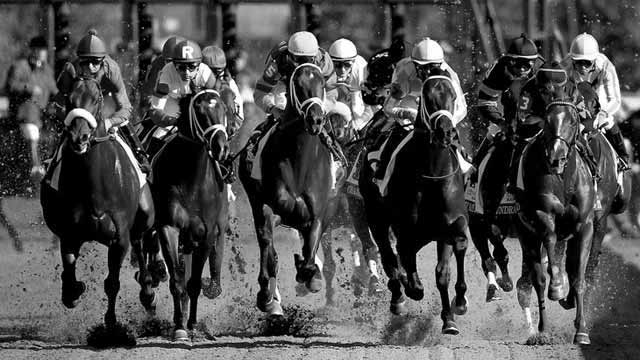 Bet Horse Racing with OTB
OTB Deposit Options

Click to learn more about OffTrackBetting.com deposit options for betting horse racing & greyhound racing online.