Hastings Racecourse

Hastings Racecourse is a horse racing facility at Hastings Park, four miles from downtown Vancouver, BC. The track is home to the grade III Ballerina, BC Premiers, and British Columbia Derby stakes, and on Derby/Oaks Day, the track hosts stakes with a combined purse totaling over half a million dollars.
---
Hastings Racecourse History
Originally called East Park, it opened for business in 1889, making it Vancouver's longest continuously used professional sports facility. In 1947, the existing track was torn down to make way for a new 5 1/2 furlong racetrack at a cost of $200,000.
On the first Monday in August, a public holiday, the track hosts BC Cup Day that features a series of six races for top Thoroughbreds in various classes. In September, Hastings runs the two most important races for three-year-olds in British Columbia, the British Columbia Breeders' Cup Oaks and the British Columbia Breeders' Cup Derby.
On October 10th, 1947 a Vancouver Province newspaper headline blared, "BIGGER HASTINGS TRACK. The Happyland Giant Dipper will be torn down to make way for a new 5 1/2 furlong racetrack costing $200,000." A sad day for Giant Dipper devotees, but good news for the ever growing number of racing fans, and a place for the city's sporting and social elite.
Today it's a world where fluorescent clad jockeys mount lean racing machines. Starting gates burst with a ringing clang and hoofs pound the dirt. It's a place where strategy meets luck and icy drinks lead to sumptuous meals delivered by friendly servers. And with the recent addition of a gaming floor Hastings offers even more entertainment options.
Hastings Racecourse is a jewel of a park located just four kilometres from downtown Vancouver with a spectacular view of the North Shore mountains and Burrard Inlet. Facing this grand stage, an expansive, tiered grandstand provides multiple outdoor and indoor viewing options. Proceed through the spacious facility to find a new experience at every turn. Simulcast video monitors flicker with images from around the world.
Since 1889, Hastings Racecourse has been a part of the Hastings-Sunrise community. With the installation of slot machines Hastings can reaffirm its commitment to the local community by implementing its Community Benefits program.
Workers at Hastings and parents in Hastings-Sunrise area now have a local, affordable child care option. To fulfill this need, Hastings Racecourse agreed to build a permanent Child Care facility in the community and subsidize 44 spaces for children of workers and residents. While this permanent facility was being designed and built, Hastings provided a temporary Child Care facility at Kiwassa Neighbourhood House since February 2008. The Childcare Facility opened in April 2011. Please contact Kiwassa Neighbourhood House for more information on the Child Care program.
To help the local community realize its desire for more green space in Hastings Park, the increased rent Hastings Racecourse pays to the City of Vancouver will be earmarked for a Hastings Park Improvement Fund. The ongoing Greening of Hastings Park will have exclusive access to the Fund, and the Racecourse's green initiatives don't stop there. During weekday afternoons community members and visitors to Hastings Park will be able to benefit from Access to the Infield. On non-race days patrons can enjoy afternoon picnics and walks on the lush infield grass.
The Hastings Racecourse Groom School is an intensive 2 week program with both hands on and theoretical training. Participants will learn how to properly care for and groom thoroughbred horses here in Vancouver. For applicants with little or no experience with horses, the program will teach the skills required for an entry level groom's position. Priority in the two week program will be given to Hastings-Sunrise and Downtown Eastside residents. Application forms will be available on the Hastings website in early late 2013.
As part of the Community Benefits, Hastings Racecourse developed a Local Hire program which has been in operation for the last two years. For every new position at the track local residents will be actively recruited to apply through the Hastings News and ads in local newspapers and throughout the community. Applicants will be evaluated via a points system, and local residents will be awarded extra points for residing in the Hastings-Sunrise or Downtown Eastside.
Over the next 20 years Hastings Racecourse will invest $2-million into the local community through its Community Legacy Fund. In November 2007, Hastings made its first $100-thousand payment to the City of Vancouver. Every year Hastings will invest another $100,000 into the Community Legacy Fun. The City of Vancouver will manage this Fund and with community direction will use it to provide benefits to, and mitigate problems in, Hastings-Sunrise.
---
Hastings Racecourse Live Horse Racing Schedule
Saturday - Sunday, and select Mondays, Wednesdays, & Fridays
April - October

---
Hastings Racecourse Layout


Main Track: Five furlongs, 208 feet, oval.
Distance from last turn to finish line: 513 feet.

---
Post Time at Hastings Racecourse
1:50 pm Wed, Sat, Sun & Holidays
7:00 pm Friday Night Live
12:50 pm BC Cup, BC Derby
---
Hastings Racecourse Track Code
HST
Takeout Information
Win, Place, and Show: 15%
Exacta: 21.8%
Trifecta: 27.3%
Superfecta, Super Hi 5: 26.3%
Double, Pick 3, Pick 4, & Pick 5: 15%

Hastings Racecourse Contact Information
Mailing Address:
Hastings Racecourse
188 Renfrew Street North
Vancouver, BC V5K 3N8
Canada
Street Address:
Entrance through PNE Gate 6 or 9
188 Renfrew Street North
Vancouver, BC V5K 3N8
Canada
Website: www.hastingsracecourse.com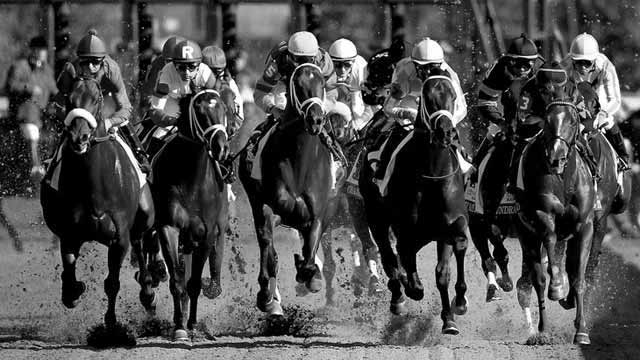 Bet Horse Racing with OTB