Maywood Park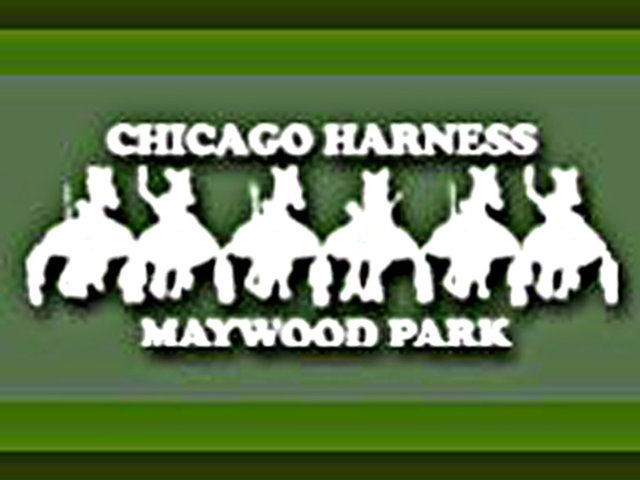 Maywood Park is a harness racing track located in Melrose Park, Illinois, 17 miles from Chicago. The half-mile dirt oval track was built in 1946. Maywood has conducted race meets with wagering since 1946, the longest in the state's standardbred history. The track is capable of seating at least 33,297. There is stabling on the backstretch for 984 horses.
---
Maywood Park History
Located along busy North Avenue between First and Fifth Avenues, less than 10 miles west of Chicago's bustling downtown area and only minutes away from O'Hare airport, Maywood Park can trace its harness racing roots back to a time when the racetrack was surrounded only by forest preserves and farm land.
Maywood Park was originally the home of Cook County Fairgrounds, where in 1932 and during Chicago's Century of Progress Exposition years of 1933 and 1934, non-wagering harness racing purse programs were held both in the afternoon and evening under the lights during the Great Depression Era.
The owner of the Maywood Park real estate was Arthur T. Galt, Sr., born in Chicago in 1876. A lawyer, real estate developer and amateur sulky driver, Mr. Galt established the plant's first racetrack when Maywood Park was issued Illinois' first harness racing license in 1946.
Receiving his Phi Beta Kappa from Yale University and his law degree from Northwestern University in 1901, Mr. Galt opened a law office in Chicago and soon thereafter began investing in real estate in the Chicago area and Florida.
Mr. Galt lived into his 93rd year, passing in 1968, while Maywood Park rose to become one of the premier half-mile standardbred racetracks in North America.
Maywood Park is the only Chicagoland racetrack devoted exclusively to standardbred racing. Since 1946 Maywood Park has conducted a harness racing meeting for 59 consecutive seasons, the longest in the state's standardbred history.
In June of 1947 the first full harness race program to be televised anywhere in the country took place at Maywood Park.
Ten years later (March 29, 1957), the track's season-opening night festivities went coast-to-coast nationally when NBC's popular "Tonight Show" gave live coverage to Maywood Park. The network had a 15-man crew and three cameras, one at trackside and two on the plant's rooftop, to televise two races and conduct several interviews.
In 1969 Maywood Park began construction of 39 fire-proof steel and concrete barns-containing 984 stalls-13 blacksmith shops, 6 separate fire-proof motel type living units containing more than 200 rooms, and a modern paddock with attached driver's facilities.
One of the nation's most modern tote boards was added for the track's 1978 season.
In 1979 World Heavyweight Boxing Champion Muhammad Ali won a seven-furlong exhibition race, a fundraising event to benefit Provident Hospital of Chicago, at that time the oldest and largest African-American managed hospital in Illinois.
In 1984 Maywood Park became the first Chicago area track - and only the second ever - to host a prestigious Breeders Crown event. The October 19, 1984 Two-Year-Old Filly Pace Final carried a $550,000 prize -still the largest purse ever offered at a Chicagoland standardbred track - and was won in a thrilling three-horse photo finish by Amneris in 1:57.1, just a tick off the world record, with Hall of Fame driver John Campbell in the sulky.
Such illustrious trotters and pacers as Good Time, Rum Customer, Albatross, Kentucky, Sir Dalrae, Rambling Willie, Midas Almahurst, Fan Hanover, Cam Fella, Falcon Seelster, Incredible Finale, Precious Bunny, On The Road Again, Western Hanover, Gallo Blue Chip, No Pan Intended, Real Desire and Western Terror are among the dozens of former world champions and Hall of Fame inductees who have displayed their talents at Maywood Park.
Recognized as one of the fastest-and safest-half-mile racing surfaces in North America, Maywood Park has been the scene of numerous world records, including She's A Great Lady's 1:51.2 mile in 1995, a record that still stands nine years later for a three-year-old filly pacer on a half-mile track.
Entering the 2005 season, 4 of the 12 world pacing records on a half-mile track are owned or shared by Maywood Park.
The largest attendance in the track's long history came on September 27, 1980, when 20,133 jammed the facility. The record mutuel handle took place on December 21, 2001 when $2,078,897 was wagered on that Friday evening card at Maywood Park.
---
Maywood Park Live Horse Racing Schedule
Year-round

---
Post Time at Maywood Park
7:10pm - Thursday and Friday
---
Maywood Park Track Code
---
Current Weather Conditions at Maywood Park
Maywood Park Contact Information
Mailing Address:

Maywood Park Race Track
8600 West North Avenue
Melrose Park, IL 60160

Website: www.maywoodpark.com