Northlands Park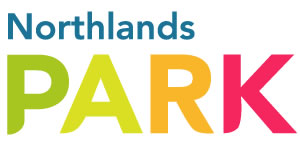 Northlands Park is the "Alberta A circuit" horse racing track at Northlands in Edmonton, Alberta. Northlands Park (formerly Northlands Spectrum) is the building name for the grandstand. In its 113 years of operation, Northlands Park has served as one of Western Canada's top racetracks and has, since 1957, been the official home of the Canadian Derby.
Northlands has a 5/8 mile race track composed of sand and clay, the stretch length is 527 feet. The horse racing season generally consists of a spring harness (Standardbred) meet from February/March, a Thoroughbred meet from May/June to September/October and a fall harness meet to mid-December.
---
Northlands Park History
Northlands Park is a dual-breed racetrack in Edmonton, Alberta - owned and operated by Northlands - a non-profit, community service organization. It was founded in 1879, before the official incorporation of the city of Edmonton, or the province of Alberta.
The first races in Edmonton were run in 1882 on a beaten track that, were it still around, would be sitting in the downtown core. In 1900, the track was moved from its home in the storied Rossdale Flats to its present site where racing continues today.
Northlands' predescessor, the Edmonton Exhibition Association, took managerial control of the track's racing activities in 1957. With the completion of a new grandstand and racing surface in 1951, and construction of a new racetrack in Winnipeg, the jewel of Western Canada racing, The Canadian Derby, was relocated to Edmonton. The track surface was extended 17 years later to 5/8 of a mile and The Derby's home was permanantly solidified.
The 2012 renewal of The Canadian Derby was the 83rd running. It was won by Toccetive, owned by Lyle and Phylis Farkash, trained by Joan Petrowski and ridden to victory by Jorge Carreno.
---
Northlands Park Live Horse Racing Schedule
May - October
Monday, Wednesday, Friday, and Saturday
---
Northlands Park Layout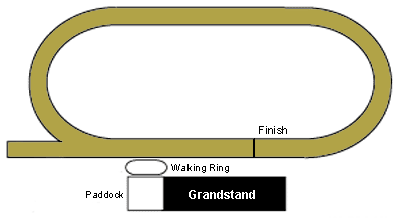 Main Track: 5/8 mile, oval.
Distance from last turn to finish line: 625 feet.


---
Post Time at Northlands Park
1:00pm Monday and Sunday
6:00pm Wednesday and Friday
---
Northlands Park Track Code
NP
Northlands Park Contact Information
Mailing Address:
Northlands Park
7410 Borden Park Rd
Edmonton, AB T5B 2K2
Canada

Website: www.northlandspark.ca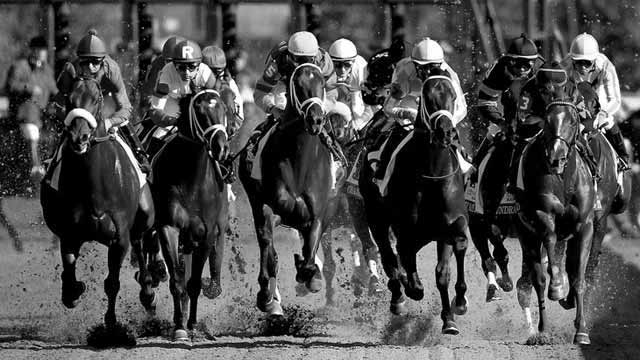 Bet Horse Racing with OTB