Pimlico Race Course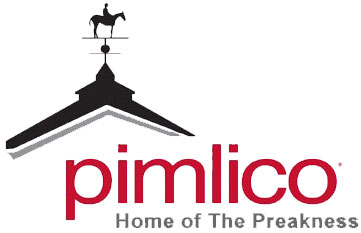 Pimlico Race Course is a horse racetrack in Baltimore, Maryland, most famous for hosting the Preakness Stakes. Its name is derived from the 1660s when English settlers named the area where the facility currently stands in honor of Olde Ben Pimlico's Tavern in London. The racetrack is nicknamed "Old Hilltop" after a small rise in the infield that became a favorite gathering place for thoroughbred trainers and race enthusiasts.
---
Pimlico Race Course History
Pimlico officially opened in the fall of 1870, with the colt Preakness winning the first running of the Dinner Party Stakes. Three years later the horse would have the 1873 Preakness Stakes named in his honor. The track is also noted as the home for the match race in which Seabiscuit beat War Admiral in the second Pimlico Special, on November 1, 1938, before a crowd of 43,000.
It is currently owned by Maryland Jockey Club. On April 13, 2009, the Maryland General Assembly approved a bill authorizing the state to purchase Pimlico if Magna cannot find a buyer. It was signed into law by Governor Martin O'Malley the following day. The Preakness Stakes and the Pimlico Special are run at a distance of 1 3/16 miles. The Pimlico track record for that distance is held by Farma Way, who set it while winning the Pimlico Special in 1991.
In the century and more since its opening, Pimlico Race Track has weathered much outside history including the Great Depression of the 1930s, the Great Fire of Baltimore (1904) and several notable Baltimore riots. Pimlico also survived Prohibition and even an anti-gambling movement in 1910. As Alfred G. Vanderbilt said, "Pimlico is more than a dirt track bounded by four streets. It is an accepted American institution, devoted to the best interests of a great sport, graced by time, respected for its honorable past." The races held at Pimlico draw spectators from neighboring states, with The Preakness being the outstanding yearly event. In 2007, 121,263 people were in attendance to watch the Preakness, the largest number of people to watch a sporting event in Maryland history. More than $87.2 million was placed in bets.
On March 23rd, 2010 an agreement was reached to sell the two Maryland Jockey Club tracks (Pimlico and Laurel Park) from Magna Entertainment Corporation to its parent company MI Development. On May 7, 2010, MI Development and Penn National announced that they would jointly own and operate the Maryland Jockey Club. Penn National which began in 1973 to operate a single race track near Harrisburg, PA has grown to become the largest racetrack operator in the country.
In June 2011 The Stronach Group took control of the tracks when MID Developments bought out Penn National Gaming's minority stake in the Maryland Jockey Club, which owned Laurel Park, Pimlico and a training facility in Bowie. The Stronach Group is owned by Canadian horse breeder and owner Frank Stronach. Stronach was also MI Development's chairman and chief executive, a position he gave up in order to run Maryland's racetracks.
---
Pimlico Race Course Live Horse Racing Schedule
Thursday through Sunday
---
Pimlico Race Course Race Track Layout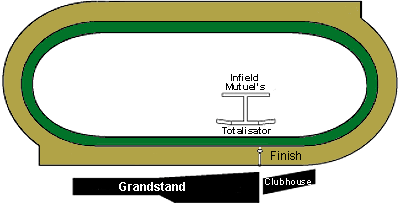 Main Track:One Mile, oval.


Turf Course: Seven Furlongs
Distance from last turn to finish line: 1,152 Feet.

---
Post Time at Pimlico Race Course
1:30 p.m.
---
Pimlico Race Course Track Code
PIM
---
Current Weather Conditions at Pimlico Race Course
Pimlico Race Course Graded Stakes Races
Pimlico Race Course Contact Information
Mailing Address:
Maryland Jockey Club
Pimlico Race Course
Baltimore, Maryland 21215
Street Address:
5201 Park Heights Avenue
Baltimore, Maryland 21215
Websites: www.pimlico.com | www.preakness.com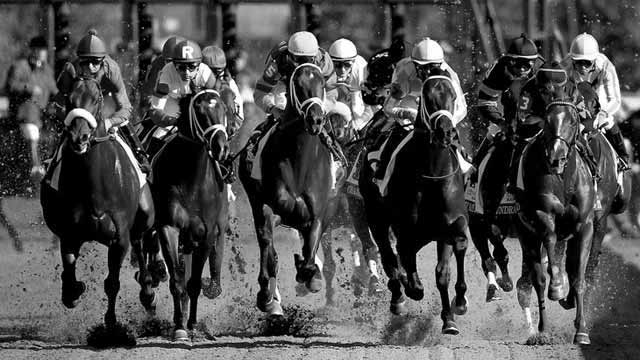 Bet Horse Racing with OTB