Southland Park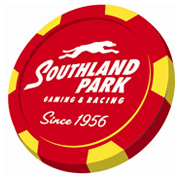 Southland Park, opened in 1956, is one of the oldest operating greyhound tracks in the nation. Enjoy poker and blackjack tables, over 1,400 gaming machines, including video poker, and live greyhound racing - as well as a wide range of simulcast thoroughbred and greyhound races from the premiere tracks around the globe. All this is just minutes from downtown West Memphis, AR!
For more than 50 years Southland Park has provided the thrill of pulse-pounding excitement for generations of Mid-Southerners. Today, Southland is still a sure bet for fun. From the adrenaline rush of live racing and gaming action to the delicious dining choices, Southland Park delivers!
---
Southland Park History
Southland Park Gaming and Racing opened its doors for the first time in 1956. For many years, the greyhounds raced only seasonally from approximately April until October. As the popularity of the live greyhound races grew, especially during the late 1980's, the live greyhound racing season was extended to year-round racing; made possible when the racing surface was fitted with an underground heating system. Southland Park still holds some of the industry's all time attendance and wagering records. On September 24, 1981, nearly 21,000 people were in attendance, wagering over $1.3 million on that evening's racing performance. Other interesting Southland Park facts include:
Southland Park has one of the largest kennel compounds in the nation. It's twenty-five buildings can hold up to 1,950 greyhounds at any given time.
Southland Park is the only racetrack in the nation that conducts nine-dog racing as part of it's live racing programs.
Southland Park conducts an average of 6,000 races over the course of a year. They also offer simulcast wagering seven days a week, year-around (except on Christmas and Easter).
Southland Park, opened in 1956, is one of the oldest operating greyhound tracks in the nation. Derby Lane (in St. Petersburg, FL) is the oldest, opening in 1925.
Southland Park has been home to many greyhound All-American selections over the years. Most recently, Flupascrackerbox (who holds records for most wins all time at Southland and various win streak records) and CT Buck Wild (won back to back Southland Derby's in 2009-2010) were the latest selections.
---
Southland Park Live Greyhound Racing Schedule
Jan 01 to Dec 31
---
Post Time at Southland Park
4:00pm Monday and Wednesday
6:30pm Thursday, Friday, and Saturday
12:30pm Saturday
---
Southland Park Track Code
SLMAT
---
Exotic Wagering at Southland Park
$2.00 WPS, Daily Double
$1.00 Quiniela
$3.00 Exacta
$0.10 Superfecta
$2.00 Big Q (last two races)

---
Current Weather Conditions at Southland Park
Southland Park Contact Information
Southland Park
1550 Ingram Boulevard
West Memphis, AR 72301
Mailing Address:
P.O. Box 2088
West Memphis, AR 72303
Website: www.southlandpark.com