Presque Isle Results - October 01, 2018
< Presque Isle Results for September 30, 2018
Presque Isle Results for October 02, 2018 >
Latest Results
---
Presque Isle Race Results
May 14, 2019
May 13, 2019
October 04, 2018
October 03, 2018
October 02, 2018
September 30, 2018
September 27, 2018
September 26, 2018
September 25, 2018
September 24, 2018
September 23, 2018
September 20, 2018
September 19, 2018
September 18, 2018
September 17, 2018
September 16, 2018
September 13, 2018
September 12, 2018
September 11, 2018
September 10, 2018
September 09, 2018
September 06, 2018
September 05, 2018
September 04, 2018
September 03, 2018
September 02, 2018
August 30, 2018
August 29, 2018
August 28, 2018
Instant access for Presque Isle Race Results, Entries, Post Positions, Payouts, Jockeys, Scratches, Conditions & Purses for October 01, 2018.
Presque Isle Downs Information
Presque Isle Downs and Casino is a casino and horse racing track complex located south of Erie, Pennsylvania. The owner, MTR Gaming Group, broke ground in October 2005 for its new facility, which opened on February 28, 2007. It contains 2,000 slot machines. The 1 mile (1.6 km) oval track opened on September 2, 2007. It is paved with the synthetic material Tapeta Footings (a mixture of sand, rubber, fiber with a wax coating). It's the first synthetic horse racetrack that is longer than 1 mile (2 km) in the Northeast and the first racetrack paved with Tapeta in the United States. Simulcasting was transferred from its former upper Peach Street location and became operational in August 2007. The property is located on a 272 acres (1.1 km2) site off Exit 27 on Interstate 90 in Summit Township.
Presque Isle Downs Information Thoroughbred Racing
8199 Perry Highway, Erie, PA US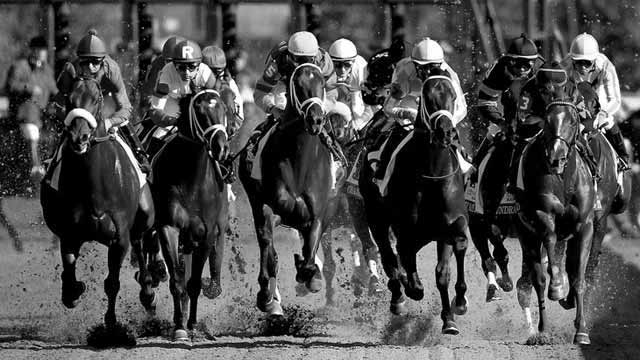 Bet Horse Racing with OTB