2012 Preakness Stakes Probable Starters
Pimlico Press Release
Baltimore, MD -- The 2012 Preakness field will be headed by I'll Have Another, the Kentucky Derby winner; and Bodemeister, who finished second in the Derby. It also will include Went the Day Well, fourth in the Kentucky Derby, and Creative Cause, who was fifth. The size of the field for the 1 3/16-mile Preakness should come in under the maximum of 14, so no one should be excluded, though there could be some tweaks to the field between today and Wednesday.
As of today, Isn't He Clever and Hansen are both out. The two horses were with removed from Preakness consideration, their trainers said, while others continued their training for the race with breezes and gallops over a rain-soaked Churchill Downs strip Monday morning.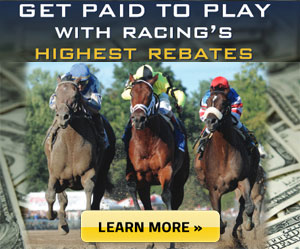 Trainer Bob Baffert on Monday got his first look at Bodemeister since the morning after his brilliant second-place finish in the Kentucky Derby at Churchill Downs. The Hall of Fame trainer liked what he saw during his colt's 1 ½-mile gallop around a muddy oval before confirming the son of Empire Maker for Saturday's Preakness Stakes at Pimlico Race Course.
"He looks good, his coat is good and he is eating well," the five-time Preakness-winning trainer said after Bodemeister completed his activity under exercise rider George Alvarez. "I see no reason not to take him (to Pimlico)."
Owned by Zayat Stables, LLC and Michel and Tiffany Moreno, Bodemeister ran some of the fastest fractions in the 138-year history of the Kentucky Derby and did not surrender the lead to eventual winner I'll Have Another until just before the sixteenth pole.
"He ran an amazing race," Baffert said. "At the eighth pole, when (jockey) Mike (Smith) went to the left-handed stick, the yellow caution light came on. He tried to fight back and he hung on for second. He was glorious in defeat."
Baffert liked how Bodemeister bounced out of the race.
"He cooled out quickly and started to eat right after the race," Baffert said. "I was worried that he might be wiped out and just stay in the back of his stall for three days and sulk, but he never did."
Baffert has visited the Pimlico winner's circle with Preakness winners Silver Charm (1997), Real Quiet (1998), Point Given (2001), War Emblem (2002) and Lookin At Lucky (2010).
He said that Bodemeister would not have a work before the Preakness.
"I didn't work Lookin At Lucky after the Derby," Baffert said. "If a horse didn't really run or didn't show up in the Derby, I might breeze them to see if I was missing something."
Bodemeister entered the Kentucky Derby off a 9 ½-length victory in the Arkansas Derby when he was ridden for the first time by Smith, who won the Preakness in 1993 on Prairie Bayou.
"He deserves it (a shot at the Preakness)," Baffert said of Bodemeister. "He won the Arkansas Derby and then came back in three weeks and ran a great race. He looks good and I don't see why he can't run another one."
Also observing the morning activity was co-owner Ahmed Zayat, who has now had horses finish second in three of the past four runnings of the Kentucky Derby.
"I keep waking up at 3 or 4 in the morning dreaming about the race," said Zayat, whose Nehro finished second in 2011 and Pioneerof the Nile was second in 2009.
Does Bodemeister win the Derby in the dream?
"No, he does not," Zayat said.
Baffert told Maryland Jockey Club stakes coordinator Coley Blind that Arnold Zetcher's Liaison would not run in the Preakness Stakes. Liaison finished sixth in the Kentucky Derby. Baffert said a couple of options for Liaison would be the Belmont Stakes (G1) on June 9 or a return to California for the $150,000 Californian (G2) at 1 1/8 miles at Betfair Hollywood Park on June 2.
Bet the Preakness, get horse racing rebates and a $100 signup bonus - Join OTB today!
---
2012 Preakness Probable Starters
I'LL HAVE ANOTHER – 2012 Kentucky Derby Winner - With rain starting to fall Monday morning, trainer Doug O'Neill called an audible and sent the Kentucky Derby winner out for his daily exercise at 6:45 instead of 8:30.
"We sent one horse out at 6:30 and the track was great," O'Neill said. "It just started sprinkling and everyone's iPhone was saying 'rain's coming.' We didn't want to get caught up in a sloppy track or a wet track, so we took him out. Turned out that we could have waited, but we didn't know."
Under his regular exercise rider, Jonny Garcia, the colt had his standard piece of exercise, a half-mile jog followed by a strong gallop for six to eight furlongs.
Preakness OTB online from Pimlico Racecourse with OffTrackBetting.com online race book
O'Neill believes in a strong galloping program to keep his horses fit for racing. I'll Have Another has flourished in that system and has won his three starts, all graded stakes, this year.
"Most of his works were by himself and all well within himself," O'Neill said. "He's just a horse that gives 110 percent in all his exercise, so he is able to keep himself fit and ready."
O'Neill and members of his staff were guests of the Baltimore Ravens at the NFL team's training center in Owings Mills on Sunday. They watched a session of the rookie camp and had lunch with Ravens head coach John Harbaugh.
"We talked about horses; his wife loves to ride," O'Neill said. "A lot of what we talked about was his love for the horses and our love for football. It was a great time and he treated us like we all knew each other for years, and yet we had just met."
Team O'Neill also met Ravens' general manager Ozzie Newsome, assistant coaches and coordinators.
"It was fun. What a first-class setting," O'Neill said. "That will definitely be one of the top things that we have experienced here in Baltimore."
---
BODEMEISTER – Bodemeister galloped 1 1/2 miles after the morning renovation break over a fast track Tuesday at Churchill Downs under exercise rider George Alvarez.
Trainer Bob Baffert said that the Kentucky Derby (G1) runner-up would train in the morning before leaving the grounds for a flight to Baltimore. Baffert also is leaving tomorrow morning and will be in Baltimore in time for the post-position draw for the Preakness.
The post-position draw will take place at Pimlico at 6 p.m. Eastern and will be televised live by HRTV.
The Kentucky Derby was only the fifth start for Bodemeister, who did not make his racing debut until Jan. 16. After breaking his maiden in his second start, Bodemeister finished second behind likely Preakness rival Creative Cause in the San Felipe (G2) and then took the Arkansas Derby (G1) in his fourth start.
"Indian Charlie and Congaree were similar to Bodemeister in their careers, but they were bigger horses," Baffert said.
"Indian Charlie broke his maiden in his first start as a 2-year-old but chipped an ankle. He won two allowance races when he came back and then won the Santa Anita Derby (G1) in his fourth start. Congaree had a knee injury as a 2-year-old. He came back and won a maiden and an allowance and then won the Wood Memorial (G2) in his fourth start."
Both colts ran third in the Kentucky Derby and while it was the final race of Indian Charlie's career, Congaree went on to run third in the Preakness. Congaree ended his career with 10 graded stakes victories, five coming in Grade 1s, and earned more than $3.2 million.
A more recent parallel to Bodemeister is 2007 Preakness winner Curlin.The Steve Asmussen-trained Curlin broke his maiden at first asking on Feb. 3 and then won the Rebel (G3) and Arkansas Derby (G2) before running third in the Kentucky Derby. Curlin finished his career with seven Grade 1 victories, more than $10 million in earnings and two Horse of the Year titles.
Bodemeister, who will be ridden by Mike Smith, is one of four horses in the barn that will be headed to Pimlico on Wednesday. Also going to Old Hilltop are Peachtree Stable's Mamma Kimbo, the 7-5 morning-line favorite for the 88th running of the $300,000 Black-Eyed Susan (G2) on Friday; Zayat Stables LLC's Paynter, who is scheduled to run Saturday on the Preakness Day undercard; and Jill Baffert's Awesomemundo for Saturday's $100,000 Allaire DuPont Distaff at 1 1/16 miles on the main track.
A more recent parallel to Bodemeister is 2007 Preakness winner Curlin.
---
COZZETTI –The Albaugh Family Stables LLC's Cozzetti indicated his readiness for Saturday's Preakness by working five furlongs over a muddy Churchill surface in :58.80, the fastest clocking of 10 recorded at the distance.
With exercise rider Tammy Fox aboard, Cozzetti worked on his own while reeling off fractions of :11.60, :23.20, :34.80, :46.80 and galloping out six furlongs in 1:12.40 and seven-eighths in 1:27.40.
"It was a good five-eighths work," said trainer Dale Romans, who won the Preakness with Shackleford last year.
Romans indicated that Cozzetti probably would go to the track Wednesday morning before flying to Pimlico.
---
CREATIVE CAUSE– Heinz Steinmann's gray son of Giant's Causeway walked the shedrow at Betfair Hollywood Park as he prepares for his second cross-country trip to run in Saturday's Preakness.
After finishing fifth in the Kentucky Derby, Creative Cause was shipped back to California by trainer Mike Harrington, who has determined that his colt is fit and ready to ship to Pimlico on Wednesday.
"Everything's fine," said the 71-year-old Harrington, who is scheduled to arrive by plane in Baltimore on Wednesday afternoon. The colt will be on an earlier flight that will stop in Louisville to pick up the Churchill Downs contingent heading to the Preakness.
"I'd like to be there for the draw, but I don't know if I'll make it there in time or not," Harrington said. The post-position draw is scheduled for 6 p.m. on Wednesday on HRTV. Creative Cause finished only three lengths behind winner I'll Have Another in the Kentucky Derby.
Joel Rosario has the return mount.
---
DADDY NOSE BEST – Although Hierro and Isn't He Clever were withdrawn from Preakness consideration Monday morning, trainer Steve Asmussen may still be represented in the Middle Jewel of the Triple Crown.
Cathy and Bob Zollars' Daddy Nose Best was added to the list of Preakness candidates after working a half-mile in 53 seconds over a sloppy track at Churchill Downs Monday morning. The Sunland Park Derby (G3) winner finished a troubled 10th in the Kentucky Derby.
"The decision will be made on Tuesday after we see how he comes out of his work," said Zollars by phone from Texas. "He came out of the (Kentucky) Derby fine. We had him all checked over. Steve and I will talk it over on Tuesday."
Representatives of Barbara Banke's Stonestreet Stables informed Pimlico officials Monday morning that Hierro, the winner of the Cliff's Edge Derby Trial (G3) at Churchill Downs on April 28, will not run in the Preakness Stakes.
Kirk and Judy Robison also decided to bypass the Preakness with Isn't He Clever, who finished ninth in the Arkansas Derby (G1) last time out.
"We are going to wait for something after the Preakness," Kirk Robison said from El Paso, Texas. "The horse could not be doing any better and Steve said he worked well this morning. We are going to wait for the right spot with him and I'll let Steve tell me what that spot is."
---
WENT THE DAY WELL– Team Valor International and Mark Ford's Went the Day Well galloped 1 ½ miles at Fair Hill Training Center Monday morning.
Trainer Graham Motion's plan to ship to Pimlico after training hours Tuesday morning could be changed by rainy weather.
"Only if it looks like the track is going to be a mess on Wednesday will I not ship him (Tuesday)," Motion said. "As long as it looks like it will clear up tomorrow, I'm not too worried."
Motion has a long history of success at Pimlico.
"Pimlico was actually where I started. That was where I worked for Bernie Bond and when I took over his stable. We were always at Pimlico until I moved to Laurel when I set up my own stable," said Motion who worked for Bond in 1991. "I've certainly had a lot of stakes success at Pimlico."
The 47-year-old trainer scored his first graded-stakes win at Pimlico with Gala Spinaway in the 1993 Polynesian (G3).
John Velazquez, who guided Went the Day Well to a fourth-place Kentucky Derby finish, has the return mount for the Preakness.
---
TEETH OF THE DOG– J.W. Singer LLC's Teeth of the Dog enjoyed a morning of light training at Fair Hills Training Center Monday.
"He's doing great. He just jogged two miles," trainer Michael Matz said.
Matz said he plans to ship the son of Bluegrass Cat from the Elkton, Md. training center to Pimlico later in the week.
Joe Bravohas the return mount aboard Teeth of the Dog for the Preakness.
---
TIGER WALK– Trainer Ignacio Correas reported Monday morning that Sagamore Farm's Tiger Walk came out of his workout the day before in fine order.
"He came out of it fantastic," said Correas from Kevin Plank's historic Glyndon, Md. farm. "He walked today and he grazed a little bit before the rain."
Tiger Walk, who finished fourth in the Wood Memorial (G1) last time out, breezed four furlongs in 47 3/5 seconds at Pimlico Sunday morning before taking the 20-minute ride back to Sagamore.
"He likes the track. He was training here for about a month, and then we only left the babies here. We took all the other horses to the farm," Correas said. "He's very familiar and comfortable here. Now we'll see how he handles the crowd – that's the only question."
Kent Desormeaux is scheduled to ride Tiger Walk for the first time in the Preakness.
---
ZETTERHOLM– The New York-bred son of Silver Train walked the shedrow in the Preakness Stakes Barn on Monday, the morning after he breezed five furlongs on 1:01.40.
"Everything is good," assistant trainer Blake Dutrow said. "He seems happy to be here. It's an off day for him so he's just taking it easy."
Dutrow, 20, works for his uncle, Richard Dutrow Jr., and is the grandson of the late Maryland training legend, Richard Dutrow Sr. His father, Chip, and his uncle, Tony, are trainers, too.
Zetterholm brings a three-race winning streak at Aqueduct into the Preakness. The New York-bred opened 2012 with a second-place finish on Jan. 7 and broke his maiden on Feb. 4. He rallied from off the pace to beat an allowance field by a half-length on March 4 and took the restricted Patsyprospect Stakes by 2¼ lengths on April 6.
Blake Dutrow said the bay colt out of the Lord at War mare Holy Wish is easy to deal with.
"He's a pretty smart horse. He likes to stop and look at his surroundings," he said. "He's just getting used to the place."
Zetterholm will be taking a sizeable step up in competition from the Patsyprospect to the Preakness.
"Every race he has improved from his last," Dutrow said. "If he likes the track and the race sets up nice for him, he's got as good a shot as anybody. I think the race does set up nice."
Jockey Junior Alvarado, Zetterholm's regular rider, will make his Preakness debut on Winter Park Partners' colt.
---
OPTIMIZER – Bluegrass Hall LLC's Optimizer completed the Kentucky portion of his training for the Preakness by working a half-mile in :49.80 Monday morning at Churchill Downs.
With exercise rider Joel Cano up, Optimizer was the first horse to work over a track labeled as sloppy when the track opened at 6 o'clock. Working on his own, Optimizer recorded fractions of :13.20, :25.60 and :37.60.
"That was perfect," trainer D. Wayne Lukas said of the move that was the 14th fastest of 25 at the distance.
Optimizer is scheduled to leave Churchill Downs early Tuesday morning for a van ride to Baltimore.
Lukas has saddled five Preakness winners: Codex (1980), Tank's Prospect (1985), Tabasco Cat (1994), Timber Country (1995) and Charismatic (1999).
---
GUYANA STAR DWEEJ-- Trainer Doodnauth Shivmangal sent the son of Eddington onto a track labeled fast at Belmont Park Monday morning for a leisurely gallop before learning there were enough defections for him to make the field for Preakness 137. Showing only a maiden victory on his resume, Guyana Star Dweej will likely be one of the longest shots in the prospective field.
"After his maiden win (April 7 at Aqueduct) we knew he had run a better Beyer (Speed) Figure in every race and he beat older horses," said Shivmangal, who saddled Isn't He Perfect for a ninth-place finish in last year's Preakness. "He ran against some good horses. One of the horses that beat him at Aqueduct, Morgan's Guerrilla, that's the horse they took to the Illinois Derby."
Shivmangal said he probably should have given the colt more recovery time after the maiden score, but instead ran him back in 20 days and finished second in an optional claimer the first time facing winners.
"I should have given him the whole month off," said the 59-year-old Guyana native. "I was really heading to the Peter Pan (last weekend at Belmont). Since we didn't get to the Peter Pan, I decided to give him a shot in the Preakness. He's a horse, I think, that can go the mile and three-sixteenths."
Bet on Preakness, get OTB cash rewards and a $100 signup bonus - Join OTB today!
---
PRETENSION – Kidwells Petite Stable's Pretension had a scheduled walking day at Bowie Race Course Monday morning.
Trainer Chris Grove will meet with owner Irving Kidwell after training hours Tuesday morning to discuss Pretension's status for the Preakness Stakes.
---
BRIMSTONE ISLAND– The consistent son of Tiznow will run in a race on Saturday's undercard instead of the Preakness, according to owner/trainer Billy Campbell.
"These are some of the best horses in the country," Campbell said. "I'm not sure he's up to that kind of task."
A four-time winner with three seconds from 10 starts, Brimstone Island will be entered in the fourth race, a $50,000 allowance at 1 1/16 miles that will likely include trainer Bob Baffert-trained Paynter, runner-up in the Cliff's Edge Derby Trial (G3) last time out.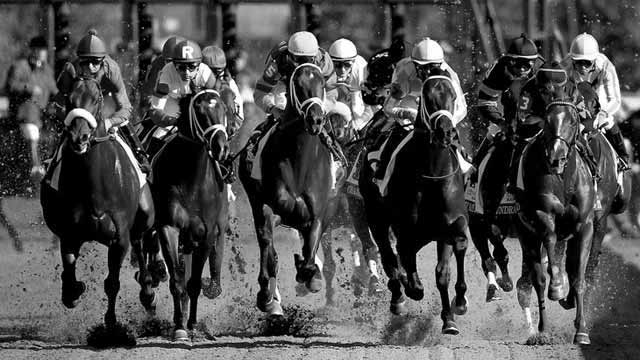 Bet Horse Racing with OTB