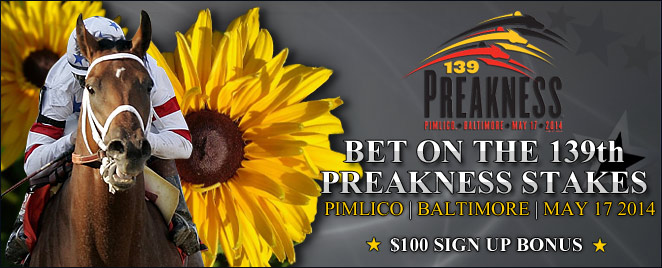 Derby Winner California Chrome gets acquainted with Pimlico for Preakness
Baltimore, MD - Kentucky Derby (G1) winner California Chrome's first visit to the track at Pimlico Tuesday morning was more about getting acclimated to the home of the Preakness Stakes than exercise.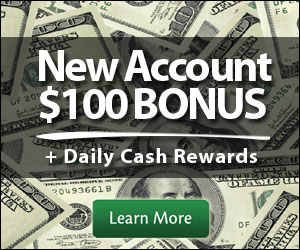 Exercise rider Willie Delgado took the big chestnut out for a tour of the one-mile course at 6:45 a.m., approximately 16 hours after he arrived at the Preakness Stakes Barn on a trip from Louisville, Ky.
"He jogged and he was great," said assistant trainer Alan Sherman, who has managed the horse since the Derby while his father, Art, has tended to the rest of his stable in Southern California. "He stood out there for a while, just looked around and took it all in. He's a really curious horse. He likes to look around a lot and check out the surroundings. He was good. He was really good."
Alan Sherman said the colt has settled in nicely in Stall 40, traditionally the Pimlico home of the Kentucky Derby winner. The next step, Sherman said, was to let the horse check out the track while he was stretching his legs and getting a feel for the surface.
"Yeah, just let him look around," Alan Sherman said. "When he gallops, I want him to be focused on what he's doing and not be looking around and stub his toe or anything."
Art Sherman, 77, was scheduled to arrive from California Tuesday afternoon and will be at Pimlico when California Chrome returns to the track at 6:45 Wednesday morning.
"He is enjoying the ride immensely," Alan Sherman said, "but he's not a young guy and was getting a little tired toward the end of all that. He's fresh now."
California Chrome's emergence from promising young horse to the leader of his division with his resounding Derby victory has put the Shermans in the spotlight. Art Sherman has spent 60 years in the business as a stable hand, exercise rider, jockey and trainer. Alan Sherman works for his father and his brother, Steve, is a trainer in Northern California. The Sherman family is enjoying its ride with California Chrome.
"It's pretty awesome," Alan Sherman said. "Every year when you get the 2-year-olds in you're saying, `maybe this will be the one that will get us to the Derby,' but we've been saying that for a lot of years now and we finally made it. It's really special."
California Chrome, bred and owned by Steven Coburn and Perry Martin, brings a five-race winning streak into the Preakness, but he wasn't an overnight sensation. He won two of his first six starts, most of them races against other California-bred horses before he stepped forward.
"In the King Glorious, the last stake at Hollywood Park (Dec. 22), that opened my eyes up. Then he just kept getting better," Alan Sherman said. "Then he won the California Breeders' Derby and that was another impressive race. But the San Felipe (G2) was probably when I went, `wow.' It was the first time against open company and he just broke two in front and won so easy that day. I was pretty excited about that one."
After the San Felipe, California Chrome won the Santa Anita Derby (G1) by 5 1/4 lengths, a performance that made him the Derby favorite. His victory at Churchill Downs on May 3 made Art Sherman the oldest trainer to win the Derby and punctuated a solid career.
"My dad is so deserving of it," Alan Sherman said. "He works hard. He goes to the sales and buys horses himself and claims horses with his own money. He puts up his own money. He deserves it."
Having prevailed from the 19-horse Derby, in which several participants ran into traffic, California Chrome and jockey Victor Espinoza move to the Middle Jewel of the Triple Crown, a slightly shorter test at 1 3/16 miles with 10 likely starters.
"You're not going to get the traffic problems, hopefully," Alan Sherman said. "You can get in traffic problems in a four-horse race, but it's not 20, by any means. And he's got enough turn of foot. All Victor has to do is squeeze on him a little bit and he can keep himself out of trouble."
When someone asked him what the worst possible scenario might be, Alan Sherman grinned and said, "Losing." Sherman understood that the question was about race dynamics and quickly said the colt's versatility would enable Espinoza to ride the race as it develops.
"If they go too slow in front, he'll take it right to them and push the horses in front of him. If they are going fast in front, he can just sit off the pace," he said. "That's the good thing about him - that he doesn't have one style of running. He's pretty push-button. If you ask him he'll do it."
Bet the Preakness Stakes Online
Bet the Preakness Stakes online at OffTrackBetting.com. The 139th running of the 2014 $1,000,000 Preakness Stakes (Grade I), the second jewel of the Triple Crown, is set for Saturday, May 17, 2014 at the historic Pimlico race course. The second leg of the US Triple Crown, often referred to as the Run for the Black-Eyed Susans, is contested by three-year-old thoroughbreds on a dirt track measuring 1 3/16 miles. All members will be able to watch & place wagers on the Preakness online or by mobile wagering from your phone or tablet.
If you want to bet on the Preakness Stakes, then you have found the right place! You can place your bets before the race because OffTrackBetting.com offers ADVANCE WAGERING on the Preakness Stakes. Advance wagering opens days before the track opens so you can place your bets on the Preakness Stakes well before the competition!
OffTrackBetting.com offers a bets on the remaining Triple Crown Races. Did you know that on May 23, 1873 the first edition of the Preakness took place? Two years before the inaugural Kentucky Derby, the folks at Pimlico were busy working on a new three-year old stakes race of their own. Pimlico, which since its opening in 1870 had conducted all of its racing in the fall, ran its first Spring Meet in the year of 1873, with the initial running of the Preakness held on May 23. The Preakness was founded by then-Maryland governor Oden Bowie. Governor Bowie's term had actually ended in 1872, yet that did not prevent him from naming the then- mile and a half race in honor of the colt who won the Dinner Party Stakes in 1870 on the occasion of Pimlico's opening. At an 1868 Saratoga party hosted by a Milton Sanford, Bowie guaranteed that Maryland would have a track available for a race that was later dubbed the Dinner Party Stakes and had been instantly promoted by Bowie at the party when he offered $15,000 as a purse--no small sum at the time.