2017 Eclipse Awards Winners

OffTrackBetting.com - The 46th Annual Eclipse Awards were held Saturday night, January 21, 2017 at Gulfstream Park in Hallandale Beach, Florida. Voters from Daily Racing Form, the National Turf Writers and Broadcasters, and the National Thoroughbred Racing Association gathered to honor the best that thoroughbred racing had to offer in 2016.
Here is a list of all of the winners, a brief description as to why they emerged and the voting accompanied with every category on the night.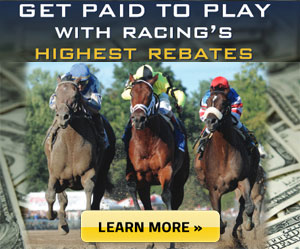 Horse of the Year
California Chrome - became one of just 11 two-time winners of this honor - he was also Horse of the Year in 2014. California Chrome won seven of eight starts last year, including the Dubai World Cup and Pacific Classic - his only loss came against second place finisher in the voting - Arrogate in the Breeders' Cup Classic. His storied career comes to an end this week in the $12 million Pegasus World Cup but not without another tremendous honor for one of the most dominant horses we've seen in quite some time.
Voting: California Chrome, 202; Arrogate, 40; Songbird, 5; Highland Reel, 1.
3-year-old male
Arrogate - Finished second in the Horse of the Year voting so it makes sense that he ran away with the 3-year-old male Award. He won five of six starts in 2016 including a 13 1/2 length victory in the G1 Travers in Saratoga track record time for 1 1/4 miles and the Breeders' Cup Classic over the sensational California Chrome.
Voting: Arrogate, 243; Exaggerator, 2; Nyquist, 2; Gun Runner, 1.
3-year-old female
Songbird - The unanimous winner in this category has won 11 of 12 career starts and claims her second Eclipse Award. Her only career loss came by just a nose over the sensational Beholder in the Breeders' Cup Distaff - her first and only career start against older females. If not for an injury in the spring of 2016 Songbird could have had a historic year - she was still far and away the best 3-year-old filly on the planet.
Voting: Songbird, 248
Older male
California Chrome - Obviously the Horse of the Year was going to claim the Older Male honor in 2016. Chrome was the unanimous choice and rightly so. Among his wins in 2016 were the Dubai World Cup by four lengths the Pacific Classic over Beholder by five and the Awesome Again Stakes before finishing second to fellow-Eclipse winner Arrogate in the Breeders' Cup Classic. He ended 2016 with career earnings of $14.5 million, tops among North Americans, and a career record of 15 wins in 25 starts.
Voting: California Chrome, 248
2-year-old male
Classic Empire - There was another unanimous winner - this time in the 2-year-old male category with Mark Casse trainer Classic Empire running away in the voting. Among his wins in 2016 were the $2 million Breeders' Cup Juvenile, the G1 Breeders' Futurity at Keeneland and the G3 Bashford Manor at Churchill Downs. He unseated his rider in the G1 Hopeful - chances are that he would have won that race if not for the snafu as well.
Voting: Classic Empire, 248
2-year-old female
Champagne Room - There were more than a few horse in the running for 2-year-old female honors but it was Champagne Room that was the obvious choice. She won the Breeders' Cup Juvenile Fillies at 33-1 odds. She also won the Sorrento Stakes in 2016 and had a third in the Del Mar Debutante. It was the BC victory that put Champagne Room over the top - make no mistake about it however - that victory against five G1 winners was impressive indeed.
Voting: Champagne Room, 202; New Money Honey, 21; Lady Aurelia, 11; Pretty City Dancer, 5; Shane's Girlfriend, 3; Abel Tasman, 2; Miss Sky Warrior, 2; Victory to Victory, 1; Voter Abstentions, 1.
Older female
Beholder - Beholder was the obvious choice here - only her nemesis Stellar Wind garnered other votes. In 2016 Beholder raced six times while recording three wins and three runner-up finishes - the losses came against Songbird and California Chrome - no shame in that! The highlight was a win in the Breeders' Cup Distaff - her third career Breeders' Cup win. That makes four Eclipse Awards for the now-retired Beholder - one of the best females in the history of the sport.
Voting: Beholder, 246; Stellar Wind, 2
Trainer
Chad Brown - This is always a highly contested category but Brown rose above the rest in 2016 - 42 graded stakes victories including 12 G1 wins. Flintshire, Lady Eli and Practical Joke were among Brown's charges that thrived in 2016.
Voting: Chad Brown, 208; Bob Baffert, 21; Mark Casse, 11; Art Sherman, 3; Steve Asmussen, 2; Karl Broberg, 1; Todd Pletcher, 1. Voter Abstention, 1.
Jockey
Javier Castellano - Castellano picked up his fourth straight Eclipse Award Saturday night - his horses earned $26,826,241 in 2016 - nearly $3 1/2 million more than anybody else. An astounding 300 wins included the Delta Downs Jackpot Stakes (G3, Gunnevera), Breeders' Cup Juvenile Fillies Turf (G1T, New Money Honey), Pennsylvania Derby (G2, Connect), Longines Sword Dancer Stakes (G1T, Flintshire ), Woodford Reserve Manhattan Stakes (G1T, Flintshire), Longines Kentucky Oaks (G1, Cathryn Sophia), and Charles Town Classic Stakes (G2, Stanford) - all of which had purses of $1 million or more.
Voting: Javier Castellano, 146; Mike Smith, 44; Jose Ortiz, 41; Florent Geroux,12; Irad Ortiz, Jr., 2; Julien Leparoux, 1. Voter Abstentions, 2.
Male turf
Flintshire - A terrific summer propelled Flintshire into Male Turf honors Saturday night in one of the more highly contested categories of the evening. The globetrotter was very good overseas at Longchamp, Chantilly, Epsom, Saint Cloud, Sha Tin and Meydan and won the G1 Woodford Reserve Manhattan Stakes, the G2 Bowling Green Stakes and the G1 Longines Sword Dancer Stakes on North American soil. He settled for a second place finish in the Breeders' Cup turf to end 2016 but he did enough during the summer months to get the nod.
Voting: Flintshire (GB), 137; Highland Reel (IRE), 76; Tourist, 32; Da Big Hoss, 1. Voter Abstentions, 2
Female turf
Tepin - The female turf division was one of the best in 2016 with Tepin claiming her second straight Award. She ended 2016 with runner-up finishes in the G1 First Lady Stakes and the Breeders' Cup Mile. In 2016 she won the G3 Lambholm South Endeavour Stakes, the G2 Hillsborough Stakes at Tampa Bay Downs, the G1 Coolmore Jenny Wiley Stakes by five lengths at Keeneland in April and the G2 Churchill Distaff Turf Mile Stakes before heading overseas where she impressed with a win in the Group 1 Queen Anne Stakes at Royal Ascot and another score in the G1 Ricoh Woodbine Mile. Tepin lined up against the best on the planet and passed every test.
Voting: Tepin, 225; Found (IRE), 11; Queen's Trust (GB), 7; Lady Eli, 2; Miss Temple City, 2; Catch a Glimpse, 1
Male sprinter
Drefong - Drefong is one of only three sophomores to ever win this Award. He won the G1 King's Bishop Stakes in gate-to-wire fashion and Breeders' Cup Sprint to highlight his year - that was enough to get him over the top in this category.
Voting: Drefong, 199; Lord Nelson, 29; A.P. Indian, 20
Female sprinter
Finest City - Finest City won the G2 Santa Monica Stakes at Santa Anita on Saturday (a race she finished second in 2016) and capped off a terrific Saturday with Champion Female sprinter honors. Other wins in 2016 included the Breeders' Cup Filly & Mare Sprint and the G2 Great Lady M Stakes at Los Alamitos in track record time - she also finished third to Champions Beholder and Stellar Wind in the G1 Vanity Mile. She was certainly versatile in 2016 but sprinting is clearly in her blood.
Voting: Finest City, 185; Haveyougoneaway, 20; Paulassilverlining, 13; Taris, 12; Carina Mia, 11; Constellation, 2; Lightstream, 1; Songbird, 1. Voter Abstentions, 3
Apprentice jockey
Luis Ocasio - Ocasio led all apprentices in 2016 with 106 wins and purse earnings of $2.82 million and finished second in Parx standings over a good group of veteran riders.
Voting: Luis Ocasio, 182; Lane Luzzi, 34; Eric Cancel, 1; Ashley Castrenze, 1. Voter Abstentions, 30.
Owner
Juddmonte Farms, Inc. - Prince Khalid bin Abdullah's Juddmonte Farms has become a household name in the world of horse racing dominating dirt and turf racing over the year. Names on the roster include the sensational Arrogate and Flintshire. Juddmonte Farms, Inc. horses earned 22 wins in 95 starts and led North America's owners in earnings with $7,199,865 in 2016 and posted $6,262,510 in graded stakes earning - by far the most of any owner in 2016.
Voting: Juddmonte Farms, Inc., 134; Kenneth and Sarah Ramsey, 45; Klaravich Stables, Inc., and William Lawrence, 17; Spendthrift Farm, LLC, 17; California Chrome, LLC, 16; Reddam Racing LLC, 4; Fox Hill Farms, Inc. 3; John Oxley, 3; WinStar Farm, 2; End Zone Athletics, 1; Midwest Thoroughbreds, Inc., 1. Voter Abstentions, 5
Breeder
WinStar Farm LLC - WinStar Farm LLC topped the Breeders' standing in a number of categories - earnings with $10,516,427, number of graded stakes wins with 15, and number of overall wins with 239. With names like Tourist, New Money Honey, winner of the Breeders' Cup Juvenile Fillies Turf, Constellation, Calgary Cat, Cyrus Alexander, Flexibility, Good Samaritan, Nonna Mela, and Stanford under their tutelage it was a rather easy choice.
Voting: WinStar Farm, LLC; 164; Clearsky Farms, 62; Juddmonte Farms, Ltd., 4; Darley, 3; Perry Martin and Steve Coburn, 3; Adena Springs, 2; Kenneth and Sarah Ramsey, 1; Machmer Hall, 1. Voter Abstentions, 8
Steeplechase horse
Rawnaq - Irish bred Rawnaq picked up Steeplechase honors thanks to wins in three of his four starts in 2016 including a 15-length score in Middleburg's NSA-3 Temple Gwathmey Hurdle Handicap in Virginia, the Calvin Houghland Iroquois Hurdle Stakes (NSA-1) outside Nashville, Tenn. and America's top steeplechase race, Far Hills' Grand National Hurdle Stakes (NSA-1).
Voting: Rawnaq (IRE), 171; Top Striker, 31; Special Skills, 2; Bob Le Beau (IRE), 1; Portrade (IRE), 1. Voter Abstentions, 42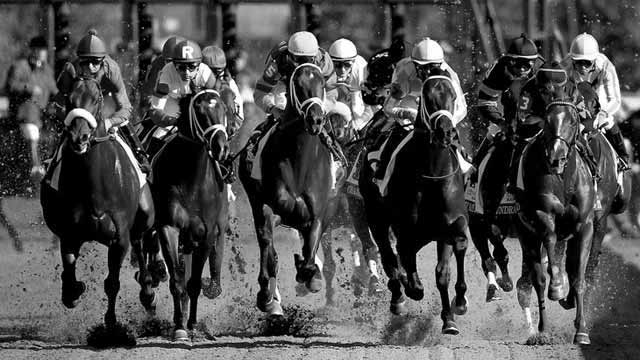 Bet Horse Racing with OTB