Gulfstream Park

Gulfstream Park Racing & Casino is a racetrack and county-approved racino in Hallandale Beach, Florida, in the United States. During its annual meet, which spans January through April, it is one of the most important venues for horse racing in America.
---
Gulfstream Park History
Gulfstream Park was opened on Wednesday February 1, 1939 conducting a four-day meeting. The initial meeting had a crowd of 18,000. In 1944, the track was reopened by James Donn, Sr. for a 20-day meeting in December. The Gulfstream Park Handicap was first run in 1946 and the Florida Derby began in 1952. In that year the clubhouse was built and the Grandstand seating was expanded.
Gulfstream Park introduced turf racing for the first time in 1959.
In 1961, James Donn Jr. succeeded his father as president of Gulfstream Park. In this year the Clubhouse was enlarged and the then-world's largest totalisator board was installed in the infield. A big break for Gulfstream Park came in 1972, when the track was awarded "middle dates" for a 40-day January through April meet.
In 1982, the Grandstand was renovated with new architecture and in 1984 the renovation of the clubhouse was completed. In 1986, the renovation of the track was completed with the new Gulfdome, a domed dining terrace. In 1989 Gulfstream Park hosted the Breeders Cup for the first time (which it did again in 1992 and 1999).
In 1990, the track was purchased by Bertram R. Firestone. In 1994, a half interest in the track was sold to Nigashi Nihon. The track was purchased by Magna Entertainment Corporation, in 1999 for $95 million. In 2010, the ownership of the track was taken over by Magna parent MI Developments Inc. (MID).
The track began a $130 million renovation of the grandstand and clubhouse in 2004 and slot machines were approved for the track in 2004. It shares the races of the Sunshine Millions with Santa Anita Park.
The renovation, first effective for the 2006 spring meeting, was heavily criticized by racegoers and commentators, who felt that the new racino laid its emphasis entirely on the casino part, destroying the racetrack's atmosphere.
---
Gulfstream Park Live Horse Racing Schedule
Wednesday through Monday
---
Gulfstream Park Race Track Layout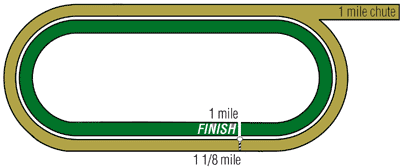 Main Track: 1 1/8 mile, oval.


Turf Course: One mile.
Distance from last turn to finish line: 898 feet.

---
Post Time at Gulfstream Park
12:50 p.m.
12:00 p.m. on Florida Derby Day.
---
Gulfstream Park Track Code
GP
Exotic Wagering Format
$1 Rolling Daily Double beginning on the 1st race
$1 Exactas on all races.
$1 Trifectas on all races.
$1 Pick Four on last four races.
$2 Pick 6 on last 6 races.
$2 Rolling Pick Threes begining on 1st race.
$.10c Superfecta on all races

---
---
Current Weather Conditions at Gulfstream Park
Gulfstream Park Graded Stakes Races
| Stakes Race | Grade | Purse |
| --- | --- | --- |
| Sugar Swirl Stakes | III | $100,000 |
| Mr. Prospector Handicap | III | $100,000 |
| Old Hat Stakes | III | $100,000 |
| Marshua's River Stakes | III | $100,000 |
| Fort Lauderdale Stakes | III | $100,000 |
| Hal's Hope Handicap | III | $100,000 |
| Forward Gal Stakes | II | $200,000 |
| Holy Bull Stakes | III | $400,000 |
| Donn Handicap | I | $500,000 |
| Gulfstream Park Turf Handicap | I | $300,000 |
| Hutcheson Stakes | II | $150,000 |
| Suwannee River Stakes | III | $150,000 |
| Gulfstream Park Sprint Championship | II | $150,000 |
| Hurricane Bertie Stakes | III | $150,000 |
| Davona Dale Stakes | II | $250,000 |
| Sabin Stakes | III | $100,000 |
| Very One Stakes | III | $100,000 |
| Fountain of Youth Stakes | II | $400,000 |
| Mac Diarmida Stakes | II | $150,000 |
| Canadian Turf Stakes | III | $150,000 |
| Gulfstream Park Handicap | II | $300,000 |
| Swale Stakes | III | $150,000 |
| Herecomesthebride Stakes | III | $150,000 |
| Palm Beach Stakes | III | $150,000 |
| Inside Information Stakes | II | $150,000 |
| Honey Fox Stakes | II | $100,000 |
| Pan American Stakes | II | $150,000 |
| Orchid Stakes | III | $150,000 |
| Florida Derby | I | $1,000,000 |
| Gulfstream Park Oaks | II | $300,000 |
| Appleton Stakes | III | $100,000 |
| Rampart Stakes | III | $150,000 |
| Skip Away Stakes | III | $100,000 |
Gulfstream Park Contact Information
Mailing Address:
Gulfstream Park Racing Association, Inc.
901 South Federal Highway
Hallandale Beach, Florida 33009
Street Address:
901 South Federal Highway
Hallandale Beach, Florida 33009
Telephone: (954) 454-7000; (800) 771-TURF
Fax: (954) 454-7827
Website: www.gulfstreampark.com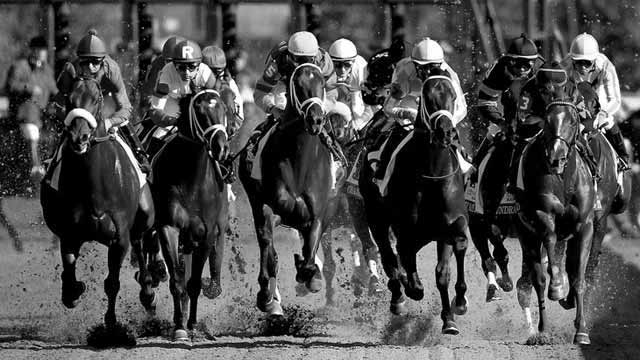 Bet Horse Racing with OTB