2018 Elkhorn Stakes Contenders & Odds at Keeneland

KEENELAND - Itsinthepost (FR) headlines a field of 12 older horses entered for Saturday's 33rd running of the $250,000 Dixiana Elkhorn Stakes (G2) going 1½ miles on the turf.
The Dixiana Elkhorn will go as the ninth race on Saturday's 10-race program with a 5:30 p.m. ET post time. First post time Saturday is 1:05 p.m.
---
---
Trainer Jeff Mullins had three things on a mid-April checklist last year when he ventured from his home base at Santa Anita: Ship Itsinthepost (FR) to Keeneland, win the Dixiana Elkhorn (G2) and then head south to Ocala, Florida, for a horse sale.
He is a third of the way to checking all the boxes again this year as Itsinthepost arrived at Keeneland Tuesday to defend his title in Saturday's 1½-mile turf marathon.
"He's doing good," Mullins said as he watched Itsinthepost jog once around and then gallop a little more than twice around Keeneland's five-eighths mile all-weather training track.
Itsinthepost comes into the Dixiana Elkhorn on a three-race win streak all in Grade 2 races at Santa Anita: the San Gabriel, San Marcos and San Luis Rey, the latter at the Dixiana Elkhorn distance.
In all, Itsinthepost has won six Grade 2s with all coming in the past 13 months.
"He probably should have had another two but was unlucky in those," Mullins said, referring to races in which Itsinthepost was beaten less than two lengths. "There are not that many mile-and-a-half races that are Grade 1 and in California after a mile, they are only Grade 2."
In his most recent Grade 1 race, Itsinthepost finished seventh in the Breeders' Cup Turf.
"He got a 100 Beyer (Speed Figure) in the Breeders' Cup," Mullins said of the race at Del Mar that marked his ninth start of 2017. "This year (for the Breeders' Cup at Churchill Downs), we may have to get a `Win and You're In'. We'll see."
No rain is in the immediate forecast, so Itsinthepost should have the firm turf he is used to in California. Course condition made no difference last year when Itsinthepost won as the favorite.
"It was yielding last year. It had rained for like a day and half before the race last year and I was worried the race would come off the turf," Mullins said. "But people told me the race would stay on (the turf). At home, they would have taken it right off."
Win or lose Saturday, the final part of the checklist is in play.
"We are flying out (to the sale) Saturday night," Mullins said, noting that Itsinthepost would return to California on Wednesday.
Chief among the rivals for Itsinthepost is Wayne Spalding and Faron McCubbins' Bullards Alley.
Also of note is that Jorge Ricardo, who has ridden more winners than any jockey in Thoroughbred racing history, is scheduled to ride Some in Time's Some in Tieme (Brz) in Saturday's $250,000 Dixiana Elkhorn (G2). The 1½-mile turf stakes is the ninth race on the 10-race program with a post time of 5:30 p.m. ET.
Based in South America, Ricardo surpassed Russell Baze as the world's winningest jockey in February at Hipodromo da Gavea in Rio de Janeiro, Brazil. Baze, based primarily in Northern California throughout his career, retired in 2016 with 12,842 victories.
"Some in Tieme is a Brazilian horse with Brazilian ownership, and we've used a Brazilian jockey (Manoel Cruz) previously on him," trainer Kenny McPeek said. "One of the owners came up with the idea of bringing Jorge (pronounced Georgie) here, and I thought it was a good idea.
"(Ricardo) is scheduled to arrive Thursday. He will spend some time around the stables and at my farm (in Lexington) and then ride Some in Tieme on Saturday. He heads back to Brazil on Sunday."
This marks the second time Ricardo has ridden at Keeneland. He finished ninth in the 2015 Breeders' Cup Turf (G1) aboard longshot Ordak Dan (Arg), who came from Argentina for the race.
Some in Tieme made six starts in Brazil before making his North American debut last year. The 6-year-old horse was the runner-up in a Keeneland allowance race last spring prior to winning the Louisville Handicap (G3) at Churchill Downs in May. He was sixth in the Mac Diarmida (G2) at Gulfstream Park on March 3.
"It's very exciting," McPeek said. "Jorge has won more races than any jockey in the history of the game, which is no small feat. He is getting towards the end of his career, but he is still winning high-level races."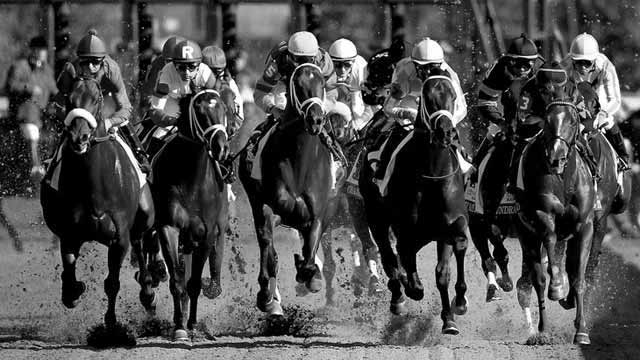 Bet Horse Racing with OTB