Keeneland Race Course

Keeneland is a Thoroughbred horse racing facility and sales complex in Lexington, Kentucky, USA. Operated by the Keeneland Association, Inc., it is also known for its reference library on the sport, which contains more than 10,000 volumes, an extensive videocassette collection, and a substantial assemblage of photo negatives and newspaper clippings.
In 2009, the Horseplayers Association of North America introduced a rating system for 65 Thoroughbred racetracks in North America. Keeneland was ranked #1 of the top ten tracks. It is listed on the National Register of Historic Places and designated a National Historic Landmark in 1986.
---
Keeneland Race Course History
Keeneland was founded in 1935 as a nonprofit racing-auction entity on 147 acres (0.59 km2) of farmland west of Lexington, which had been owned by Jack Keene, a driving force behind the building of the facility. It has used proceeds from races and its auctions to further the thoroughbred industry as well as to contribute to the surrounding community. The racing side of Keeneland, Keeneland Race Course, has conducted live race meets in April and October since 1936. It added a grass course in 1985. The spring meet contains several preps for the Kentucky Derby (held the first Saturday in May), the most notable of which is the Blue Grass Stakes. The fall meet features several Breeders' Cup preps.
Keeneland takes pride in maintaining racing traditions; it was the last track in North America to broadcast race calls over its public-address system, not doing so until 1997. Most of the racing scenes of the 2003 movie Seabiscuit were shot at Keeneland, because its appearance has changed relatively little in the last several decades.
Lately, Keeneland has adopted several innovations. It reshaped the main track and replaced the dirt surface with the proprietary Polytrack surface over the summer of 2006 in time for its fall race meeting. Rogers Beasley, director of racing at Keeneland since 2006, describes the track as "selectively conservative."
The track has a one and one-sixteenth mile (1710 m) Polytrack oval and a seven and one-half furlong (1509 m) turf oval. As noted earlier, the Polytrack surface was added between the 2006 April and October meetings. The turf course uses two configurations: the Keeneland Course setup has a temporary rail set fifteen feet out, while the Haggin Course has no temporary rail.
---
Keeneland Race Course Live Horse Racing Schedule
Wednesday through Sunday
---
Keeneland Race Course Race Track Layout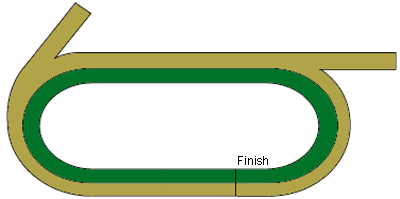 Main Track:One and one-sixteenth miles, oval.


Turf Course:Seven and one-half furlongs.
Distance from last turn to finish line: 1,174 ft.

---
Post Time at Keeneland Race Course
1:15pm
---
Keeneland Race Course Track Code
KEE
---
Current Weather Conditions at Keeneland Race Course
Keeneland Race Course Graded Stakes Races
| Stakes Race | Grade | Purse |
| --- | --- | --- |
| Transylvania Stakes | III | $100,000 |
| Ashland Stakes | I | $400,000 |
| Madison Stakes | I | $300,000 |
| Maker's Mark Mile Stakes | I | $300,000 |
| Shakertown Stakes | III | $100,000 |
| Jenny Wiley Stakes | II | $200,000 |
| Commonwealth Stakes | II | $175,000 |
| Blue Grass Stakes | I | $750,000 |
| Beaumont Stakes | II | $150,000 |
| Appalachian Stakes | III | $100,000 |
| Doubledogdare Stakes | III | $100,000 |
| Ben Ali Stakes | III | $150,000 |
| Lexington Stakes | III | $200,000 |
| Bewitch Stakes | III | $150,000 |
| Elkhorn Stakes | II | $150,000 |
| Phoenix Stakes | III | $175,000 |
| Darley Alcibiades Stakes | I | $400,000 |
| Woodford Stakes | III | $100,000 |
| Thoroughbred Club of America Stakes | II | $200,000 |
| First Lady Stakes | I | $350,000 |
| Shadwell Turf Mile Stakes | I | $600,000 |
| Dixiana Breeders' Futurity Stakes | I | $400,000 |
| Bourbon Stakes | III | $100,000 |
| Juddmonte Spinster Stakes | I | $500,000 |
| Jessamine Stakes | III | $150,000 |
| Queen Elizabeth II Challenge Cup Stakes | I | $400,000 |
| Sycamore Stakes | III | $100,000 |
| Valley View Stakes | III | $150,000 |
| Raven Run Stakes | II | $250,000 |
| Fayette Stakes | II | $150,000 |
Keeneland Race Course Contact Information
Mailing Address:
Keeneland Association, Incorporated P.O. Box 1690 Lexington, Kentucky 40592
Street Address:
4201 Versailles Road Lexington, Kentucky 40510
Website: www.keeneland.com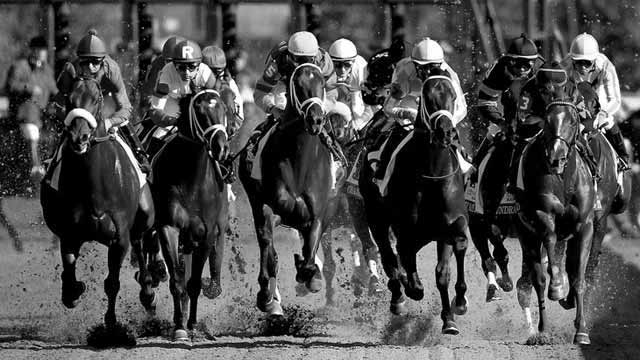 Bet Horse Racing with OTB