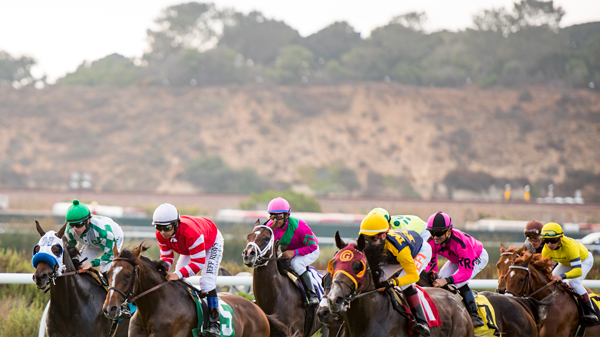 Fourteen stakes races during its 16-day run, as well as a 5% blended increase in its overnight purses, highlight Del Mar's Fall Racing Festival beginning on Friday, November 9. Nine of the 14 stakes are graded, led by the Grade I pair of the Hollywood Derby and the Matriarch Stakes, both of which will carry $300,000 purses and help to ensure an exciting finish on closing weekend, December 1 and 2.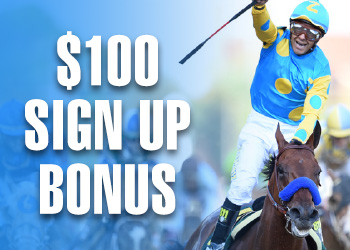 "California racing is trending in a positive direction and our Fall Festival will be part of that," said Del Mar's executive vice president of racing Tom Robbins. "Santa Anita and Del Mar have enjoyed very strong meets this year and both were recently named host sites for the Breeders' Cup in 2019 and 2021. In addition to paying some of the highest purses in the country during this period, our fall season once again will offer the popular 'Ship & Win' program, which provides qualifying out-of-state horses with a $2,000 starter bonus and a 30% overnight purse supplement."
Del Mar's Fall Racing Festival showcases world-class turf racing with nine of its 14 stakes run on grass – seven of them graded events. "Del Mar's fall meet has really come into its own with its increased purses and great turf racing," said Thoroughbred Owners of California chairman Nick Alexander. "Fall racing at Del Mar offers a relaxed atmosphere for horsemen and very kind racing surfaces for our horses."
The fall meet's overnight purse increases will include $3,000 enhancements to claiming races at the $10,000, $12,500, $16,000 and $25,000 levels. For example, purses for a $10,000 claiming event will rise from $17,000 to $20,000 and purses at the $25,000 level will increase from $29,000 to $32,000.
The stakes schedule offers a robust holiday program around Thanksgiving weekend featuring six graded events between Thursday and Sunday, five of them on the lawn. Foremost among the holiday offerings are the Grade II, $200,000 Hollywood Turf Cup on Friday, November 23 and the Grade II, $200,000 Seabiscuit Handicap on Saturday, November 24.
There will be a trio of stakes for juveniles including the $100,000 Desi Arnaz for fillies on a special Veterans Day Monday, November 12 racing card. Also on the 2-year-old stakes agenda are a pair of Grade III grass miles, the $100,000 Jimmy Durante for fillies on November 24 and the $100,000 Cecil B. DeMille on Sunday, November 25.
The November 22 Thanksgiving Day festivities, featuring the Grade III, $100,000 Red Carpet Stakes, will have an early 11 a.m. first post with its final race going off at approximately 2:30 p.m.
Opening weekend will run from Friday, November 9 to Monday, November 12. Then the meet will fall into a steady Thursday-through-Sunday rhythm from there on out. With the exception of Thanksgiving Day, first post daily will be 12:30 p.m. Weekday cards will offer eight races, while weekend ones will present nine.
The complete list of stakes follows:
DATE
RACE / CONDITIONS
PURSE / DISTANCE
Fri. Nov 9
Kathryn Crosby Stakes*
Fillies & Mares, Three-year-olds & up
$75,000 Added
1 Mile (Turf)
Sat. Nov 10
Let it Ride Stakes*
Three-year-olds
$75,000 Added
1 Mile (Turf)
Sun. Nov 11
Betty Grable Stakes
Fillies & Mares, Three-year-olds & up, Cal-Bred
$100,000 Guaranteed
7 Furlongs
Mon. Nov 12
Desi Arnaz Stakes
Fillies, Two-year-olds
$100,000 Guaranteed
7 Furlongs
Sat. Nov 17
Bob Hope Stakes (GR III)
Two-year-olds
$100,000 Guaranteed
7 Furlongs
Sun. Nov 18
Cary Grant Stakes
Three-year-olds & up, Cal-Bred
$100,000 Guaranteed
7 Furlongs
Thu. Nov 22
Red Carpet Stakes (GR III)
Fillies & Mares, Three-year-olds & up
$100,000 Guaranteed
1 3/8 Miles (Turf)
Fri. Nov 23
Hollywood Turf Cup (GR II)
Three-year-olds & up
$200,000 Guaranteed
1 1/2 Miles (Turf)
Sat. Nov 24
Jimmy Durante Stakes (GR III)
Fillies, Two-year-olds
$100,000 Guaranteed
1 Mile (Turf)
Sat. Nov 24
Seabiscuit Handicap (GR II)
Three-year-olds & up
$200,000 Guaranteed
1 1/16 Miles (Turf)
Sun. Nov 25
Native Diver Stakes (GR III)
Three-year-olds & up
$100,000 Guaranteed
1 1/8 Miles
Sun. Nov 25
Cecil B. DeMille Stakes (GR III)
Two-year-olds
$100,000 Guaranteed
1 Mile (Turf)
Sat. Dec 1
Hollywood Derby (GR I)
Three-year-olds
$300,000 Guaranteed
1 1/8 Miles (Turf)
Sun Dec 2
Matriarch Stakes (GR I)
Fillies & Mares, Three-year-olds & up
$300,000 Guaranteed
1 Mile (Turf)