• Favorite's role suits Team Exaggerator in G1 Belmont Stakes • Stewart right at home with pair of Belmont Stakes contenders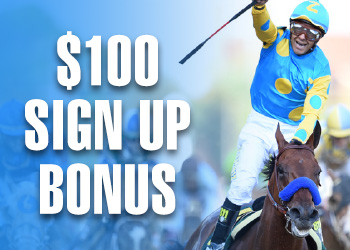 • Belmont newcomer Geroux has eye on Saratoga • Irish Rookie ready for her close-up • Trojan Nation connections hope third time is a charm • Lani's connections hoping for fast track for G1 Belmont • Cassidy makes New York return with G1 Just a Game pair
ELMONT, N.Y. - From a statistical standpoint, favorites have fared well in the Belmont Stakes. Sixty-two of its first 147 runnings were won by the bettors' choice, a 42 percent success rate.
Last year, Triple Crown champion American Pharoah became the 13th of 34 odds-on favorites to win the Belmont (38 percent) since mutuels came to New York in 1940.
The numbers, however, also show that American Pharoah was only the third favorite in 20 years to win the Belmont, at 1 ½ miles the last and longest leg of the Triple Crown, following Afleet Alex (2005) and Point Given (2001). Nine others finished second or third.
On Saturday, Grade 1 Preakness and Santa Anita Derby winner Exaggerator will be favored to win the Grade 1, $1.5 million Belmont Stakes presented by NYRA Bets. He is listed at 9-5 on the morning line and will break from post 11 in a field of 13, the race's second-largest in 20 years.
It will be the first time Exaggerator will go off as the favorite since his neck victory in the Grade 3 Delta Jackpot last November. If there is pressure on the Curlin colt or his team, it isn't showing.
"I honestly think the pressure's off. It's more excitement. It's the Belmont Stakes. It's a chance to prove my horse in yet another Grade 1 event," trainer Keith Desormeaux said. "Honestly, the pressure's been off since he won the Santa Anita Derby, or since he won his first stakes. It's all gravy from here."
After walking on his day off Thursday, Exaggerator returned to the track Friday morning for an energetic gallop under regular exercise rider Peedy Landry. They went out shortly after 9 a.m. and spent 15 minutes on the main track before heading back to the barn on their usual route through the paddock.
"I told Peedy after the gallop that's about as strong as I've ever seen him in Peedy's hands. I think it had a little bit to do with the weather, also to do with the fact that there was a set of workers behind him to get him pumped up," Desormeaux said. "The cool thing about Exaggerator is that he can control his emotions. As soon as those workers went by and Peedy asked him to settle, he pulled up pretty good. I couldn't ask for a better gallop."
Exaggerator, second to Nyquist in the Grade 1 Kentucky Derby May 7, is attempting to become the 12th horse to win the Preakness and Belmont after falling short in Louisville and the first since Afleet Alex. In all, 18 horses have swept the final two-thirds of the Triple Crown including seven that did not run in the Derby.
"You know what's cool for me? There's no issues with this horse. He's eating well, the energy's there, the color is good," Desormeaux said. "As far as my preparation and the expectations of what we've done through the horse, I really can't ask my horse to be doing any better. He doesn't' seem to be having or showing the rigors of three top races in five weeks. That's usually the number one concern, right? It looks like he's thriving off of it, so that's pretty cool."
Exaggerator would join elite company with a victory Saturday. The last Derby runner-up to win the Preakness and Belmont was Hall of Famer Nashua in 1955.
"He's a double crown winner if he does that. That's not bad. That's only one step away from a Triple Crown winner," Desormeaux said. "We might have coined a new phrase right there. Have you ever heard of a double crown winner before? There's a new one. He's got to win it first."
Desormeaux said Exaggerator will not go to the track Saturday but have a morning that is "as easy as possible."
"We'll walk him early. Usually when you do that they'll get back in the stall and conk out. He'll take a nap and if he gets looking like he wants another walk, we'll do that," he said. "For the most part we'll walk him early and then stay away from him, try to keep the noise level and antics in the barn away from him and let him rest. Again, he's smart. When he knows we're not asking him to do anything he will rest."
* * *
Based most of the year in Kentucky and Louisiana, trainer Dallas Stewart is right at home in New York. For the fourth straight year and sixth time in his career, the former assistant to Hall of Famer D. Wayne Lukas finds himself at Belmont Park in June with a contender in the Belmont Stakes.
This year, for the first time, Stewart has two runners entered in Charles Fipke homebreds Seeking the Soul and Forever d'Oro, who will break side by side from post 7 and 8, respectively, in Saturday's 1 ½-mile 'Test of the Champion.'
Both horses had routine gallops early Friday morning over Belmont Park's main track.
"All is well," Stewart said. "We're sitting on go."
The 13-horse field is the second-largest in the last 20 years of the Belmont, topped only by the 14 that ran in 2013, the last time a horse didn't arrive in New York with Triple Crown aspirations.
"They're good posts. They'll be easier to see. I'd rather be right there than way on the outside," Stewart said. "The less distance over a mile and a half that you have to run might be better. A mile and a half plus 20 yards might get you beat."
Forever d'Oro has been at Belmont since breaking his maiden going 1 1/16 miles May 29. Seeking the Soul, a one-mile maiden winner the same day at Churchill Downs, arrived from Kentucky Tuesday afternoon.
"We just had to talk about it with Mr. Fipke. He's the one that's got to put the money up," Stewart said. "We have to see how the horses are doing. They appear to be doing fine, as good as they were a few weeks ago. We're turning back in two weeks; that's when the race is, right? That was pretty much my thinking on that."
The Belmont will be the stakes debut for both Seeking the Soul and Forever d'Oro, each listed at 30-1 on the morning line, sharing the highest odds in the field with likely pacesetter Gettysburg and Grade 1-placed Trojan Nation.
"I don't think it's a stretch," Stewart said. "It's all a stretch until you run them, whether you're the favorite or 30-1. I don't sit around and wait until I'm even-money to run. If I think the horse is doing good and I think they've got the right pedigree for the race [I'll run]. I hope that's the case. You can't be afraid and not run."
Stewart's best Belmont finish came when he was fourth with Dollar Bill in his 2001 debut. He was ninth with Kentucky Derby runner-up Commanding Curve in 2014 and seventh with Preakness runner-up Tale of Verve last year, both as outsiders.
"I know both of these horses can run," Stewart said. "Are they ready to win the Belmont? We'll have to find out."
In addition to the Belmont, Stewart has Grade 1 winner Forever Unbridled, Forever d'Oro's 4-year-old half-sister, in the Grade 1, $1 million Ogden Phipps, and Tom's Ready in the Grade 2, $500,000 Woody Stephens on the Belmont undercard.
* * *
Jockey Florent Geroux, second in the nation with 11 graded stakes victories thus far in 2016, rode for the first time at Belmont Park on Thursday. Although the 29-year-old native of France didn't visit the winner's circle, he was still pumped to talk about his upcoming stakes engagements during the Belmont Stakes Racing Festival, as well as the upcoming Saratoga Race Course meet, where Geroux will ride full time for the first time in his career.
"This is what a jockey wants to do - to compete at the highest level and try to win races," said Geroux, who is currently based at Churchill Downs. "This weekend is a good way to get ready for Saratoga. I'm hoping that I can win because it's extremely tough here, especially this Saturday. It's a great card that NYRA has put together, with big fields and it's super competitive. It should be interesting."
Riding in his first Belmont Stakes, Geroux will pilot longshot Seeking the Soul, who he rode to a maiden win at Churchill Downs last month for trainer Dallas Stewart.
"Seeking the Soul in the Belmont . . . why not?" Geroux said. "Dallas is taking a shot, but the horse ran a good race last time, and you have to be in it to win it."
That type of thinking has yielded Geroux and his longtime agent, Doug Bredar, some amazing moments in the last few years. Geroux, whose first U.S. ride came in 2007, became a headline rider in 2014, when he won the Grade 1 Breeders' Cup Sprint aboard the 19-1 Work All Week.
In 2015, Geroux booted home a pair of Breeders' Cup winners, Catch a Glimpse in the Juvenile Fillies Turf, and Mongolian Saturday who upset the Turf Sprint at odds of 16-1. The jockey also captured the 2015 Grade 1 Arlington Million aboard The Pizza Man.
Last year his mounts earned more than $10 million, which ranked Geroux 13th in the nation, and represented a personal-best season for the jockey.
Geroux's talent has caught the attention of many prominent trainers, among them Steve Asmussen, Bob Baffert, Mark Casse, Bill Mott and Todd Pletcher. The jockey rode in his first Kentucky Derby this year, finishing third on the Asmussen-trained Gun Runner.
On Saturday, Geroux will ride for the first time for trainer Kiaran McLaughlin, who has paired the rider with Grade 1 winner Cavorting in the Grade 1, $1 million Ogden Phipps. He will also ride Cupid, the 3-5 morning-line favorite in the $150,000 Easy Goer Stakes, for Baffert. Geroux and Hall of Famer Baffert teamed up to win the Sir Barton Stakes on the Preakness undercard with American Freedom.
"It's nice when trainers like that use you; you must be doing something right," Geroux said. "I'm very excited for these opportunities."
* * *
Irish Rookie, an Irish-bred filly who will make her United States debut in Saturday's Grade 1, $700,000 Longines Just a Game Stakes, left the confines of the quarantine barn for a gallop over the inner turf course at 9:00 this morning.
The 4-year-old daughter of Azamour was allowed to stretch her legs toward the last part, and actually blew out a bit coming through the stretch.
Irish Rookie has kept good company through her first eight starts overseas, four of which were Group 1 stakes, including a runner-up finish in last year's French 1000 Guineas for owner-trainer Martyn Meade.
Irish Rookie will be running back three weeks after finishing second as the 3-1 favorite in the Group 2 Ridgewood Pearl on soft turf at The Curragh.
In addition to hoping for firmer footing in the Just a Game, two other reasons she is here instead of at Royal Ascot next week are named Tepin and Miss Temple City.
"We're here and we're in good order," said head traveling assistant David Eddery. "The trip and the ground should suit. Ideally the going would be good-to-firm. A bit of rain would be fine - but not too much rain; the ground was just too soft for her last time."
Irish Rookie drew post 10 in a field of 13 for the one-mile Just a Game, which begins with a slight dog-leg turn onto the backstretch.
"I'm told it's better to be out there than all the way inside, as this way you can get over and sort yourself out," said Eddery. "She's pretty agile. If there's a good pace, she can drop in right off them."
* * *
The old adage says that the third time is the charm. That's what Andrew Durnin, the assistant to trainer Paddy Gallagher, is hoping will ring true for Trojan Nation.
"This is my third Belmont," said Durnin, a former assistant to Hall of Fame trainer Bobby Frankel. "I came once with a horse for Beau Greely, Like A Hero in 2002 [seventh], and with Make Music for Me in 2010 [ninth] for Alexis Barba.
Julie Gilbert and Aaron Sones' Trojan Nation was second in the Grade 1 Wood Memorial but after being checked at the start of the Kentucky Derby, he never picked up a hoof and wound up finishing 16th last time out. As the only maiden in the field, he has been installed as one of the 30-1 co-long shots on the morning line.
"You never know. If you're not in it, you can't win it. We've got more of a chance here than we do of winning the lottery," said Durnin, who was aboard when Trojan Nation galloped 1 5/8 miles this morning.
Trojan Nation, a son of Street Cry and maternal Summer Squall grandson who arrived from Southern California Tuesday, is signaling that he's ready for a big effort on Big Sandy.
"This horse doesn't turn a hair, and that's why they're taking this big shot with him. Why not? Nothing affects him. It's absolutely a big shot, but they still write maiden races if he needs to go back to that," Durnin said. "He's got attitude, lots of attitude, and energy. He's got it all. He had his last serious work in California on Saturday, but he was actually working three-quarters because he went out to the seven-eighths pole in [1:12]. So he was actually doing a three-quarter work but the clockers caught him in five-eighths. This horse is fit and ready."
Durnin won't get to see the race. He said that Gallagher is arriving Saturday morning on the red-eye flight from the West Coast so he's jetting home once he gets to the track. * * *
As per usual, Koji Maeda's Lani was out bright and early at 6:30 this morning, and the Japanese invader completed four circuits of Belmont's main track while either galloping, jogging or walking at various intervals.
After being led back to Barn 6, Lani was examined by Dr. Scott Palmer, the Executive Medical Director for New York State Gaming and Racing Commission, and pronounced good to go for Saturday's Belmont Stakes.
"He's ready," said trainer Mikio Matsunaga, who noted that the gray colt's regular rider, 16-time Japanese champion jockey Yutaka Take, arrived in New York yesterday.
Lani's connections are hoping for a fast track, as the son of Tapit is two-for-three under such conditions, including a win in the Group 2, $2 million UAE Derby at Meydan.
"A little rain would be okay, but not a heavy rain," said the owner's agent, Keita Tanaka. * * *
No matter where his horses run, Southern California-based trainer Jim Cassidy shows up at the barn every morning in his familiar New York Yankees baseball cap. The Big Apple roots run deep for the veteran conditioner, who will saddle La Berma and Prize Exhibit in the Just a Game on Saturday.
"It's always nice to win no matter where you go and what race it is, but it would be a big deal to win this race in New York on Belmont Stakes day," said Cassidy, who was stabled here from 1970-1980 before heading west.
He brought two 4-year-old fillies who are owned by DP Racing LLC across the country to compete in the Belmont Stakes Racing Festival, and he has no compunctions about running the multiple graded stakes-winning Prize Exhibit and the Irish-bred La Berma in the same one-mile race.
"I think they're both up to the task for this race. They have trained really well and it's a Grade 1 which I think is important, and it's one of the few Grade 1's [for turf filly and mares going this distance] so here we are," said Cassidy.
La Berma, who is making her second American start after nine career efforts in France, has early speed while the British-bred Prize Exhibit comes from far off the pace.
Flavien Prat jets in from the West Coast to partner with Prize Exhibit and Victor Espinoza will be paired with La Berma.
Both fillies went out for a morning gallop over the track Friday and Prize Exhibit had a paddock schooling lesson afterward.