• Desormeaux sees Exaggerator 'sitting on a huge race' for G1 Belmont • All systems go for Governor Malibu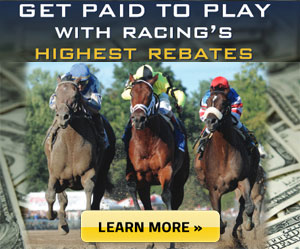 • Less is more Thursday for Belmont hopefuls Brody's Cause, Cherry Wine • Pletcher pleased with Belmont posts for Destin, Stradivari • Suddenbreakingnews ready for Belmont engagement • Team Nyquist rooting for Exaggerator in Saturday's Belmont Stakes • Under the Wire: Lani; Creator, Gettysburg
ELMONT, N.Y. - Even on his day off, Grade 1 Preakness Stakes winner Exaggerator, the 9-5 program favorite for Saturday's Grade 1, $1.5 million Belmont Stakes presented by NYRA Bets, showed plenty of energy while walking for trainer Keith Desormeaux on a sunny but blustery Thursday morning at Belmont Park.
The dark bay or brown son of two-time Horse of the Year Curlin was scheduled to school in the paddock during Thursday's live races, the opener of the three-day Belmont Stakes Racing Festival capped by the 148th running of the 1 ½-mile 'Test of the Champion.'
"He only had a walk day today. I can't believe people are actually interested if he ate up his feed last night, but he did," Desormeaux said. "That's what we look for as trainers. [He was] full of life and vigor when we walked him this morning. I'm sure a lot of that had to do with this crazy weather. Mother Nature forgot to tell New York it's summertime."
Exaggerator is scheduled to have a light gallop Friday morning and may school again in the paddock depending on how Thursday's session goes.
"We're going to make a decision today on how he acts," Desormeaux said. "If he's a little too feisty today we're going to take him back again tomorrow."
Big Chief Racing, Head of Plains Partners and Rocker O Ranch's Exaggerator drew post 11 of 13 for the Belmont, with only multiple Grade 1 winner Brody's Cause and Grade 1 Arkansas Derby winner Creator to his outside, all late-running types.
The starting gate is positioned at the finish line for the Belmont, with a run of three-sixteenths of a mile to the clubhouse turn.
"Just because it's a little shorter run into the first turn here, it seems it would be a disadvantage to be on the outside," Desormeaux said. "If I had a speed horse, I'd be worried. But Exaggerator breaks, drops the bit and relaxes so he should have plenty of opportunity to drop in closer to the rail going into that first turn."
Hall of Famer Kent Desormeaux, Keith's younger brother, will take his customary spot aboard Exaggerator. Among the jockey's seven career Triple Crown race victories is the 2009 Belmont with Summer Bird.
"It's not the mile and a half; of course that comes into play, too. It's the close run-up to the turn. The more experienced, the more tactical hands you can have has got to be for the better, and I think I've got a pretty good jockey," Keith Desormeaux said. "We'll touch on [strategy]. I leave that basically up to him. I give him a few reminders. I let him know how the horse is in the paddock. I might say, 'Kent he's really fired up here in the paddock, you might want to warm him up a little more or get him as far as the activity as you can.' The actual race, that's in Kent's hands."
The Belmont will be just the fourth time in 12 lifetime starts that Exaggerator will go off as the favorite and first this year. He's won twice as the bettors' choice, a maiden victory and the Grade 3 Delta Jackpot, and was second by a length to Belmont contender Brody's Cause in the Grade 1 Breeders' Futurity last fall at Keeneland.
Based on Exaggerator's ability to recover quickly from his races, Desormeaux enters the Belmont with confidence.
"Regardless of what I think, it's obvious that you couldn't get him any better than he is now. He's very sound, he's very fresh. He seems very confident," he said. "I talk about his antics and his energy all the time but it's controlled energy. It's not nervous. A lot of horses, you can misjudge all that energy as nervous energy, which they will waste, and the term that we use is 'wash out,' before a race. But that's not how he is. He's very confident and he should be sitting on a huge race."
* * *
With the race now just two days away, trainer Christophe Clement sent his Belmont Stakes contender Governor Malibu to the main track for a blow out this morning. Breezing four furlongs in :52 2/5. Clement was pleased with the work and how his trainee is looking heading into Saturday's race.
"He had a very easy work this morning," said Clement. "He went out first set, stretched his legs and he looked great. He will school in the paddock later today and we'll leave it at that."
Drawing the rail from the field of 13 and set at odds of 12-1 on the morning line in yesterday's post position draw in Manhattan, Clement was unconcerned with his post position and would leave race tactics up to jockey Joel Rosario.
Clement and Rosario teamed up to win the 2014 Belmont with Tonalist, spoiling California Chrome's bid for the Triple Crown.
Since 1905, the rail is the most successful post for the Belmont with 23 winners.
"I don't worry about it as much as most people," he said. "I worry about the horse. I know one thing, it's the shortest way around the track. If you're lucky enough to use some of the top jockeys you let them worry about that kind of thing."
* * *
Two days out from the race, Belmont Stakes contenders Brody's Cause and Cherry Wine had an uneventful morning on the main track Thursday for trainer Dale Romans.
Romans switched gears after giving multiple Grade 1 winner Brody's Cause and Preakness runner-up Cherry Wine longer, endurance-building exercises for the 1 ½-mile Belmont.
"We shortened them up a little bit today and did a little less," Romans said. "Everything's done. I just want them to be happy and feel good going into Saturday."
Romans expressed surprise that Brody's Cause, who drew post 12 of 13, was made a 20-1 long shot on the morning line. He is the only horse in the field to match Exaggerator's two Grade 1 wins and he has beaten the 9-5 Belmont favorite twice, winning the Grade 1 Breeders' Futurity and finishing third in the Grade 1 Breeders' Cup Juvenile, a neck ahead of Exaggerator.
Cherry Wine drew post 3 and is fourth choice at 8-1. Both of Romans' horses prefer to come from off the pace, leaving Romans unconcerned about their posts.
"In a mile and a half race, if you're worried about the post you probably don't belong in the race," he said. "There's enough going on. You've got plenty of time to get settled. The pace scenario is slow enough to where if you're going to be closer, go closer.
"The worst thing that can happen is that you get carried a little wide, but it's so slow they'll be driving them like cars to get where they want to be," he added. "You've got good riders; they're not going to make mistakes."
Luis Saez has the call aboard Brody's Cause, while Corey Lanerie will ride Cherry Wine.
* * *
The morning after his Belmont Stakes hopefuls, Destin and Stradivari, drew post 2 and 5, respectively, trainer Todd Pletcher said the assignments suited him.
"They seem fine," Pletcher said. "Generally, in the Belmont, you don't sweat out the post position draw too much, but when it gets to be a field as big as this you really don't want to be way out there."
Destin races for Randy Gullatt and Steve Davison's Twin Creeks Racing Stables and Eclipse Thoroughbred Partners. Gullatt bought the son of Giant's Causeway at the Keeneland September Yearling Sale for $440,000. Shortly before the Kentucky Derby, a race in which Destin finished sixth, Eclipse Thoroughbred Partners acquired a minority interest in the colt.
Gullatt, who remembers the younger Destin "as a very athletic colt" with "a good mind and disposition," said he has never been in a hurry with Destin. A winner of three of six starts, including the Grade 3 Sam F. Davis and Grade 2 Tampa Bay Derby, Destin has not run since the Kentucky Derby.
"We're not overly concerned with the time off," Gullatt said. "We felt like Destin was an immature colt through the first part of his 3-year-old year and that his best racing was in front of him. We believe he could be an even better older horse."
Pletcher agrees with Gullatt's take.
"He's the kind of horse that wears blinkers for a reason," the trainer said. "He's curious, he looks around a lot, he sees everything. I think as a whole, a lot of the Giant's Causeways tend to improve as they get older. In [Destin's] case, not only physically will he continue to develop but mentally he has started to get a little more professional and figure things out. I think from all aspects, he will improve when he gets a littler older."
Pletcher and Twin Creeks will team up for another stakes during the Belmont Stakes Racing Festival: Silver Mission in Friday's $200,000 Tremont for 2-year-olds. Silver Mission, who is co-owned by Sequel Racing, was bred by Twin Creeks and is a son of first crop sire Mission Impazible. Silver Mission became the sire's first winner when he made his debut at Aqueduct in April.
The Pletcher-trained Mission Impazible, a millionaire son of Unbridled's Song, raced for Gullatt and Davison. Upon the completion of his racing career in 2012, the partners sent him to stand stud at Becky Thomas and Dennis Narlinger's Sequel New York.
"We were big fans of Mission Impazible as a racehorse and loved his pedigree," Gullatt said. "We think the breeding program in New York is tremendous, and wanted to be a part of it. We're excited by what we see in the pipeline from him and we believe he is going to be a very exciting New York sire."
* * *
This may be the first rodeo for the owner and trainer of Belmont hopeful Suddenbreakingnews, but Mike Smith has been to the big show 17 times before, winning twice, and that's why he picked up the mount on Saturday.
"How often do you get to ride a mile-and-a-half race on a mile-and-a-half racetrack?" asked trainer Donnie K. Von Hemel, who saddled his second Kentucky Derby runner when Sonny Henderson's ridgling ran in the first leg of the Triple Crown May 7. "We did look for someone with experience on how to ride this race."
Suddenbreakingnews, who arrived on a flight from Churchill Downs on Tuesday, continued his regular preparations with a routine gallop Thursday morning under Brandon Velarde, Von Hemel's Remington Park-based exercise rider, and also visited the paddock.
"There are no hiccups. We had a clean trip from Kentucky, everything has been smooth since we got here and he seems to be in good shape. We're happy, healthy and ready to go," said Von Hemel, who won the 2011 Grade 1 Breeders' Cup Dirt Mile and the Grade 1 King's Bishop at Saratoga with Caleb's Posse. "I thought all the way through the spring and right up to the Derby that he had added some weight. Maybe he dropped a little coming out of the Derby, but he's put it all back on, so he's in very similar shape to what he was going into the Derby."
Suddenbreakingnews took the Grade 3 Southwest Stakes at Oaklawn Park this winter with his usual deep-closing style, and made strong and steady progress from way back to be a solid fifth in the Kentucky Derby.
After skipping the Preakness, he gets another date with several old foes from the Arkansas Derby, where he tangled with fellow Belmont contenders Creator and Gettysburg, and Kentucky Derby runners Destin, Exaggerator and Lani, in the third leg of the Triple Crown.
How might the son of Mineshaft and the maternal grandson of 2005 Belmont Stakes winner Afleet Alex turn the tables on Saturday?
"I think the distance is very much in our favor, and I think that pedigree-wise it is within his ability, and he can run a mile and a half and there are some that can't. We skipped the Preakness and some didn't, and hopefully that will be an advantage to us," said Von Hemel. "But I still think Exaggerator will be tough to beat."
* * *
Team Nyquist will be watching Saturday's Belmont Stakes with a keen interest in Exaggerator, the program favorite who handed the Kentucky Derby winner his first career defeat in the Preakness May 21.
Nyquist exited the Preakness with a fever and elevated white blood cell count that forced trainer Doug O'Neill and owners Paul and Zillah Reddam to cancel their plans to run in the Belmont. Still, O'Neill will be represented by four horses set to run during the three-day Belmont Stakes Racing Festival.
Donworth drew post 3 of 13 and is a 20-1 long shot in the Grade 1, $1.25 million Mohegan Sun Metropolitan Handicap, while Mrazek is set to run in the Grade 2, $500,000 Woody Stephens, part of the Belmont Stakes undercard. Both horses share the same connections as Nyquist including jockey Mario Gutierrez.
O'Neill's other stakes horse is Head of Plains Partners' Guns Loaded in the Grade 3, $300,000 Jaipur Invitational, also on Saturday. Head of Plains Partners is part of Exaggerator's ownership triumvirate along with Big Chief Racing and Rocker O Ranch.
Assistant trainer Jack Sisterson was with Nyquist throughout the Triple Crown trail, and traveled to Belmont Park with O'Neill's horses on Sunday, the same day Nyquist flew back to California.
"Doug was very happy to get him back there and he's training great back home at Santa Anita. We're fortunate enough to have Nyquist and for Paul and Zillah to give us the opportunity to travel with him," Sisterson said. "We would have liked to have been here under different circumstances, but what can you do? Nyquist is happy and healthy now so that's the main thing."
Trained by Keith Desormeaux and ridden by his younger brother, Hall of Fame jockey Kent, Exaggerator lost four previous head-to-head meetings with Nyquist, including a runner-up finish in the Derby. He turned the tables in the Preakness, where Nyquist ran third after being caught late by Belmont contender Cherry Wine.
"On paper, he's going to be a very short-priced favorite and we'll be rooting for him. Tactically it's a mile and a half and none of these horses have been that distance, so it's one of those things where you never know until the actual day," Sisterson said. "It looks like Exaggerator has trained very well at Belmont and came out of the Preakness full of energy. We'll be rooting for the Desormeauxs in this race. We'll be excited to watch it and see how it pans out."
Sisterson is excited about the O'Neill horses in the Belmont's supporting stakes. Donworth was third as the favorite in the 1 1/8-mile Grade 2 Charles Town Classic April 23; Mrazek was beaten a neck in the Grade 3 Laz Barrera May 15 at Santa Anita; and Guns Loaded has won four of six starts including the Grade 3 San Simeon April 2 at Santa Anita since being claimed for $32,000 last December.
"Donworth is doing very well. We're excited to see him run at Belmont and at that distance," Sisterson said. "Mrazek has shown speed, so seven-eighths won't be a problem for him. He's shipped in and trained well the past few days also.
"We're excited about Guns Loaded. The five furlongs at Churchill his last run probably wasn't his best distance and he didn't break, as well," he added. "We'll probably ask him a little bit early to be forwardly placed and, again, we're excited about his chances Saturday."
Under the Wire:
After galloping several times around the main track and working five furlongs Wednesday, Koji Maeda's Japanese invader Lani had a relatively light morning on a bright and brisk Thursday.
Lani, whose five-eighths work in 1:00.43 seconds yesterday missed a "bullet" by just .01 seconds, went out shortly before 6:30 a.m. After jogging and walking once around the track, he was taken over to school at the starting gate without incident, and he then made another easy circuit of the 1 1/2-mile oval before heading back to Barn 6 just after 7:00.
"He had a good morning and was okay at the gate," said trainer Mikio Matsunaga, who arrived Tuesday afternoon to oversee Lani's final preparations.
Along with Kentucky Derby runner-up and Preakness winner Exaggerator, Lani is the only other horse to run in all three Triple Crown races this year. After breaking slowly and finishing ninth in the Derby, the gray Tapit colt bobbled at the break of the Preakness and rallied from far back to finish fifth.
"He is definitely not going to be in the first half of the field, but he will hopefully be much closer than last time," said Keita Tanaka, the agent representing Maeda. "The pace will not be as fast, and he is very fit now." | * * *
Both of trainer Steve Asmussen's entries into the Belmont Stakes, Creator and Gettysburg will paddock school before today's third race, assistant trainer Toby Sheets said.
Creator, who breezed four furlongs on the training track Monday in 50.60 seconds, and WinStar Farm stablemate Gettysburg make Asmussen one of three trainers with multiple Belmont starters, joining Todd Pletcher and Dallas Stewart.
"Everything looks great," Sheets said. "All good."